'We are hoping by March, the government allows us to export and give it to the private market.'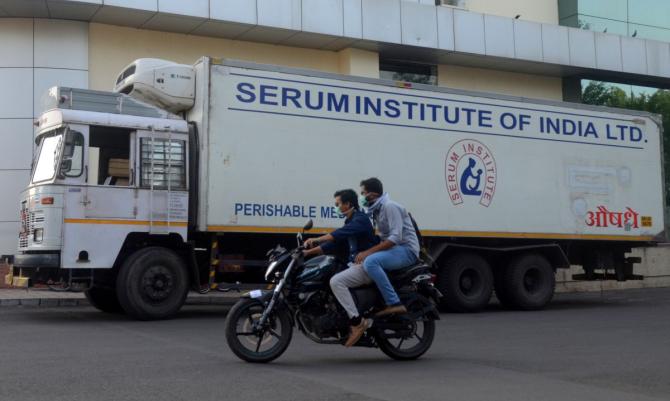 As the Serum Institute of India's Covishield vaccine gets the thumbs up from the Indian regulator, the Pune-based firm's CEO Adar Poonawalla speaks with Sohini Das on the road ahead.
Poonawalla says he will start ramping up once he has clarity on the supply contracts as it is a challenge to stockpile beyond a certain volume in the plant. He also says the special price of Rs 200 per dose is for the first 100 million doses supplied to the government, while the MRP in the private market will be Rs 1,000 per dose.
The current licence given to the Serum Institute does not allow it to sell the vaccine in the private market or export it.
How many doses do you have and when will you start supplying them to the government?
We have a stockpile of 50 million doses. We have no indication on how much the government will take and how fast they will be able to take it. So we don't want to make too much and have the material expire in our warehouse.
People were wondering if they can get the vaccine in the private market, but under the restricted licence I can only give it to the government and not the private market or export it.
If I make any more, I don't know what I will do with it. I am going by their (government's) guidance at the moment.
I have a commitment to supply to Covax, which is the African countries, Gavi etc, and then, of course, India. The government will have to relax this norm and that I guess will happen over the next two months once it sees it has enough stocks.
Then we can give it to private hospitals, private markets and export it. It would take a month to get the World Health Organization's pre-qualifications and other formalities.
We are hoping by March, the government allows us to export and give it to the private market.
Is there a timeline to supply Covax?
Everyone (Covax) wants it early; they have said as soon as possible. We are trying to keep everyone happy and do the best we can.
We are trying to give something to everybody to start with to protect the most vulnerable populations in their areas, and then we build from there.
There are the states in India, other African countries, countries like Bangladesh and Myanmar, and some others where we would supply eventually.
Will all of the 50 million doses you have now be supplied to the Indian government?
Yes. A contract has not yet been signed. We are waiting for them to give us a purchase order or a letter that says that we want the vaccine, and tell us where to send it.
As soon as they give us that, within seven days we can send the vaccine to any part of the country in our refrigerated trucks.
Will the Centre or states buy the vaccine, and what will be its cost?
The purchase will be from the Centre. The central health ministry will tell us how much to send and where. We are waiting for that. We are only going to deal with the government of India on this.
For the government, Covishield will have a special price of Rs 200 per dose for the first 100 million doses. After that we will see what the pricing should be.
Of course, in the private market, it would be much higher. The MRP will be Rs 1,000 per dose. We will receive Rs 600-Rs 700 at our end; the rest will go to the private distributors.
What is the current shelf life allowed and when will you ramp up production?
At present, the shelf life allowed is six months and we are submitting more stability data etc. This is also another reason why we do not want to make too much too soon.
We can produce up to 100 million doses per month and I would ramp up once I get the permission to sell in private market and to export.
The problem is storing these huge and unprecedented volumes. Normally we make and send out of the factory. To store more than 50 million doses in the factory is challenging; that is why it is important to plan and ramp up only when I can actually supply.
This was very evident last month when I asked my guys to double the production and they asked where would they store it. It needs to be kept in a guarded secured cold room with proper provisions.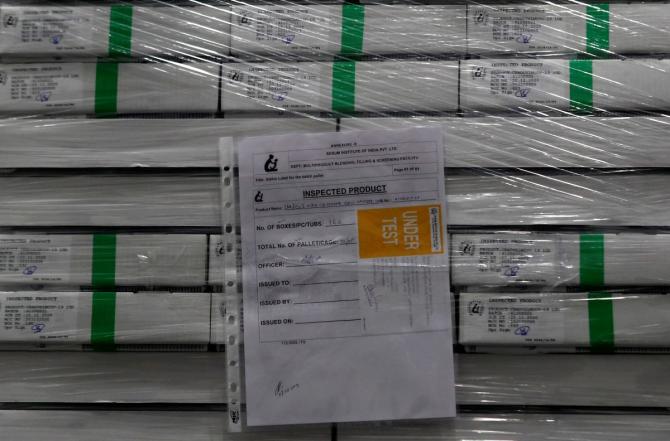 Will your production be divided equally between India and overseas?
I always maintained that it would be 50:50 for India and overseas.
This is for the simple reason that India's population is so huge that even if we deliver 50 million doses abroad, at any given point we would also supply 30-40 million doses to India as well till we cover at least 80-90 per cent of the population. This would take at least three to four years.
What is the update on the other vaccine candidates?
We are on track for the Novavax candidate and in two months we will have licensing for that as well. The unblinding of the data from the trials is expected in the next two months.
The RBD vaccine on Hepatitis B protein, a very safe platform (the in-house vaccine), is being tested and has completed Phase 2 abroad. Phase2/3 is going on abroad and it is two to three months behind AstraZeneca.
By when can work begin on paediatric vaccines?
It will be four to five months at least before one can start trials on people below the age of 18. No one has recommended the vaccine to anyone below 18 yet.
One has to be extra careful with children; it can also be a lower dose. The scientists will work that out and look at the safety profiles. As adults, we have been exposed to so many colds and other viruses.
When we are given a chimp adenovirus, for example, as a vaccine carrying the Sars-CoV-2 protein, one would react very differently from how a child may react who has not been exposed to many viruses yet. The immune systems will react differently.
The disease is not so bad in children, and that is the silver lining. We want to take time on this one.
Will COVID-19 vaccines account for the bulk of your revenues for FY22?
I do not want to speculate on revenues. Next March (2022) we do not know how much COVID-19 will contribute to our revenues. It would depend on how fast the people will take the vaccine and what hurdles be will there.
Will I be sued; will I be stopped by courts -- these are all question marks.
You have asked the government to indemnify vaccine makers. What is the update?
All vaccine manufacturers have written to the health ministry. As the president of the Indian Vaccine Manufacturers Association, I have represented them. They will review it now and send it to the law ministry and take opinion.
During the period of the pandemic if there is an indemnity clause, it ensures the vaccination drive does not stop if, let's say, there is an injunction.
If there is an injunction and the court says that no more vaccine to be given to anyone pending further inquiry, many lives will be impacted (losing protection).
It is not about financial loss to the companies, but the entire government programme also stops. They will have to invoke some very high level Constitutional powers to over-rule such a situation.
This has never been tested in our history.