Increasing infiltration across the border. Terrorists sneaking into India. Regular skirmishes with men in uniform on the other side.
This is not Pakistan we are talking about. In recent times, another neighbour has swiftly emerged as a major security concern for India.
Rediff India Abroad Deputy Managing Editor Ramananda Sengupta visited Bangladesh recently looking for answers to the big question: Why is such trouble brewing on India's Eastern Front?
The concluding part of the series.
Part 1: The new terror frontier?
Part 2: The rise of the Right
Part 3: Why Bangladesh hates India
Part 4: Why India is concerned about Bangladesh
First part of the interview with High Commissioner Veena Sikri: 'Delhi-Dhaka dialogue a must'
Indian High Commissioner to Bangladesh Veena Sikri says border fencing is not an issue between New Delhi and Dhaka.
The security issues posed by illegal migration and the presence of anti-Indian insurgent outfits in Bangladesh are serious concerns, she says, but "the only problem here is of Bangladesh recognising the problem."  
One of India's major concerns is illegal migration.
The other issues of great importance to the Indian government are the security issues.
There are insurgents groups which use Bangladeshi territory for all kinds of activities which are against India's interests.
We have given lists to the Bangladeshi government of various such outfits. The only problem here is of Bangladesh recognising the problem.
We need extensive dialogue to promote mechanisms to contain terrorism. It's a question of looking at issues jointly. Terrorism is an issue which affects every country.
Bangladesh says India gives shelter to criminals wanted in Bangladesh
Trading of accusations vitiates the atmosphere further. There is no question of trading charges.
We are merely describing a problem, and saying let us discuss what we can do about it. It's not a question of blame or fault or something like that.
It's just a very serious problem that exists. And whatever claims we make on this are based on very substantive information.
If, at the same time, there is a problem that the Bangladesh government perceives on our side, we are always willing to look at it.
Give us the information, and of course we will look at it. But the answer in these circumstances cannot be that 'Oh, this is our problem, not yours.'
Is the Indian fencing of the border a sensitive issue here?
I don't think it is a sensitive issue. Fencing is being done entirely on Indian territory. Some years ago, there were some very informal, unsigned guidelines drawn up.
I am talking about 1975, which says that -- this was done at a time when soon after 1971, there were defensive structures like trenches, pillboxes etc, which had been built. The guidelines were in fact aimed at removing defensive structures like these if they were within 150 yards of the border.
Since then, of course, nobody felt the need to put up offensive structures, and neither side has done that. But because of the security problem -- not just migration, but even criminalisation of many of these border areas -- a lot of it has to do with smuggling.
That is another reason why are so keen to put bilateral relations on an even keel, because once you have a bilateral FTA, there will be no incentive for smuggling at all. And the criminalisation of the border, which includes not just smuggling goods but also people and children, would substantially come down.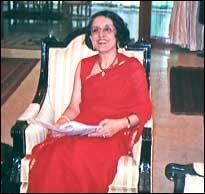 And with a view to curbing this we have started building a fence. The bulk of the fence is 150 yards away from the international border. The Bangladeshi government has absolutely no problem with this.
Out of a land border of over 4,000 km, over 90 per cent of the fencing is at 150 yards or more from the border. But in about 7 per cent of the border, which is about 300 km or something like that, we had to move within the 150 yards, but certainly on our side of the border, primarily because of the existence of very heavily populated villages within those 150 yards. And the people in those villages don't want to be left outside.
In fact in some areas, where we built the fence 150 yards away, some villages have already been left out, and this really creates problems for them. Because there's a gate and they can only come in when the gates are opened and must leave before they are closed, and so on.
So to overcome these problems which our own citizens are facing, in those roughly 300 km, we would need to go within 150 yards, and we have already conveyed to the Bangladeshi side which areas these are. I don't see any problem as such, and I don't see again why this needs to be politicised.
Yet some reports say that recent instances of firing along the border by the BDR (Bangladesh Rifles) are meant to stall the fencing work.
I don't think the firing is specifically related to the fencing.
Outside the 150 yards, the Bangladeshi government has actually told us they have no problems at all. And as for these 300 odd km, these are heavily populated areas.
But frankly, if a fence at a 150 yards is no problem for Bangladesh, how does a fence at a 149 yards or 110 yards become a problem?
What about the issue of enclaves?
Well, there was a 1974 Indira-Mujib accord, and that in fact completely demarcated the border.
Only 6.5 km of over 4,000 km is yet to be demarcated. We also spoke about the exchange of enclaves in either side's possession.
It's a very interesting background. They were pieces of land exchanged by the then rulers on each side.
Under the Indira-Mujib accord, the idea was to exchange them. A joint boundary working group was set up, which was meant to discuss the matter and come up with a solution for it. The last meeting was held some years ago, and India has actually developed a composite package proposal giving an actual demarcation of the 6.5 km, and on the enclaves and adverse positions.
We are waiting for a reply to that. The joint boundary working group hasn't since met.
So what could be reason for the Bangladeshi opposition to this proposal?
I don't know. We ourselves are a bit surprised that we haven't received an answer from Bangladesh for so long.
Bangladesh has ratified the Indira-Mujib accord, they say India has not done so. The thing is, our system of ratification involves a constitutional amendment, and for that you have to have the entire border demarcated and notified, before you can actually get the amendment done. So we have to await the finalisation of the demarcation of the 6.5 km before we can even start the process of ratification.
On the Bangladesh side, they don't have such a difficult legal process for ratifying. So they have ratified. But even in their case, it cannot come into force until the entire border is demarcated. Again, it's the same process of notification.
You can ratify, but you cannot actually bring it into force until you notify it, and for that you need the entire boundary to be completely demarcated, and that 6.5 km is still left over.
So it is de facto the same position on both sides.
What was the atmosphere at the bilateral held between Prime Ministers Manmohan Singh and Khaleda Zia at the sidelines of the SAARC summit?
Very very positive and constructive. Our prime minister has expressed his appreciation of this meeting with Bangladesh prime minister.
So, was Khaleda Zia invited to India?
Of course. In fact, when our foreign minister came here in August, he called on the prime minister of Bangladesh and handed over a letter of invitation from our prime minister.
During the bilateral meeting, our prime minister again reiterated the invitation.
But she has not made a bilateral visit since taking over as prime minister in 2001.
That is her choice, that is the choice of the government of Bangladesh.
We would be very happy to have her visit India.
We encourage frequent visits from our neighbouring leaders. Because that develops friendship and informality. And of course, when the leader of the Opposition visits, it's a constitutional position, and we have protocol for that. Take for example Sri Lanka, we recently had the President, followed by the leader of the Opposition (visit India).
It's normal, it's natural, it's not indicative of any problem or any lack of problem.
Frequent visits by leaders are always welcome. This helps in not only resolving issues, but also preventing politicisation, preventing misunderstandings, helping the correct perspective to emerge.
So you think the SAARC summit went off well?
Yes. The SAARC summit has come up with good, positive, forward looking ideas, focused on implementation.
I believe we have to move towards implementation. Now, of course, we are very much hoping that SAFTA will become operational by January 1, 2006. And as a mechanism to help the implementation to SAFTA, SAARC has signed three agreements, the establishment of the SAARC arbitration council, the Customs Treaty and an agreement on Avoidance of Double Taxation and Mutual Administrative Assistance in Tax Matters.
These will be very helpful when SAFTA comes into force. It's good that such advance agreements have been signed. Coming into force of SAFTA would certainly be a very important step forward. And people are actually looking forward to it.
For instance during the bilateral talks, the Bangladeshi side said the they were waiting for SAFTA to come into force.
Just before the prime minister left, he spoke of the element of mistrust which remained in relations with Pakistan. Is that also true of relations with Bangladesh?
I think whenever our leaders meet, the personal equations are important. So the need is for more frequent dialogues at all levels. So that the issues are not politicised. Sometimes the lack of dialogue helps politicise issues.
By expressing concern over things like fundamentalism in Bangladesh, can we be accused of interfering in Bangladesh's internal affairs?
Certainly we are worried about the increasing incidents of violence here. The worry is that being neighbouring countries, you cannot but help a spillover.
We are not talking from some great distance, or theoretically, very realistically, among neighbours, this is what happens. So it's a natural expression of concern.
In the country briefing issued to Indian journalists on Bangladesh, it says there has been an increasing demand for Sharia law.
Of course. Leaflets found after the recent blasts all have that demand. That doesn't mean that these demands are being met, or will be met.
After the August blasts, the concern of the people of Bangladesh has been expressed the loudest and the most clearly. See the media reactions, see the condemnation of the issue. The concern is very much there. And their (the people's) concern is paramount.
What would you rate as your biggest achievement during your tenure here?
I have tried very hard to restart the dialogue between our government and their people, and I want to do much more. I would like to have more, because while we are discussing some issues, on others we are yet to start a real dialogue.
I think building people to people relations, speaking to each other, understanding each other, is a very very important part of my work.
The more you get to know each other, the lesser the chances of misunderstandings.