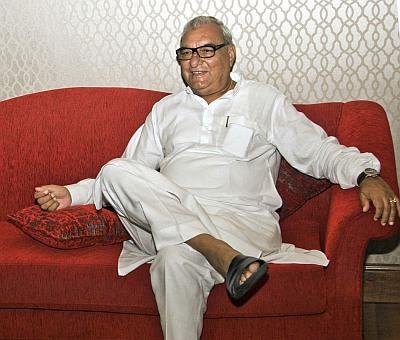 Haryana Chief Minister Bhupinder Singh Hooda is the only chief ministerial face in the four-cornered electoral contest in Haryana in October. Out to prove his critics wrong, he tells Kavita Chowdhury it's not anti-incumbency but pro-incumbency that will work in his favour and give him a third term.

Edited excerpts:
You have been claiming of late that you are getting ready for a third term as chief minister. But the ground reality is that you are facing two-term anti-incumbency and in the recent Lok Sabha polls you bagged only one seat in Haryana. In all, the Congress prospects look pretty bleak in the upcoming Assembly elections.
I don't agree. I don't think there is any anti-incumbency, but rather pro-incumbency. In my jan sabhas, I tell farmers of the loan waivers we gave them, it wasn't the Bharatiya Janata Party who did that.

Even on short-term loans, we waived the interest. I remind senior citizens of the old-age pension scheme that my government is giving them.

Without any mehnat (hard work) they are able to get Rs 36,000 annually, the equivalent of what they would get annually from by owning two bighas of land.

There has been a tremendous response in the 75-odd public meetings I have had after the Lok Sabha elections.

From farmers to sportsmen, from infrastructure to rural development -- all the sections have benefitted under our regime.

The BJP did well in the parliamentary elections because they projected one person -- Narendra Modi.

People did not vote for the BJP's policies. After all, the issues in the assembly elections are different from those in the parliamentary elections. The BJP is going to get a rude shock in the upcoming polls.
The BJP has been targeting you on corruption charges and the alleged land scams. Their election campaign is focused on this aspect.
Why doesn't the BJP go to the Lokayukta or move court against me?

As a constitutionally elected leader, I am answerable to the Lokayukta.

All this is false propaganda. As for the Indian National Lok Dal, all their top three leaders, including Om Prakash Chautala, are in jail. Despite that, they are making false accusations against me. I am going to sue them for defamation.

You have been accused of favouring Congress President Sonia Gandhi's son-in-law Robert Vadra in land deals in Gurgaon and Manesar.
Let me make it clear, I have not favoured anyone. I am on record to state that I have not allotted even an inch of land to any builder or individual.

My government is only concerned with the stamp duty and licence fee of land deals.

My opponents are targeting me without any evidence. Even their public interest litigation was rejected by the Supreme Court. And, as I said, why don't they go to the Lokayukta if they have an issue.
Why is an experienced politician like Bhupinder Singh Hooda not able to carry party leaders along with him; the entire brass of Rao Inderjit Singh, Chaudhry Birendra Singh was miffed and quit the party. Kumari Selja, another detractor, is said to be sulking.

That is not correct. There are three types of people who have quit the party. Those who lost their seats; those who wouldn't have any chance of getting a ticket and the third type whose leaving was "good riddance".

For instance, Bhajan Lal quit the party in 2009 and yet, the Congress won so comfortably. These leaders, who have quit now, were stalling the path for the younger leaders.

In Haryana, more than the INLD, it is the BJP that seems to be having the edge this time.
Not at all. All through the Lok Sabha polls, the BJP spoke of the "Gujarat model", but now not even one leader is talking about that. They know that in Haryana, the indices surpass that of Gujarat.

We give Rs 1,800 in old age pension, while Gujarat provides only Rs 400.

And while we cover 70 per cent of that age group, in Gujarat, they cover only 40 per cent.

The cost of power for agriculture in Gujarat is 10 times what it costs here.

The cost of diesel in Gujarat is Rs 8 more than that in Haryana.

That, for you, is the so-called Gujarat model.

The BJP will not dare to implement it here. And politically speaking, I am gaining since I am the only chief ministerial face in this election.

Why hasn't the BJP followed its tradition of naming their chief ministerial candidate as they do in other states? They have always done it in Delhi, Gujarat, Madhya Pradesh and Chhattisgarh. Why does the BJP have no chief ministerial face in Haryana?
So despite the BJP bagging seven of the 10 seats in Haryana just three months ago in the Lok Sabha polls, you maintain that Modi is not a factor in these polls?

Modi is the prime minister, but if he was to contest the polls in Haryana to be the chief minister, then I will consider it to be a factor. Also, the Congress did not perform as expected in the 2014 polls.

When I took over as chief minister in 2005, the planned budget for Haryana was only Rs 2,300 crore. The last budget that I presented was of Rs 32,700 crore.

During the last election campaign, Modi said the per capita income in Gujarat is Rs 75,000. In Haryana, it is Rs 1,35,000.

I concede that Modi is a good orator and I am not.

In your election campaign, you have been appealing to voters to resurrect the Jat pride by voting for you. But there are other Jat leaders like Chautala, who claim to represent the community. Are you hoping to consolidate the Jat votes?

I am proud to be born in an agricultural family and as chief minister, I represent every section of society.

As for Chautala, his father Chaudhary Devi Lal was defeated in 1991, 1996 and 1998.

On each of those occasions, I contested against him and defeated him.

And now, Chautala says he will take the oath as chief minister from jail. Will people have to commit a crime in order to meet their chief minister in jail?

The INLD should learn to respect the law. Even Tamil Nadu Chief Minister Jayalalithaa had to step down from office. They (INLD) should not misguide the people.
In urban centres like Gurgaon and Faridabad, the electoral dynamics are very different. How are you hoping to make an impact there?
When I became the chief minister, there was only Haryana Urban Development Authority. Then I created the rural development agency. And as the chief minister, I have attempted to do overall development of the state.

All the political experts are predicting doom for the Congress and yet you seem to be exuding confidence.

As I said, the assembly elections are very different. In 1999, we lost all the 10 seats in the parliamentary elections and even I lost my seat by a margin of 150,000 votes. Yet, after three months in the assembly elections in 2000, we won 22 seats. So, you cannot predict these things.

Also, the Haryana government policies in the past 10 years have benefitted every section. While drug addiction is a big problem in Punjab, I have built stadiums in every district so that the youth can direct their energies there.

In the 2010 Commonwealth Games, out of the 38 gold medals for India, 22 were from Haryana athletes.