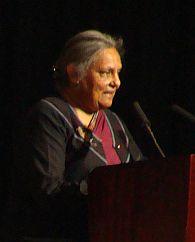 Ela Gandhi, Mahatma Gandhi's grand-daughter and a peace activist was honoured on Thursday by President Pranab Mukherjee at Pravasi Bhartiya Divas-2014.
Gandhi was born in 1940 in South Africa and now resides at Durban.
She was the member of the South African Parliament in 1994-2004. She has been an active member of the African National Congress. In Parliament she represented the Phoenix area of Inanda in the KwaZulu Natal province.
She spoke to rediff.com's Sheela Bhatt on the award.
On the Pravasi Bhartiya award
I feel very honoured. But I'm very conscious that the awardee is not just for me but the people who I work with so I'll be receiving the award on behalf of those people.
I think the PBD is a very good concept, something that's very unique. It develops the identity in terms of culture value which is important no matter where you are. But you know it's important to preserve some of the rich heritage that we have in this country. So in that respect it's important, for young people and for people like me.
On her multiple identity
Well I think all of us have multiple identities.
I have many identities as a South African, as of the Indian origin, I have the Gandhian identity of universalism. So yeah, there are many identities and many things I have learnt from different people which are important for me and this is one of the things which is also important.
Being a member of Gandhi family
Look (Mahatma) Gandhiji has been a mentor for me. So apart from being related to him I also admire his views and I try to constantly look at exactly what he was saying and you know I try to promote those ideas within myself and the community. So in that respect I think I admire Gandhi as everyone else admires him. And I find that I'm so lucky to be born in the family and to carry his name, but whether I am worthy of carrying his name or not, that's another issue.
However, I'm not an authority on Gandhiji. I try, and am trying to make as many people learn about him, to talk about him, to promote his ideas. One of the biggest messages that Gandhiji gave to
the world is the culture of non-violence -- it is a big issue and it'll take me a couple of days to talk about it.
So let's think about it -- what does the culture of non-violence mean. If each one of us starts thinking about what it means, a culture of non-violence, then I think the world will be a better place.
On Gandhi's fading impact
Well I think to the extent that there is violence in India, this violence against women, the child labour is happening you may say his memory is fading. So I'm not talking about those people who make laws and people who are in the judiciary and so on. I'm talking about the common people and to that extent his values have been forgotten by those people who do these things in India.