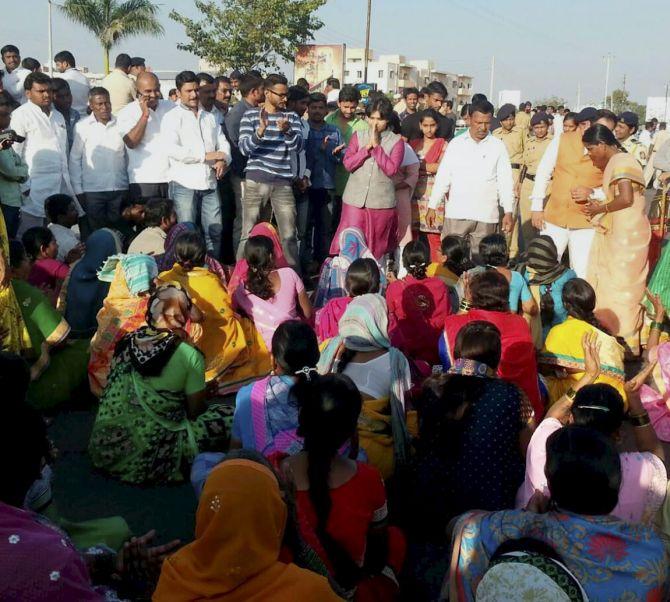 IMAGE: Trupti Desai (in pink, with folded hands) leads a rally demanding the entry of women into the core area of the Shani Shingnapur temple complex in Ahmednagar. Photograph: PTI
'I want to know how can any deity become impure if woman enters the temple?'
'These things are not right for society. These temple rules restricting women are man-made. We are in the 21st century.'
'The Bhumata Brigade will support Muslim or even Christian women if they feel discriminated at religious places.'
Trupti Desai, who heads the Bhumata Ranragani Brigade, has created a storm in Maharashtra.
This week, Desai, along with some 1,500 women, tried to enter the main area of the Shani Shingnapur Temple in Ahmednagar where women are prohibited.
The attempt created a furore in the state and across the country, forcing Maharashtra Chief Minister Devendra Fadnavis to intervene.
Until about 400 years ago, women were not allowed into the temple complex, but in 2011, following an agitation by rationalists, women were allowed inside, but not to the shrine's core area, a platform where a murti of the deity, Shani, is kept for prayers. The current agitation seeks to gain entry to this area.
Trupti Desai spoke to Syed Firdaus Ashraf/Rediff.com about the controversy.
What made you start this movement for women to enter the sanctum sanctorum of the Shani Shingnapur temple?
On November 29 last year, a woman went to the platform of the Shani temple for darshan. The priests and local villagers stated that the deity has become impure.
I want to know how can any deity become impure if a woman enters the temple? I could not tolerate this and therefore started this movement.
Aren't you challenging traditions that have gone on uninterrupted for so many years?
No, it is not like that. Women used to enter the Shani temple earlier and these who say otherwise are lying.
As a child, 25 years ago, I had visited the Shani platform. Like me there are many women who visited the temple earlier.
This rule has been implemented by the villagers recently. If what they are saying is true, then how come at other Shani temples across India women can enter the platform area? So why make this rule in Ahmednagar?
There must be some reason why they don't allow women to enter the temple's core area.
No. They have not given us any answer with which we can agree. They are just saying that it is their tradition. They said Shani Bhagwan has been given a shraap (curse) from his wife and no shadow of a woman must fall (on the idol).
There is no logic to this. There is no mention of these things in the Vedas and Upanishads.
When 1,500 women came on the roads the government also came to know about our problem. Chief Minister Fadnavis too came under pressure and intervened in the issue. (Fadnavis had tweeted, 'Indian culture and Hindu religion gives women the right to pray. A change in yesterday's traditions is our culture. Discrimination in praying is not in our culture. The temple authorities should resolve the issue through a dialogue.')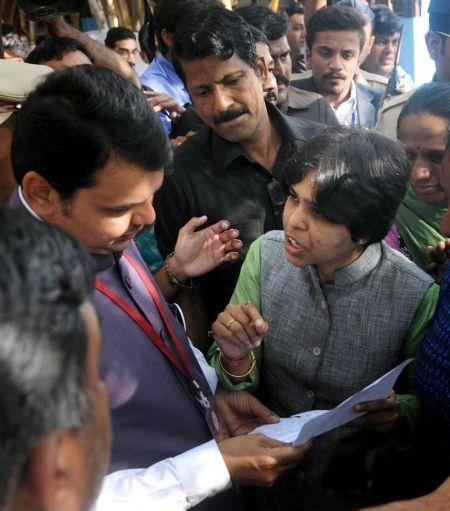 IMAGE: Trupti Desai meets Maharashtra Chief Minister Devendra Fadnavis in Pune. Photograph: PTI
So will women now get entry into the Shani temple's core area?
Yes, 100 per cent. We are fighting for women's rights. Women must get darshan at every temple. The chief minister of Maharashtra has also supported us. He said this temple trust will soon be taken over by the government and women will be allowed to enter. And we will get our constitutional right because of this movement.
Will this movement be restricted to only the Shani temple or will you protest against others temples which prohibit the entry of women?
We have sent a request to the chief minister that women want entry into all temples in India. We told him that you will do this thing for women in Maharashtra, but you need to speak to the prime minister too so that women are allowed to enter all temples in the country.
How many temples are there in India where women are not granted entry?
There are many of them in Maharashtra as well as in other states. These things are not right for society. These temple rules restricting women are manmade. We are in the 21st century now.
Women are working with men today in offices. So why discriminate against women in temples? This is our demand and we want to meet Prime Minister Narendra Modi on this issue soon.
Do you feel you are disturbing the law and order situation by challenging religious traditions?
No, it is not like that. There was Sati and Mundan (tonsuring of widows) which have stopped. These things stopped as times changed. For this rule, too, the time for change has come.
Traditions are in one place and the rights of women are at another place. Women must get equality.
If there is a tradition which prevents women at temples, it needs to change. If we had followed traditions, women would have not gone out to work.
Women have become President and prime minister. Women must get the right to have darshan in temples.
Some Muslim dargahs also prohibit women from entering and Muslim women are fighting for that cause. Will you support them as well?
Yes. In our recent andolan there were 50 Muslim women. The Bhumata Brigade will support Muslim or even Christian women if they feel discriminated at religious places.
So will you take your protests to Muslim dargahs too?
The day we get a call from any Muslim women's group that they are being targeted at dargahs, we will join them in protest.
It is being said you are an Aam Aadmi Party supporter and you are taking this stance to defame the Bharatiya Janata Party.
I am not an AAP member. Our organisation is not from any party. No party has supported us. Only Fadnavis has supported us. We don't want to do politics on this issue.
There are photographs of you along with Anna Hazare on social media where you are seen wearing an AAP cap.
Every individual has rights in our country. When Anna Hazare started a movement against corruption, our organisation supported and joined him. When Baba Ramdev started a movement against black money, we supported him too. I have also met Hazare and asked for his support for our movement.
An individual can go anywhere and her/his pictures can be clicked. There are a lot of my photos with BJP ministers too, so I don't think that is a problem.
Do you have any relationship with AAP or Arvind Kejriwal?
No way. Some people want this movement to be stopped and therefore we are being tarnished. However, it does not matter to us because our aim is that the women must get equal rights.
Do you feel all religions discriminate against women?
I feel in the name of traditions the rights of women are being snatched. All religions and all traditions must realise that the time for change has come.
(Art of Living founder) Sri Sri Ravi Shankar has also supported our movement. Even the Hindu Mahasabha's leaders have supported us. So I feel we will get support from everywhere.