'This coming general election is not going to be about manifestoes.'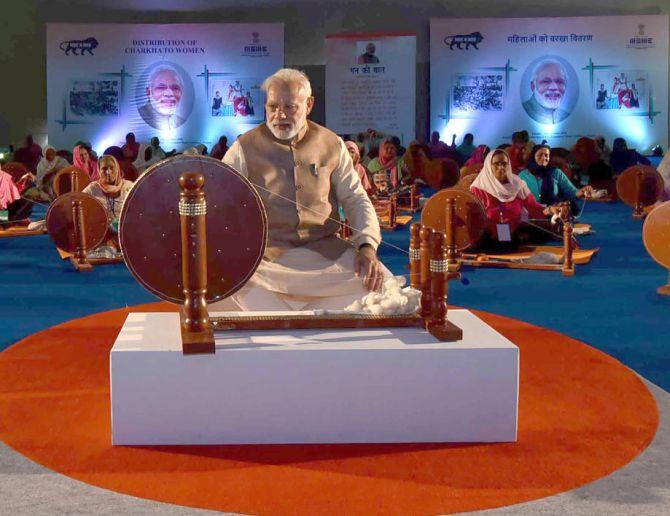 "There is huge agricultural distress. This distress is the result of the deliberate policies of the government," former Maharashtra chief minister Prithviraj Chavan tells Aditi Phadnis.
"It is not accidental incompetence. It is deliberate policy."
You may have managed to form a government in Karnataka. But you've had a streak of defeats in the four years of the Modi government which indicates people are still in thrall of Modi.
Look at what happened in Goa. There was a BJP government and a chief minister. The party got thrown out by the people. They managed to get the government back, that's another story altogether.
Look at Mizoram. Where they were not present at all, they managed to get the governments.
In Tripura, of course, they won for other reasons.
They have had electoral victories. They have had full use of the power of the central government -- power in all its dimensions.
But they are getting unpopular by the day. There is huge agrarian distress and they are not able to fix that at all.
As a matter for fact, wrong agricultural policies of the government, particularly wrong export import policies, wrong handling of the drought, loan waiver... it has not been successful at all.
And if you look at the economic development front, growth rates have plummeted, there are no new jobs, investments are not coming, exports are down, the rupee is losing its value, and when the oil prices go up, what this government is going to do, I don't know.
It is a crisis! Unnecessary demonetisation, bad handling of GST... a string of bad policy decisions.
Modi has not been able to build a team. He doesn't have colleagues who can run departments, the colleagues that he has who are reasonably competent, he is not letting them work.
But you have to accept that he's gritted his teeth and he's cleaned up the bank systems. He's gone after shell companies... and he's revisited the problematic issue of how to value and sell national natural resources...
If you look at 2G, many countries have made mistakes on 2G, particularly selling a natural resource like spectrum.
We took a conscious decision that a revenue sharing model was better than upfront sale. That was a policy decision, but propaganda was unleashed that there was corruption involved.
There was evidence of that, surely?
But the courts have now exonerated everybody. But the point is our policy decision: Whether to sell outright or to offer it on a revenue sharing model... you can have differences with that.
Similarly, on coal block allocations the courts have been very trenchant ...people are in jail.
Mr (telecom minister in the Manmohan Singh government A) Raja also went to jail. But what happened ultimately?
After the decision of the Supreme Court, he was exonerated.
Nobody has the last word. Mistakes could have been made.
Every country has made mistakes in allocating and selling natural resources.
Whether there was upfront corruption or not, that's to be decided.
Courts are looking at it. If there is corruption, the courts will punish the guilty.
But in the four years of the Modi government, no corruption has been found against anyone.
But it is also true that in the last four years, no corruption scandal has been reported.
I don't agree at all. If you look at the decision to buy the Rafale aircraft, it was a non-transparent decision.
But have you found evidence of corruption?
No, the point is, the Modi government has to tell us how the price of a plane triples in a matter of two years: You can draw the inference yourself.
All opaque. No information is given to us. RTI yields no results... nothing is available. I am not getting any information.
Take the example of the bullet train. $17 million on a bullet train connecting Ahmedabad to Mumbai, a distance of 500 km? What is the logic?
And look at how the price of the bullet train has gone up in two-three years!
We are not getting all the information. The Japanese side is also not giving us information. The Japanese prime minister is facing corruption charges.
Did the people of Mumbai want it (the bullet train)? You will have to pay back the loan over three generations.
But people of Mumbai have elected the BJP.
After being elected, the BJP government has done this. Now see what happens.
And in any case, the Maharashtra result was not because of the popularity of Modi or any other BJP leader.
It was only because as a strategic decision the NCP (Nationalist Congress Party) brought down my government.
We have fought the last several elections together and the BJP and Shiv Sena have fought elections together.
When the Shiv Sena parted ways from the BJP, there was no reason for us (the Congress and NCP) to part ways.
If we hadn't and we had contested the elections together, there is no question of the BJP coming anywhere near forming the government -- not even 100 seats.
What prompted Mr Pawar to bring down the Congress-led coalition government and even impose President's Rule, I don't know.
It was a huge damage and was responsible for bringing the BJP government to people. These people should answer.
In Karnataka, (B S) Yeddyurappa splitting the party and forming a new party caused the BJP to lose the 2013 elections.
The dispensation in 2013 thought Yeddyurappa should not continue as chief minister on grounds of morality.
That was then when people like Murli Manohar Joshi and Lal Krishna Advani had some say.
The dispensation today has no qualms about getting him back. That's the difference.
But it isn't one victory, it is a string of victories. And people are looking around and seeing things happen: Roads are being built, decisions are being taken... right or wrong, history will decide.
Development, growth: it all happened during the UPA.
We had to face an economic crisis in 2008. I shudder to think what will happen if this government has to handle that kind of crisis.
Demonetisation -- was it necessary?
The BJP won the UP elections after that.
That isn't the point.
That is the point. The people stood by the government even in their suffering.
No, they won because the Opposition was fragmented.
The BJP and allies got just 39 per cent of the vote. 61 per cent voted to defeat Modi.
But in UP the Congress and the Samajwadi Party came together to fight elections.
That was not enough, the moment the BSP (Bahujan Samaj Party) joined them, you saw what happened in the by elections.
That's what is going to happen.
This coming general election is not going to be about manifestoes. It is going to be about arithmetic.
Can we all come together? It is not easy, I agree. But if Mayawati and Mulayam Singh can come together in UP, why not the NCP and Congress in Maharashtra?
Modi has alienated all his alliance partners. Senior people are leaving the BJP.
Look at Yashwant Sinha, no less than a Union finance minister.
Look at Arun Shourie. Look at Shatrughan Sinha.
Arun Shourie is saying demonetisation was the biggest scam.
These are people who know something about government.
There are a lot of people, senior people, who made the BJP, they were responsible for the BJP's upward trajectory, upward curve. They are disillusioned with Modi, with the style of functioning of this duo (Prime Minister Narendra D Modi and BJP President Amit A Shah).
They are not unhappy with the BJP. They are unhappy with the duo.
If a united Opposition does get a stab at coming to power in 2019, what will your project be? What is the Congress's big idea?
I can't talk about what a common manifesto would be. That's a bigger project that we will have to undertake.
But if the Congress party's economic ideology was to spelt out in just two or three sentences, we would like to make a frontal attack on poverty.
Schemes like MGNREGA, food security, rights to the Adivasi people... what P V Narasimha Rao used to call the 'by-pass' theory as opposed to the famous 'trickle down' economics of the West.
This government is doing nothing, but trickle down.
They have deliberately depressed farm prices so that inflation could be kept low so that you can have lower interest rates for banks and industrialists can borrow at a lower rate.
Almost 45 to 50 per cent people earn their livelihood from the farm sector.
There is huge agricultural distress. This distress is the result of the deliberate policies of the government.
It is not accidental incompetence. It is deliberate policy.