President Xi Jinping's visit may put relations between India and China on a new trajectory, says Shyam Saran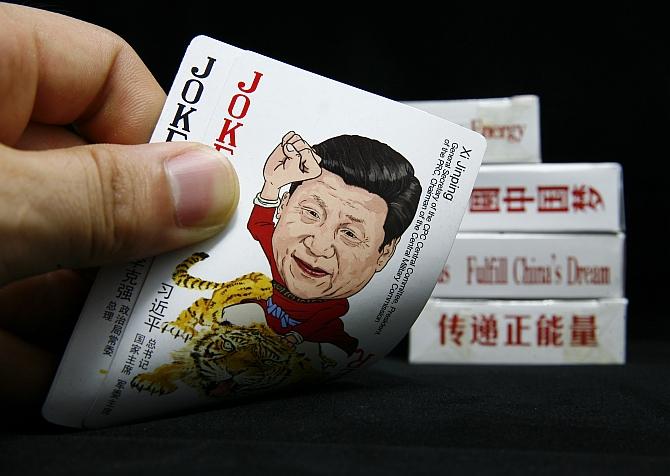 An image depicting Chinese President Xi Jinping is seen on the joker card of a set of cards featuring Chinese top political figures in this photo illustration taken in Beijing. Photograph: Karl Dong/Reuters
In less than two weeks, Xi Jinping will be paying his first visit to India as China's top leader. For the first time since 2005 India will have a relatively strong hand to play with in giving a new direction to what has been a complex and often difficult relationship with its northern neighbour.
When Wen Jiabao, the former Chinese premier, came to visit Delhi in April 2005, India was able to leverage its new found status as a "swing state", courted as it was by the United States, Russia, western Europe and Japan, even while strengthening its position in Southeast Asia through its Look East policy. Its rapidly growing economy seemed to position it as an economic powerhouse not unlike China. Its military capabilities, in particular its naval assets, put it in a class of countries able to project power beyond national boundaries. The performance of the Indian Navy in the aftermath of the tsunami earlier that winter, delivering aid and support to several countries in the region, made a deep impression on friends and adversaries alike.
The possibility that India might align itself more closely with the United States particularly worried the Chinese, who pressed for an India-China strategic and cooperative partnership, which could blunt the impact of any major announcement during the then prime minister's impending visit to Washington, including a possible and landmark nuclear deal. This enabled India to negotiate a historic agreement on political parameters and guiding principles for settling the border issue, which incorporated some of the principles India had been pressing for several years, including the need to take into account the interests of "settled populations"and "well-defined geographical features".
The issue of Sikkim was also settled during the visit, with the Chinese side handing over an official map showing Sikkim as part of the territory of India. It was also during this visit that the Chinese side conveyed that it would not stand in the way of India becoming a permanent member of the United Nations Security Council, but was not ready to reflect this explicitly in the joint statement.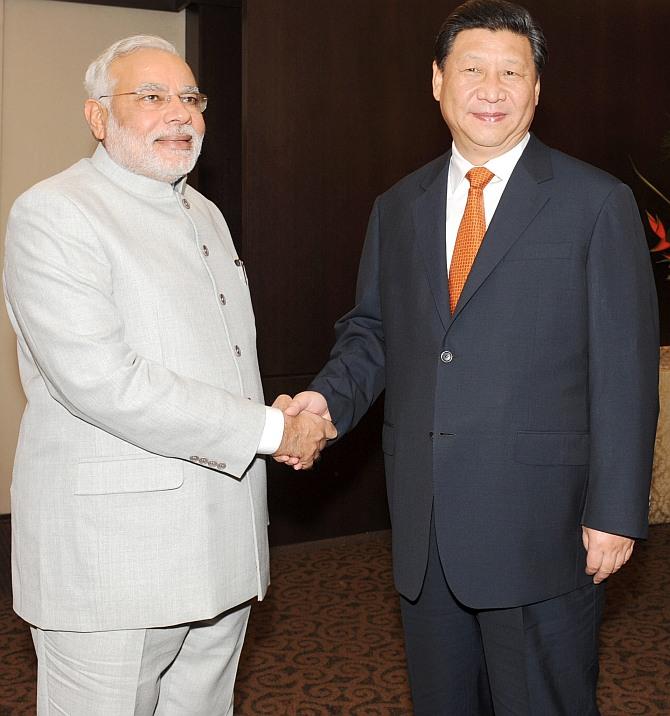 Prime Minister Narendra Modi with Chinese President Xi Jinping at the BRICS summit.
The subsequent years saw a steady erosion in India's bargaining position vis-à-vis China, as the gap between the economic and military capabilities between the two countries widened relentlessly and India's economic prospects diminished under the weight of political corruption and ineptitude. Its relations with the United States and western Europe lost momentum, particularly after the global financial and economic crisis. The strategic space that India had carved out for itself in 2005 shrank significantly in the ensuing years.
However, the wheel may be turning with India once again positioning itself as a swing state. There is no doubt that the Bharatiya Janata Party winning an absolute majority in the Lok Sabha in the recent elections and the assumption of prime ministership by a strong and charismatic leader like Narendra Modi has brought about a significant perceptional change about India internationally. The energetic pursuit of closer relations with neighbours in the very first weeks of the new government taking office, the extremely successful visit of Modi to Japan and of the Australian Prime Minister Tony Abbot to India this month have provided a favourable setting for Xi Jinping's forthcoming visit.
China is more sensitive to Indian concerns when India has strong and diversified relations with other major powers. Its pressures on India mount when India is seen to have fewer options. China does not want India to forge close security relations with the United States, Japan, Australia and Southeast Asian countries, as this constrains China's own room for manoeuvre. It will be willing, up to a point, to assuage Indian concerns about its intentions, so that India remains "non-aligned".
Furthermore, China's current preoccupation is more with its eastern flank, in particular the Yellow Sea separating it from Japan, the Taiwan Straits that lie between the mainland and the island of Taiwan that China claims, and the South China Sea where there are territorial disputes with several Southeast Asian countries. The forward deployment of United States forces in the region heightens the sense of threat. The Chinese have conveyed that while they face threats on their eastern flank, they value the "stable" situation that prevails on its western flank with India and would wish this to be consolidated. This may be tactical, but nevertheless gives India much needed breathing space. For India, the challenge will lie in creating enough anxiety in China about India leaning closer to its perceived adversaries but without tipping it into an openly confrontational and hostile posture.
There are two other factors that may influence the course of India-China relations. The revival of the Cold War between Russia and the West over Ukraine, which has driven the Russians much closer to the Chinese, will have a limiting effect on India, which has benefited from both the United States and Russia lending support to its emergence as a major power. The Chinese are the net gainers from these developments. However, the postponement of Xi Jinping's visit to Pakistan due to the continuing political turmoil there diminishes its value as China's "all-weather ally". The spillover of jihadi terrorism into China's Xinjiang from across the border with Pakistan has heightened Chinese anxieties. This may have a positive fallout on India-China relations.
India is also emerging as a major economic opportunity for China, which has increasing spare capacity in infrastructure industries while India is embarking on a major long-term investment effort in infrastructure. It is only India that can provide a market of the scale that China needs to utilise the huge industrial capacity it has built during its high-growth phase and that is no longer required domestically. The just-established New Development Bank in which India and China are partners could play an important role in this regard.
If India plays its cards well, it could use the Xi Jinping visit to impart much-needed momentum to the ongoing border talks, which have not made much headway since 2005. One should press for resuming talks on the clarification of the Line of Actual Control, so that incidents arising out of so-called differences in perceptions are minimised.
India should press China to support its membership both in the Shanghai Cooperation Organisation and the Asia-Pacific Economic Cooperation. Since both countries are excluded from the proposed Trans-Pacific Partnership, which the United States is promoting as a so-called "gold standard" regional trade agreement, they should agree to work together to make an early success of the regional comprehensive economic partnership.
Xi Jinping's visit may well inaugurate a new trajectory in India-China relations.

(The writer, a former foreign secretary, is currently chairman of the National Security Advisory Board and RIS, as well as a senior fellow at the Centre for Policy Research in New Delhi)