'At the previous 18th party congress, Xi vowed to protect China's 'core' interests.'
'As a result, India faced a barrage of serious incidents on the borders with China -- at Depsang, Chumar, Pangong Tso and Doklam.'
'New Delhi will watch closely the political signals emanating from Beijing this week,' says China expert Srikanth Kondapalli.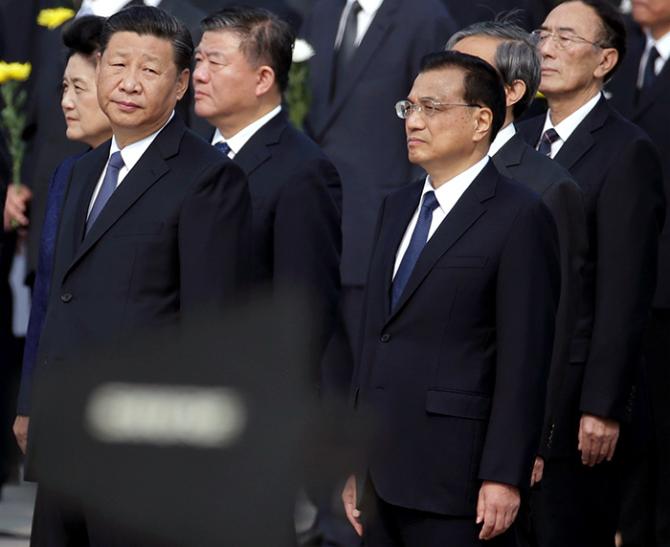 IMAGE: Xi Jinping, general secretary of China's Communist party and China's president, accompanied by Premier Li Keqiang and other leaders, attend a ceremony at the Monument to the People's Heroes at Tiananmen Square, ahead of National Day marking the 68th anniversary of the founding of the People's Republic of China in Beijing, September 30, 2017. Photograph: Jason Lee/Reuters
2,000-odd representatives of China's ruling Communist Party will meet for the 19th time in Beijing from Wednesday, October 18.
Drawn from nearly 90 million cadres, the meeting decides the Communist party leadership and China's direction for the next five years.
5 out of the 7 apex and decisive Politburo Standing Committee members are expected to retire following their reaching the retirement age.
President Xi Jinping and Premier Li Keqiang will not only get an extension for another five years, but Xi will consolidate further his position at par with Mao Zedong's stature in the Communist party hierarchy.
Xi is president of the Chinese state, general secretary of the Communist party, chairman of the all-powerful Central Military Commission and national security commission.
He also recently donned the hats of head of the comprehensively deepening reform committees and commander of the armed forces.
Xi also nudged the party to accept 'Xi Jinping Thought' to be inscribed in the Communist party constitution, elevating his political ideas at par with the founding fathers of the party.
Unprecedentedly, Xi got his publications on governance and poverty alleviation quite early in his tenure unlike his predecessors.
There is also the spillover effect of the churning at the party congress.
Many of Xi's followers are expected to make it to the 25-member Politburo, with some making it to the Politburo Standing Committee as well.
The political stock of those who are close to Xi or served with him in Fujian and Zhejiang provinces in the 1990s like Chen Min'er, Li Hongzhang, Li Zhanshu, Liu Qibao, Cai Qi, Han Zhang, Li Shulei and others is increasing.
Every Chinese leader brought his own team -- some with brazenness, some through a political testing process.
Mao announced Lin Biao as his successor in the 1950s although Hua Guofeng succeeded Mao after his death in September 1976.
Deng Xiaoping announced liubashi jihua (cadres born in the 1960s and who worked up the political ladder in the 1980s).
Xi appears to emphasise personal loyalty in addition to efficiency among his possible successors.
The Chinese Communist Party is convening at a time when both domestic and international factors provide several challenges and opportunities for China.
If the new leadership can overcome these challenges, China's goal of successfully observing 'two centennials' -- that of the 100th anniversary of the founding of the Communist party in 2021 and that of the People's Republic in 2049 -- could become a reality.
Essentially, this means putting China at the highest pedestal in the global power structure.
Nevertheless, the domestic and external challenges are by no means surmountable in a jiffy.
Firstly, the Communist Party congress comes at a time when for the first time China's economic juggernaut has begun moving slowly -- under 7 percent a year is the officially estimated figure although others suggest it as low as 2.8 percent.
While China maintained nearly 10 percent growth rate till about 2010, these figures are dwindling given declining exports due to the global financial crisis of 2007, rise in GDP to debt ratio at nearly 300 percent, over investments in the real estate sector, agricultural stagnation, and others.
Secondly, the economic slowdown has a direct impact on rising public discontent.
For every one percent decline in China's growth rate, it was estimated China's factories will throw out 20 million workers.
Indeed, after Egypt and India, China figures high in the global list of public protests.
According to surveys in China, much of the public discontent is aimed against the government's rolling back of social welfare benefits.
Thirdly, there has been an unprecedented rise in unrest by the 'national minorities', specifically by the Uighurs in the western region of Xinjiang.
In 2013, Xi initiated the national security commission precisely to address domestic challenges including ethnic unrest across the country. Nevertheless, political violence has increased substantially.
It was also reported that over 5,000 Uighurs joined Islamic State in northeastern Syria recently with the mission of taking jihad to Xinjiang.
Besides, China's intransigent position on over 150 self-immolation deaths in Tibet is taking a heavy toll on the country's soft power.
Fourthly, the 'new' political dispensation in Beijing will be watched carefully in terms of the forays that China has been making recently in the international domain.
While China's expansion globally provides scope for enhancing the country's footprint at a time when US President Donald J Trump is following certain 'isolationist' policies, these could lead to a premature 'imperial overstretch' costing China its rise.
While Xi underlined 'accomplish something' -- unlike Deng's 'keep a low profile' -- domestic and external opposition to China's rise continuous in the international domain needs to be watched.
For India, the Chinese Communist Party congress comes at a time when the Doklam standoff at the trijunction with Bhutan was resolved by mutually disengaging troops in the area.
At the previous 18th party congress, Xi vowed to protect China's 'core' interests, even giving up 'developmental' interests.
As a result, India faced a barrage of serious incidents on the borders with China -- at Depsang, Chumar, Pangong Tso and Doklam.
India will watch closely the political signals emanating from Beijing this week.
Srikanth Kondapalli is Professor in Chinese Studies at Jawaharlal Nehru University.