India is free, certainly, and has been so for 70 years. But are Indians free-spirited? asks Shreekant Sambrani.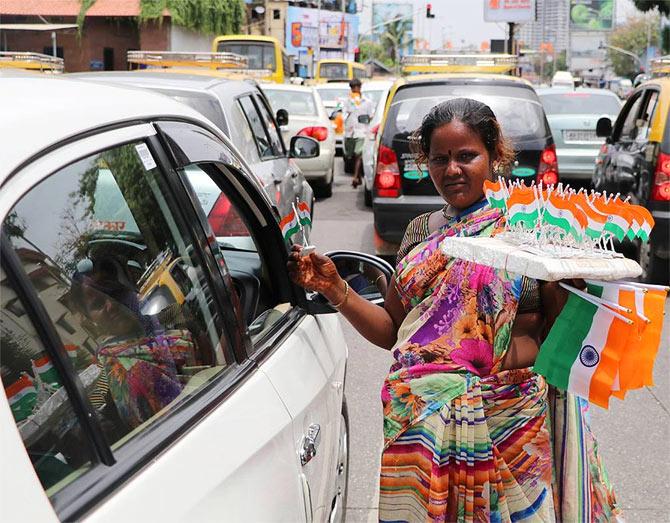 The hype about the 70th anniversary of Independence is growing daily. Though a little older than 'midnight's children', I can justifiably claim to have grown up in and with independent India. Hence I crave the readers' indulgence for some personal reflections.
I first encountered what we now call identity politics very early on, even before I started school. My father was offered an out-of-turn promotion in early 1948 because our last name was commonly associated with a shoemaker community of the area.
He politely said that he would abide by the rules and wait his turn, which was late in coming. He never regretted that decision.
My grandmother had adopted my father and his siblings. She was a pious child widow, had shaved her head and diligently observed every ritual imposed on her. She also managed her sizeable landholdings by working closely with her chief tenant, a Muslim of her age.
When he visited us with the harvest, he was accorded all respect due to a family elder, although he never stepped beyond the outer parlour of the house.
No one thought this odd in the least, leave alone as deserving opprobrium. This was in Dharwar district of north Karnataka, later to emerge as a hotspot of communal tension.
I attended ordinary government-aided schools. Family background was irrelevant. Everyone took umbrage at being asked about caste.
My Sanskrit teacher introduced us to Panini and Bhaskaracharya and the elegance of their work. He called them, not the myriad myths, our true heritage.
The science teacher began with the story of Newton's apple, which became a life-long hook. One day in 1955, he told us that he couldn't teach that day, because his god, Albert Einstein, had died.
I questioned the history text version of the Scythian origins of the Rajasthanis and still got top grade. Marks were precious, but using tuitions and guidebooks was a stigma never to be admitted.
A score of 80 per cent almost assured a place in the state merit list.
I was among the earliest students of Indian Institute of Technology, Bombay. The IITs were considered elite institutions not because of the social status of their students -- most of us were from salaried middle class families — or their fees -- Rs 200 a year as tuition was laughably low even in the 1960s.
They earned that reputation because of their up-to-date curricula, rigorous academic discipline and top-notch young faculty, some (not all) with degrees from well-known universities abroad.
So heady was the atmosphere that we spent entire nights debating whether god was really a universal equation of state not fully understood as yet, decades before we heard of unified string theories of everything.
That education helped us fit seamlessly into universities abroad. We went there on our own steam, without bankrupting our families.
When I returned to teach at Indian Institute of Management, Ahmedabad, in 1971, I found the IIT culture alive and thriving there. The austereness of the Louis Kahn-designed structures matched our lifestyles.
Faculty and alumni salaries were rooted in Indian ground reality, which no one minded.
We took great pride in being called and respected as teachers.
Things began changing soon thereafter, and rapidly so after the 1990s.
The Emergency shook us to the core, but the euphoria of 1977 did not last long in the already devalued polity.
I was shocked to hear the central services probationers call some of their colleagues 'scheds', a derogatory reference to their origin.
Aspirations outpaced incomes, and frustration caused immediate income to be the sole criterion for career choice.
Means to achieve that end became far less important.
India today is as different from the one I grew up in as chalk is from cheese.
We have enshrined the right to education.
The number of school and college graduates has grown by order-of-magnitude, but what they have learnt is questionable.
The landscape is dotted with IITs and IIMs, but precious few are worthy of the appellation.
We have every manner of goodies available, at a price of course.
The world is in our living rooms and on mobile phones thanks to electronic and social media.
We do not need the prime minister's rallies abroad to know that India has arrived.
In this India, strangers think nothing of asking me right off about my regional and community origins because of the odd surname.
My provenance defines my identity, not my capabilities.
Chatter is incessant, but people hesitate to voice divergent views.
When we sold our house in 2001, a well-known doctor showed interest. He told me that this was a favour, because a Muslim family in the neighbourhood had depressed the market.
A respected former chairman of two public sector banks (now no more) told me in 2002 that he saw nothing wrong in what was happening then in Gujarat.
It saddens me most that our offer to tutor young children in our neighbourhood has no takers, most likely because the parents think we will not prepare them for the examinations and would be disruptive. They wear as badges of honour the number of tuitions their wards have and their costs.
India is free, certainly, and has been so for 70 years. But are Indians free-spirited?
IMAGE: A common scene in Mumbai before Independence Day or Republic Day. Photograph: Hitesh Harisinghani/Rediff.com