Within the SAARC framework, says Rajeev Sharma, Nepal's strategic importance cannot be overestimated as Nepal is a key member of the sub-SAARC group India has created to bypass Pakistan.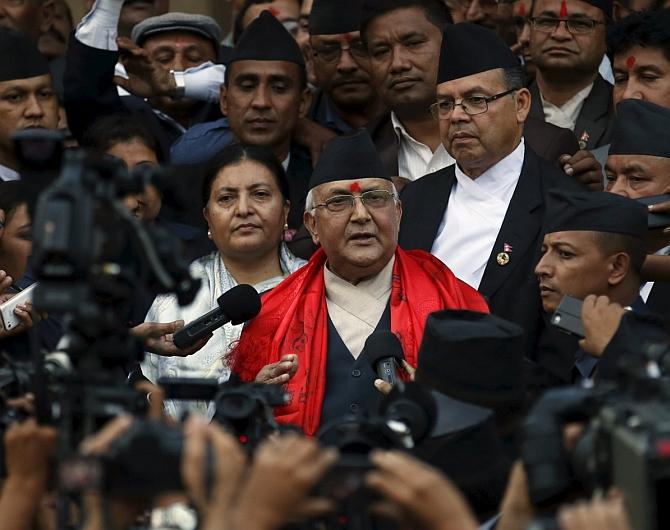 IMAGE: Nepalese Prime Minister K P Sharma Oli told reporters November 6, 2015 that the blockade of key border points with India is 'more inhuman than a war.'
Nepalese Prime Minister K P Sharma Oli is currently in India on a State visit (February 19 to 24). A State visit is the highest level of diplomatic engagement between two sovereign nations and Oli's state visit to India, his first foreign visit since taking over as prime minister, is thus imbued with a lot of diplomatic significance.
In keeping with Nepal's penchant for playing the China card with India and the India card with China, Oli's India visit hasn't come about without its due share of hiccups.
Oli, for years a known India-baiter, wasn't very keen on making India the destination of his maiden foreign visit after he took over as prime minister last year.
The Nepalese prime minister wanted to travel to China first. But then he had to bow to geographical and realpolitik imperatives and eventually decided to make India his first port of call.
It is an open secret that India-Nepal bilateral relations have been tense and frigid since the latter half of 2015, mainly because of the internal logjam between the Oli government and the Madhesis, residents of the Terai region which accounts for 51 percent of the Nepalese population.
This, despite the fact that Nepal is the only contiguous neighbour of India that Prime Minister Narendra Modi has twice visited so far.
The Madhesis ended their nearly five month-long agitation and lifted their blockade on February 8. It was the first time in the history of India-Nepal ties that India came out openly in support of the long-suppressed Madhesis. The Modi government brought about this major shift in India's Nepal policy.
The Modi government's open support to the Madhesis annoyed the Oli government no end and widened the chasm between Kathmandu and New Delhi, particularly given the fact that the Nepalese polity has traditionally been dominated by the people living in the hills.
Oli's visit must be seen from this perspective.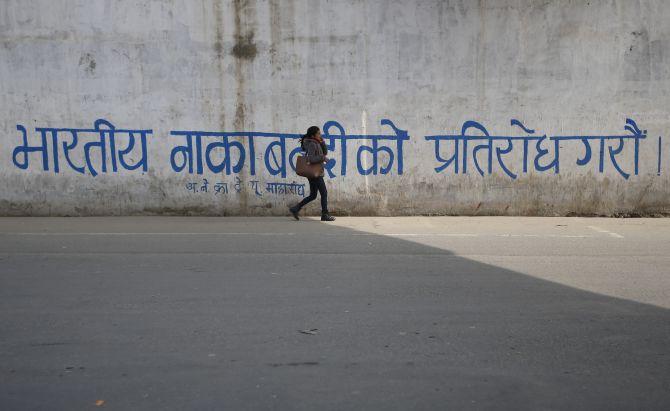 IMAGE: 'Let's protest against the Indian blockade' grafitti in Kathmandu. Photograph: Navesh Chitrakar/Reuters
The Oli visit should go a long way in repairing relations between the two South Asian neighbours who share a 1,751-km-long open border. During the delegation level talks, the two sides inked nine agreements, some of which are quite important.
One such agreement was an MoU on the utilisation of $250 million grant assistance, part of India's assistance package for the post-earthquake reconstruction in Nepal. This amount is part of the $1 billion package India announced at last year's donor conference for reconstruction of quake-hit Nepal.
Another agreement signed on February 20 is an MoU on strengthening road infrastructure in the Terai region of Nepal, which lays out a new modality for the construction of 518 kilometres of roads in five packages in that region. This is in keeping with India's deep focus with the Terai region of Nepal which borders India.
Then there were letters of exchange on both road transit routes and rail transport. The road transit was transit between Nepal and Bangladesh through the Kakarbhitta-Banglabandh corridor, and the operationalisation of Visakhapatnam port; the rail transport was also to and from Visakhapatnam, as well as a rail transit facility through Singabad for Nepal's trade with and through Bangladesh.
The agreement notifying Vizag as a point for enabling Nepalese imports and exports is important as Nepal is a landlocked country. India has acted as a good and responsible neighbour by formally allowing Nepal access to the Vizag port for its exports and imports with third countries.
Oli's India visit has been helpful in erasing bitter memories of the recent past and prepares a solid foundation for more substantive cooperation between the two countries.
This is laden with a lot of strategic significance given the China and Pakistan factors.
Within the SAARC framework, Nepal's strategic importance cannot be overestimated as Nepal is a key member of the sub-SAARC grouping of BBIN (Bhutan, Bangladesh, India and Nepal), a sub-group India has created and is promoting to bypass Pakistan.
Rajeev Sharma is an independent journalist and strategic analyst who tweets @Kishkindha