A Union minister and a chief minister stand accused of corrupting their office. If Prime Minister Narendra Modi lets them continue, he will have broken his election promise substantively, says Aakar Patel.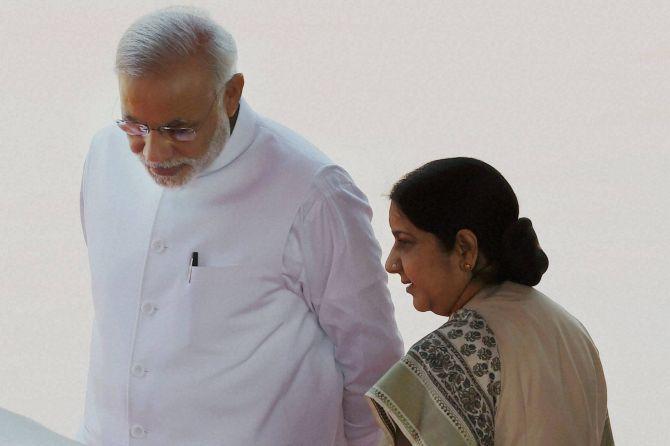 Na khaoonga na khane doonga, Prime Minister Narendra Modi promised us during his election campaign, in which corruption was a most important issue. He would not be personally corrupt and he would not allow corruption around him.
About his personal integrity in matters of corruption I have absolutely no doubt. I know Modi personally and I cannot see him as the kind of man who will accept money for himself in return for bending or breaking the rules, or in exchange for a favour.
However, the same I also can say about other prime ministers. I don't think Manmohan Singh was corrupt, and though he faces a court case, even his opponents do not believe he is anything other than honest.
And there is no case so far as I know accusing either Atal Bihari Vajpayee or IK Gujral or, going further back, Jawaharlal Nehru or Gulzarilal Nanda of personal corruption. All these men were above board in that sense.
So Modi's "na khaoonga" claim, even if it is demonstrably true, does not mean much because it has precedent. It is his "na khane doonga" promise that is more interesting.
This has two facets. The first is the obvious and addresses everyday corruption, meaning what is extorted out of the citizen (for such things as driving licences or land records and so on) or what the citizen voluntarily offers to avoid cost or inconvenience. This is a cultural phenomenon and difficult, if not impossible, to get rid of purely through legislation or governance.
To demand from any prime minister that he get rid of everyday corruption when it is seeped through into the culture is not realistic. Nor, and this is also true, is it particularly prudent for a leader to claim that he will eliminate it all by himself.
That brings us to the second aspect of "na khane doonga". Let us assume Modi meant specifically that he would not let his ministers be corrupt. Here it would be fair to say that many prime ministers before him failed. Certainly, Manmohan had little control over the doings of several people in his cabinet, and even Vajpayee struggled in this regard. In both the cases the situation was different because they were minority governments and could not discipline their allies, but that is no excuse and I accept that.
What would Modi do when an instance or an allegation of ministerial corruption came up? He has had a chance to show us this month and so far he has not done anything. He has neither defended the behaviour of Foreign Minister Sushma Swaraj personally, nor has he explained to the nation what has happened to his "na khane doonga" promise.
It is, in my opinion, incorrect to write off Swaraj's actions and Rajasthan Chief Minister Vasundhara Raje's actions (both have been accused of helping IPL founder and fugitive Lalit Modi) as minor. In no civilised democracy would a foreign minister and a state chief minister have survived this sort of scandal. There are serious and unchallenged accusations of direct involvement, surreptitious favours, a duplicity in how the State treated Modi (making him an absconder) and how the minister did.
The web of favours and money is too deep and too detailed to be brushed aside as either a falsehood or an a minor offence. One defence of Swaraj is that she will stay in office because no money is alleged to have been exchanged for the favours she got (Lalit Modi helped secure admission for her relative in a fancy college and her husband is Lalit Modi's personal lawyer). Her action of secretly allowing Modi to travel while pretending that India was looking to bring him back was therefore not a serious offence.
On this I think the correct view would be to revisit the prime minister's promise. He has promised there would be no corruption around him.
But what is corruption? We often think of it as bribery, and in a way it is. However, what is corrupted in an act of corruption is the office. That is the true meaning of the word.
A Union minister and a chief minister stand accused of corrupting their office. If the prime minister lets them continue, he will have broken his promise substantively.
It surprises me that he would do so, given that he still personally enjoys high stature as a man of integrity, and one who says only those things that he means.
Image: Prime Minister Narendra Modi with Foreign Minister Sushma Swaraj. Photograph: PTI Photo.