If the government does not allow the Opposition a few victories, then it is opening the door to paralysis and an entrenched culture of confrontation, writes Mihir S Sharma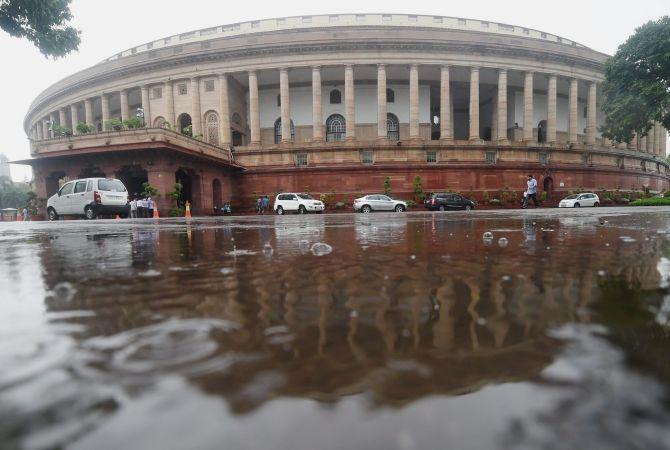 The monsoon session of Parliament was washed out owing to the BJP and Congress's warring. Photograph: PTI
There was something not just odd, but infuriatingly shambolic about how the farce of Parliament's monsoon session was conducted. It was, one irritated backbencher told me, as if the leaders of our two main parties had been temporarily replaced by amateurs. Nor did either seem to have any sense of time. Sonia Gandhi, who should be biding her time and waiting for the government to trip itself up -- something that looks increasingly likely, given the hopeless political management on display in the Bharatiya Janata Party -- seems instead to be behaving as if an election is due any minute. Prime Minister Narendra Modi, meanwhile, doesn't seem worried that "achhe din" is fast becoming a joke -- and seems to have decided crucial legislative reform can be handled with confusion, laziness, rollbacks, and political point-scoring.
We hear now a special session might be called to try and pass the goods and services tax bill -- a waste of time, given that the current bill betrays the promise of the reform. In the words of Satya Poddar writing, it "will not provide any boost to the gross domestic product, nor help revive the economy". What it will likely do, in fact, is embed paralysis permanently into Parliament.

Yes, the Congress's credibility will hit zero. There was already an air of running-out-the-clock in the party's last desperate disruptions as the monsoon session came to a close. Simply put, Gandhi overplayed her hand. A leader once seen as above-the-fray is now no different from anyone else. The Congress, whatever else, did at least have a slight aura of decency to it. But the behaviour of its MPs in this session, physically intimidating the Speaker, means that reputation is fast vanishing. When Gandhi stepped into the well of the House in the dying hours of the session, it was a desperate move -- but one that fatally compromised the Congress and her own legacy.

Certainly, External Affairs Minister Sushma Swaraj behaved with impropriety. But by demanding a resignation first-off, the Congress has adopted a maximalist position that will inevitably be seen as unjust. Meanwhile, it allows Swaraj to exhume every skeleton in the Congress's dusty 60-year-old closet. It is true that her fiery speech attacking the Gandhis only drew attention to how weak her own defence was. But this is not a game that the Congress can win. In the end, their victory scenario is what? That Modi sacks Swaraj, after an in-camera "investigation"? Is it not obvious what a giant win that would be for the PM, in every sense?

Meanwhile, one cannot but be perplexed about what the PM is thinking. Has he been well advised to put everything else on the back-burner to try and pass this moth-eaten GST? The chief economic advisor himself has pointed out that major changes need to be made. The only explanation is that he thinks that it is essentially a political battle he can win, by painting the Congress as anti-reform. In the process, every other piece of legislation this Parliament needs to conduct seems to have been abandoned.

Parliamentary politics is about compromise. If the Opposition does not allow the government to function, then it is denying legitimacy to a democratic mandate. If the government does not allow the Opposition a few victories, then it is opening the door to paralysis and an entrenched culture of confrontation. When this happens, the legitimacy of democracy itself begins to be questioned. We make too much of our long history of democratic institutions. For most of those years we were effectively a one-party state; and, even after, we were blessed with political leaders skilled in the art of compromise. It seems, of that ilk, only Mulayam Singh Yadav -- the eternal U-turner -- is left. Embed all-or-nothing confrontation in your political culture, and you may well eventually turn into a semi-democracy. Look at Bangladesh, or Malaysia, where election losers just refuse to lose.

While the primary responsibility for initiating this crisis is Gandhi's, the man who must end it is Modi. But, for the first time, during this session it became acceptable to question Modi's political instincts. For example, he seems to have decided to withdraw the amendments to the land bill. Very well. But if you're going to do that, why not use it politically? Allow the Congress to claim that as a victory; call in the leader of the Opposition and the president of the Congress, tell them you're withdrawing it, and let them have a press conference as they leave 7 RCR declaring victory. In return: they help you pass a slate of legislation that you can bargain over. Is Modi's contempt for the Opposition so great that he didn't even want to try this? If so, the greatness he so palpably hungers for will forever elude him.

I write this in a pleasant street café in central Bangkok. The street I look out on, thronged currently with barbeque stalls and a startlingly large number of lottery ticket vendors, was one of those choked by clashing street protesters 2010 onwards, after the city refused to accept election verdicts that went in favour of the countryside. All is quiet now; since last year, the military has ruled here with an iron hand, but without any real promises of future elections. What's the point?

Yes, of course that couldn't happen here. But our smugness about our history has led us to the opposite extreme -- a supposition that an unprecedented, maximalist politics will have no impact on our democracy. That's a dangerous belief. Once Parliament becomes like the Gujarat or Chhattisgarh state assemblies, with suspensions of the Opposition a matter of course, we cannot say with certainty where the cycle of elections-disruptions-street protests-retaliation will lead. But nowhere good, that's for certain.