'Is Rahul turning the Congress' covert soft Hindutva support into overt support?'
'And if so, following in the BJP's footsteps, is the Congress going to abandon Indian Muslims and Muslim causes altogether?' asks Dr Najid Hussain whose father-in-law former Congress MP Ehsan Jafri was killed during the Gujarat riots.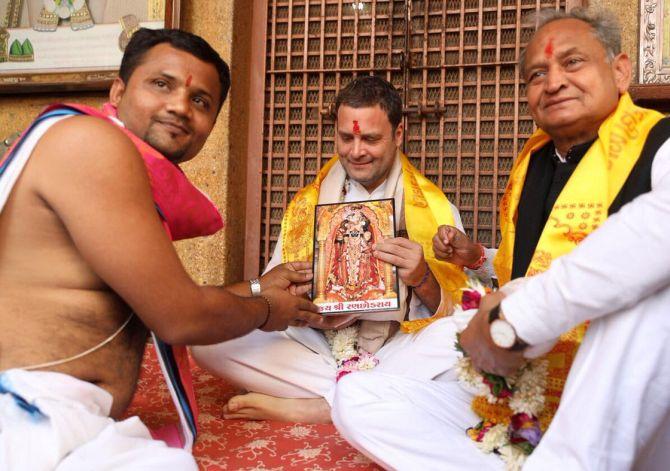 IMAGE: Rahul Gandhi at the Ranchhod Raiji Mandir during his Gujarat campaign. Photograph: Kind courtesy @INCIndia/Twitter
Rahul Gandhi's Gujarat campaign was successful beyond the Congress' wildest dreams and the BJP's worst nightmares.
What was constant, and very conspicuous in the campaign, was the absence of 'Muslim', 'Islam' or 'Mosque'.
Mr Gandhi's campaign commenced by visiting dozens of temples, signing registers, emphasising his and the Gandhi/Nehru family's Hindu-ness, and talking about the pain and ill treatment meted out to the Patidars, Dalits, farmers, tribals, women, and economically and socially backward people of Gujarat under BJP governments, and giving assurances of help from a Congress government if brought to power.
No such assurances were offered to the Muslims of Gujarat despite their unfathomable pain and suffering in post 2002 Gujarat.
This must be heartbreaking for a lot of Indian Muslims, if not all.
Muslim intellectuals have always known that despite an overt Congress policy of supporting Muslims -- almost to an extent of appeasement -- there also exists covert Congress support to soft Hindutva.
The Gujarat riots of 1969, 1982, 1985 and a dozen other riots, the Babri Masjid demolition, the Mumbai riots of 1992 and 1993 -- all of these took place during Congress rule.
During Dr Manmohan Singh's premiership, the Congress commissioned the Rajinder Sachar committee to study and recommend steps to improve the status of Muslims. But the committee's recommendations were never implemented for fear of the party being seen as an appeaser of Muslims.
In 2009, Digvijaya Singh, the former Madhya Pradesh chief minister, asked Narendra D Modi why during his two terms as Gujarat's chief minister he had not fielded a single Muslim candidate.
Mr Modi immediately posed the counter question: Why did the Congress reduce fielding Muslim candidates in Gujarat from 17 to 4 over the same period?
Modi's insinuation: The Congress also recognises that the Muslim factor hinders an election, which is a depiction of an unapologetic political calculation.
The fact that this remains only an insinuation is shameful proof that publicising a policy of exclusion would lose valuable Muslim votes.
In order to remove such duplicity, is Rahul turning the Congress' covert soft Hindutva support into overt support now?
And if so, following in the BJP's footsteps, is the Indian National Congress going to abandon Indian Muslims and Muslim causes altogether?
After all, his actions are ringing testimonials to the party openly peddling soft Hindutva!
An affirmative response would seem easy and obvious, but it could be wrong. It would be a knee jerk reaction. The reality may be very different and further disconcerting to the Muslims of India.
Muslim representation in Parliament was 2% in 1952 against a national Muslim population of 9.8%. That representation rose to almost 10% by 1980 which was close to the national Muslim population of 12.1%.
Following 1980, Muslim representation in Parliament started declining, and now stands at less than 4% against their national population of over 13%.
In the early 1980s, the Babri Masjid/Ram Mandir issue gained momentum. L K Advani's rath yatra put Hindu-Muslim polarisation in the country on steroids.
In order to protect amicable relations between Hindus and Muslims, progressive Muslims called upon their leadership urging them to move the Babri Masjid, with due respect and dignity to another location and allow the construction of the Ram Mandir in its place.
But the hardline Muslim leadership and several Muslim organisations did not relent and chose to wage a legal fight to reconstruct the masjid.
Calls of 'Mandir wahin banaaenge (We'll build the temple right there)' from elements and followers of the Sangh Parivar became prominent, and the ensuing communal fire engulfed several other benign issues -- the exodus of Kashmiri Pandits from the Kashmir valley, the provision of Article 370, Dalit conversion to Islam, support to Pakistan in cricket, and many more.
Demands of exacting revenge on 'Babar ki aulad' (Muslims) and sending them to Pakistan became a rallying cry.
Thus opened up an ugly chapter of Hindu-Muslim intolerance, hate and division.
For 30 years after Independence -- pre-BJP -- Hindus and Muslims lived mostly amicably with virtually no support for the RSS and Jan Sangh.
Despite a fair share of political incitement, bonds of mutual understanding and trust in the interest of national integrity had not weakened.
But after this period of relative tolerance, the two communities began treading different and mutually divergent paths of division and destruction.
The Babri Masjid demolition and the communal riots which followed, the Gujarat massacres of 2002, the terror attacks on the Akshardham temple, Parliament, Mumbai -- all bolstered growing communal hatred, and sowed the seeds of separation of Hindus from the Muslims. Politicians gleefully fanned those flames.
Gujarat post 2002 became a tinder box. Many called it a Hindutva laboratory. Muslims became pariahs. They were massacred, ghettoised, and stripped of any remaining influence or power -- in business, employment, government, and politics.
With the success of the 'Gujarat experiment', politicians across the spectrum began to take what opportunities they could to 'divide and rule'.
State after state imported Gujarat's communal potion. Issues which could act as fuel started mushrooming.
Cow slaughter, Vande Matram, dress code, azaan, Eid gatherings, Muharram processions, cricket passion -- all became cause for vitriol.
We now have come to a stage where Muslim sounding names, beards, or wearing of a skullcap, can be twisted as just cause for lynching in front of dozens of people, including the police, with total impunity. That the lynching may even be videotaped as hateful propaganda and widely circulated is perceived as a mark of strength and Hindu pride.
This reality is depressing not only for the Muslims, but Hindus who still believe in Sarva Dharm Sambhav who do everything they can -- certainly more than Muslims -- to help change this senseless culture of division, hate, and violence.
They lobby for legislation to curb violence against Muslims; arrange seminars and gatherings to educate people about communal harmony, cooperation, and coexistence; take legal action against lynch gangs and politicians who engage in divisive rhetoric and crimes.
On the other hand, Muslims -- apart from carrying the victimhood mentality as a badge of martyrdom -- have done little to bridge the communal divide.
The Muslim leadership still carries the mindset that they were once rulers, their right to Muslim personal law is supreme, they have the freedom to practice religion in ways that include azaan on loudspeakers five times a day, eating beef, not relenting an inch of space of the Babri Masjid for a Ram temple, and that they need not respect Hindu sentiments and belief.
None of this is helpful to bring about a positive change in Hindu-Muslim relations.
The commendable initiatives and steps taken by secular Hindu groups in educational outreach and offering legal protection to affected Muslims can only have limited success in dousing the communal fire that is still spreading.
Similar initiatives from Muslims are very much needed. Progress cannot come without healthy effort, and without a willingness to co-exist.
Public sentiment is the biggest road-roller that neither can stop quickly, nor change direction easily.
If the spread of anti-Muslim sentiments have reversed course, Muslims and their leadership will have to take initiatives and steps.
Muslims opening up services to Hindu communities, providing financial aid and scholarships from Muslim charities and organisations to Hindu children, assisting Hindu pilgrims during the course of their pilgrimages, reaching out to educating Hindu children together with the children of their own, are some of the most fundamental ways to spark that change.
The opportunities for building bridges of understanding and trust are endless. All that is required is a will to engage and work -- with sincerity, honesty and compassion.
If and when the communal poison is washed away -- and politicians can no longer use that division for their benefit -- a new and healthy India will rise.
We will get a second independence from division, distrust, and disharmony -- this time together.
We will be no less Hindu, and no less Muslim, but will hand in hand progress forward as proud Indians.
The Indian National Congress -- which no doubt is a secular outfit at its core -- will not have to hide its equitable support to the Muslims of India any longer, and Rahul Gandhi will be able to include the word 'Muslim' in his campaigns.
Dr Najid Hussain is a marine scientist working at the University of Delaware.