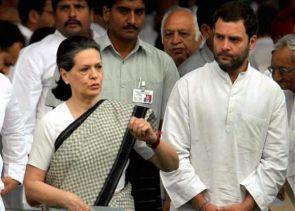 Reduced to a mere shell of its former glorious self, it now mechanically sticks to form while substance was frittered away a long time ago, says Virendra Kapoor.
Like the Bourbons of France, Congressmen learn nothing and unlearn nothing
You have to commend the Congress leadership for being fair and even-handed. Post-defeat, it could not have accept Assam Chief Minister Tarun Gogoi's resignation without calling into question the Congress Working Committee's decision to reject the offer of resignation by the party president and vice-president.
On that sound principle of equality were the foundations of the Grand Old Party laid, but over the decades it has veered far away from its founding principles. Reduced to a mere shell of its former glorious self, it now mechanically sticks to the form while substance was frittered away a long time ago.
Thus, what transpired at the CWC meeting last Monday came as no surprise. It was pre-scripted. The only surprise was that Rahul Gandhi sat through the dreary proceedings trying very hard to look serious and sad, unlike his posture on the afternoon of May 16 when he stood grinning before television cameras while his mother read out a brief statement accepting the inevitable.
That is one concrete indication that the heir apparent does occasionally find time to read the press. For no retainer would have had the gumption to tell him that you do not smile when your house has virtually fallen down in small pieces upon you.
That said, the CWC rejected the resignation offer of the mother and son duo as ritualistically as it was offered. There was no question of its acceptance. That would have orphaned the coterie that goes under the rubric of the CWC. In fact, if the family needs the coterie, it is equally true that the coterie needs the family.
Can you imagine half the members of the CWC getting elected to any representative body in our five-tier system without the crutches of the Gandhi name?
Also, can you imagine the Gandhis staying in clover as the controllers of the oldest political party in the world without a retinue of personal retainers passing themselves off as Congress leaders.
Eight Cabinet ministers, Chidambaram included, opted out of the race, 15 who dared to run did not make it back, most of them even failing to save their deposits. Only three Cabinet ministers returned to the Lok Sabha. This then is the pulling power of the tallest of the tall Congressmen and women who populate the highest decision-making body of the Congress party. With these pygmies as leaders, is it any surprise that the family faces no threat of accountability?
The best that shell-shocked Congressmen can mutter under their breaths is to blame the 'advisers' to the family or to demand that Priyanka bitia too should be allowed to smoothen their path to power. Any option of survival outside the confines of the family is a clear no, no. The new generation of Bourbons are now duly headquartered at 10, Janpath, New Delhi.
Tale of three Magsaysay winners
Arvind Kejriwal. Kiran Bedi. Arun Shourie. A strange melange of contemporary names, isn't it? Well, they do have a lot in common. To begin with, all three are Magsaysay Award winners. For another, all three are go-getters. Self-seekers all, they set out to achieve their high ambitions by gaming the system, if necessary.
Kejriwal was hardly known for his devotion to duty when he was a mid-level Indian Revenue Service officer. A look at his service record would be enough to tell you that he virtually defied his bosses to do his own thing, while pulling strings to avoid being posted outside the national capital region.
As for Bedi, the less said, the better. As a member of the uniformed force, she hardly cared for the hierarchy, often using her celebrity as a first woman Indian Police Service officer to get what she wanted by reaching out over the heads of her bosses. And like Kejriwal, she too floated an NGO while still in service and which has helped her, as it has helped him, to underwrite certain expenses.
Now both Kejriwal and Bedi would want to become Delhi chief minister. That has landed Kejriwal in Tihar jail. Realising that she too can make a grab for that office, Bedi too has declared herself available for the Bharatiya Janata Party to welcome her with open arms. Happily, the party has shown appreciation of her lone-ranger, me-first record to not to be over-excited by the offer of the ambitious Bedi. Should it make that mistake, it wouldn't be long before it regrets it.
Well, Shourie is truly an extraordinary intellectual, a bibliophile with an elephantine memory for detail. But, like the other two, he too tends to defy his immediate bosses, in order to get what he wants. Again, like the other two, he too can flip-flop, depending on what advances his current ambitions.
So, after the surprise National Democratic Alliance loss in the 2004 poll he can proclaim himself not to be a member of the BJP; after the 2009 loss, he can criticise the BJP leadership most rudely and implore the Rashtriya Swayamsevak Sangh to take over the party.
But after the 2014 win, the same Shourie can advise the RSS, without batting an eyelid, to keep its hands off the BJP and allow the party to manage its own affairs.
All three Magsaysay Award winners have another common trait. They are so self-righteous that in their self-centred worlds there is hardly any place for those who may disagree with them on principle or even on facts.
More equal than most
Liberal intellectuals do protest too much. They believe that they alone have the license to provoke and shock. Nobody else. Months before the election results, a noted Kannada writer had announced to the world that he would leave the country should Narendra Modi become prime minister.
A Congress gadfly had dared to predict in triplicate that Modi would never ever become prime minister and that he can sell tea in the Congress office.
These boasts had deservedly made national headlines. Now that Modi has actually been elected prime minister, why is it so shocking that some people have recalled those rude threats by the self-appointed defenders of the liberal order only to remind them of their outlandish remarks.
If they had the audacity to provoke without reason, is it fair to deny Modi supporters the right to pay back in kind? Why get all hyper and sensitive if you get a few e-mails or letters from a few crazies wanting you to keep your publicly made promises.
The trouble is that shrill television anchors fail to question these so-called intellectuals whether it was right in the first place to be so offensive, nay, so boorish. Who was being intolerant? Certainly not those who were boastfully unready to honour the democratic verdict.
AAP in Punjab
How did the Aam Aadmi Party win four seats in Punjab?
Simple. The AAP convinced voters that if Modi comes, he would enforce prohibition in Punjab.
Image: Sonia and Rahul Gandhi.