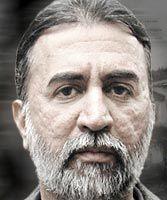 Tarun Tejpal was a rare editor who mostly allowed his team to function without thinking of consequences from advertisers and politicians, and a stunning writer.
That is immaterial now. If the charges are true, Tejpal cannot get away by 'recusing' himself, says Mango Indian, who once worked at Tehelka.
Just the other day, I got an SMS from one of my best friends, asking me to guess what his three-year-old daughter went to school as on 'dress up as someone who contributes to society' day at her creche/playschool.
I was thinking of that when I read the tweet from Jonathan Shainin, The New Yorker's new news editor, about the grave charges against Tarun Tejpal, now the disgraced editor in chief of Tehelka.
'Can the Indian media cover itself? A pretty huge test just arrived today,' wrote Shainin, former senior editor at Caravan magazine.
Minutes earlier, a letter from Tejpal to his longtime deputy Shoma Chaudhury, and Chaudhury's own comments added on in an e-mail for Tehelka editorial staff, had been leaked on Twitter.
'There has been an untoward incident, and though he has extended an unconditional apology to the colleague involved, Tarun will be recusing himself as the editor of Tehelka for the next six months,' wrote Chaudhury.
The subject line was 'Fw: Atonement'.
In the attached e-mail, Tejpal had written: 'The last few days have been most testing, and I squarely take the blame for this. A bad lapse of judgment, an awful misreading of the situation, have led to an unfortunate incident that rails against all we believe in and fight for. I have already unconditionally apologised for my misconduct to the concerned journalist, but I feel impelled to atone further.'
The answer to Shainin's question was answered within minutes.
The details of Tejpal's crime -- at least molestation, if not rape, if the leaked details are true -- made it to Web headlines and television channels, even as the many enemies Tehelka has made over the years ranted at 'media silence.'
The code of watchdogs dictates that if one of us is the thief, we must pounce on him with the same ferocity as we do on others. Tarun Tejpal's alleged sexual assault must be treated the same way as Asaram's alleged rape(s).
He must not be allowed to get away, because the survivor does not want Tejpal to get away with it. If the leaked details are true, the brave girl wrote a detailed e-mail to Chaudhury, describing how Tejpal allegedly told her it was 'the easiest way to keep your job'. How Tejpal assaulted her twice.
That's not 'lapse of judgement', as Tejpal allegedly claimed in the e-mail to his deputy, nor 'casual banter,' as he allegedly tried to later tell the girl he molested.
From innuendo to being touchy-feely, sexual harassment unfortunately does exist even in the modern newsroom. But what allegedly transpired in Goa at Tehelka's ThinkFest crosses the line way too much.
Tejpal was a rare editor who mostly allowed his team to function without thinking of consequences from advertisers and politicians, and a stunning writer.
That is immaterial now -- maybe Asaram was also a philanthropist.
If the charges are true, both should be hauled over the same coals. Tejpal cannot get away by 'recusing' himself.
The worst part about the entire incident is the trauma the girl had to undergo, attacked by a man she respected.
The second worst part of it was Tehelka's cover-up, and denying the survivor justice.
The girl had demanded, as another leaked e-mail says, that Chaudhury -- who was on a Newsweek list of 150 Women who Shake the World -- must take the charges seriously and set up a sexual harassment panel in office as per the Supreme Court's Vishakha judgment guidelines.
The survivor told NDTV that she was 'deeply disappointed by Tehelka's response', and that 'to claim that other journalists in Tehelka are satisfied is also false since my testimony has not been publicly circulated within Tehelka, only Tarun's letter of 'atonement' has.'
Chaudhury, who has grandstanded on many issues for Tehelka, declared to The Indian Express: 'I don't think you can ask me these questions.'
Yes, we can, Shoma.
At a time when it has never been more rewarding to not do the hard stories and where printing advertorials with minuscule disclaimers and euphemistic supplement names is the most encouraged way to sustain a news publication, Tehelka has done some outstanding journalism.
At a time when 'paid media' is a social media buzzword and when journalists get 'raises' that reduce their salaries with deft corporate jargon juggling, I remember my time in Tehelka fondly -- though we didn't get our salaries half the time -- being in awe of the many outstanding people working at fractions of the money they could have commanded elsewhere.
All of that has been besmirched -- and that is another sad thing.
If there is a silver lining, it is perhaps that the whistle is being blown by journalists -- how else do you think everyone knows exactly what happened? -- and that workplace harassment is getting the coverage it deserves, and that survivors are fighting powerful men.
I also hope Tarun Tejpal's crime does not go unpunished, for the sake of my friend's three-year-old daughter. She went to school on that day with a toy camera, a jhola bag and an identity card -- dressed up as a journalist.