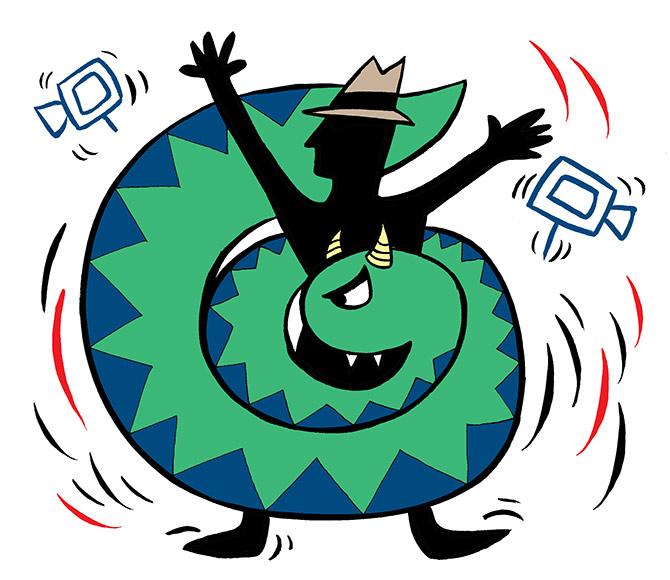 'The idea of moral responsibility is not particularly strong in our parts.'
'Showing that people are corrupt or immoral through stings doesn't have the required effect in such a culture,' says Aakar Patel.
Illustration: Uttam Ghosh/Rediff.com
The word 'sting' has become as discredited as the word 'encounter'. I mean that it is insufficient as a demonstration of an act in black and white, even though we are witness to the action. It is filmed on video and yet it is only a version of the truth. Why is that? Let's have a look at it and how the two words lost their credibility.
Indians became familiar with the word encounter in the 1980s when the Sikh separatist movement for Khalistan was at its peak.
News of 'terrorists' being killed in 'encounters' became common. In Mumbai in the 1990s, the police killed the underworld's foot soldiers in a series of 'encounters'. And those officers who were willing to pull the trigger on handcuffed men became encounter specialists.
Quite a few innocents also died in this and this is why the phrase 'uska encounter ho gaya' means that someone has been deliberately picked up and killed.
Why has 'sting' been similarly discredited?
In media the tradition of doing stings began with a massive investigation done by the Tehelka team 15 years ago. The miniaturisation of video cameras and the transfer of military and spy technology to commercial applications made it possible.
Tehelka recorded cricketers and BCCI officials talking about match fixing and named players including Mohammad Azharuddin. What happened later? While foreign players confessed and were punished in betting scandals -- most famously Hansie Cronje of South Africa -- in India the episode ended vaguely.;
Azharuddin's ban was lifted and he became a politician, winning a Lok Sabha seat. He had never accepted guilt and though the evidence was against him, he was able to come out of it in a way Cronje could not. No major cricketer really suffered.
I was editing a newspaper in Mumbai when the Tehelka sting happened and we were so impressed by the material that we published an entire issue of the transcripts which featured the great and good of Indian cricket talking loosely about corruption.
But what ultimately came of that sting? It is difficult to say.
Corruption in cricket has remained and players continue to be suspended and punished for match fixing, including in the IPL. This failure of stings to secure clear verdicts can be seen elsewhere.
This month the Trinamool Congress of Mamata Banerjee has been hit by a sting in which a dozen members of the party, all of them top officials including MPs and ministers, have been filmed taking cash and promising favours.
What has been the party's predictable response? That in fact it is the victim here, and the sting is a smear campaign by its enemies.
There are two reasons for this general failure of stings in India. The major one is that the idea of moral responsibility is not particularly strong in our parts. I would say that is because our morals are flexible.
Demonstrably corrupt leaders can remain in politics, even convicted ones, like Lalu Yadav shows. And he is not the only one. In a system where nothing really functions, the middleman has become legitimate and bribery is seen as something one has to live with.
Showing that these people are corrupt or immoral through stings doesn't have the required effect in such a culture.
There are any number of people in power who have been 'stung', but can dismiss the evidence against them.
For example, Amit Shah in the scandal of having senior police officers tail a young woman because it was being demanded by 'saheb'. The BJP's president Bangaru Laxman was actually convicted and jailed for corruption after a sting, but spent only a short time in prison before being bailed out and he died at home.
The other reason that stings don't really work is that the media is often compromised. Zee TV's editor has himself been accused of corruption after a sting in which he was filmed demanding a bribe from a corporation. He was arrested for this, but continues in his position.
Tehelka also suffered serious damage to its reputation after the actions of its founder Tarun Tejpal.
I suspect there is also a public fatigue with stings. Stories which end without satisfactory result for whatever reason will stop becoming interesting after a while. One of Tehelka's former staffers, Aniruddha Bahl, regularly does sting journalism, but his work gets little coverage.
After he was elected chief minister of Delhi, Arvind Kejriwal encouraged citizens to secretly record his officials taking bribes so that he could punish them. He advertised this campaign heavily, but it is not clear how it ended. Not much has come of it so far as I know.
I will be surprised if the current sting affects Mamata's party in the Bengal election.
I would say that there was an era of sting journalism which began with Tehelka that is now behind us. And corruption has not ended, but people in government are more careful.
Aakar Patel is Executive Director, Amnesty International India. The views expressed here are his own.
You can read his earlier columns here.