'The picture only looks worse from where Bajwa sits.'
'He sees a domineering India to the east, an unravelling Afghanistan and a complex Iran to the west, an overbearing China on the north and a US which is no longer an ally,' observes Shekhar Gupta.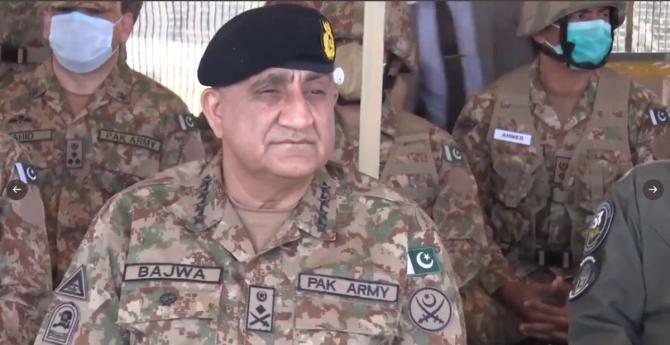 The first reaction among informed Indians to Pakistan army chief General Qamar Ahmed Bajwa's 13-minute speech at the Islamabad Security Dialogue would be a yawn.
All he's saying is, India and Pakistan should bury the past, make a new beginning, they have a shared stake in peace so they can focus on their economies, and so on.
Isn't this what every Pakistani leader, elected or not, has said at some point of time?
Then they stab you in the back. So, what's new?
To borrow and twist that phrase from the disclaimers in mutual fund advertisements, if the past is the only guide to future performance there is no point talking about Pakistan.
Just buy more sniper rifles and sit on the LoC. So how do we break the deadlock?
Bombing them to Stone Age isn't the answer.
We know that post Kargil, Op Parakram and Pulwama/Balakot.
Even tough-talking US security-diplomat Richard Armitage, who famously used this threat to make Pakistan fall in line after 9/11, knew it was just hyperbole.
In the 20 years since, the US has bombed large parts of Afghanistan to Stone Age several times over.
But it is the Americans who are retreating in defeat.
Militarily, diplomatically, politically or economically, achieving anything by force is out of the question.
As former army chief General V P Malik said in a conversation with me last month, it isn't possible today to achieve any of our territorial objectives, PoK or Aksai Chin, by military force.
Besides the capability question, any such adventure would immediately run into global disapproval and force a ceasefire earlier than you can advance a few miles. For clarity, these are my words, not his.
Where do we go from here then? And how did we get here in the first place?
Suddenly one morning last month, we saw coordinated statements by the directors general of military operations on both sides that they had solemnly agreed to once again abide by the 2003 agreement on maintaining peace on the Line of Control.
What that means is a stop to those madcap, aimless spells of firing heavy ordnance at each others' posts and villages.
It achieved nothing, except take out some bhadaas (frustration).
Besides, it made great pictures and television for the commando comic channels on either side which could then, with the help of angry grey moustaches, declare victory for their respective armies.
But the armies know the truth. As do their governments. At some point they knew they needed to move on.
Anybody who thinks that both DGMOs woke up one morning with the same thought of peacemaking and has to be drinking something very potent, may be gifted Maotai from the Chinese, and too much of it.
Similarly, anybody who believes General Bajwa's speech came serendipitously, has to be drinking on the next bar stool.
Something has gone on between the two sides for several weeks if not months behind the scenes.
Strong words of caution have come from the rugged old intelligence/strategic/military establishment.
What does one more Pakistani general mean when he says bury the past and move on? It means India should bury the past and move on while Pakistan subverts us.
For people who have dedicated their lives fighting the same adversary, this sentiment is easy to appreciate.
But then, as we argued earlier, it isn't possible in 2021 for one nation to pulverise another to achieve anything.
Especially when we live in a neighbourhood with strong, competing nationalism and robust, nuclear-armed militaries.
Nobody is ever going to be like Armenia to Azerbaijan or Ukraine to Russia here. We need to think creatively.
In negotiations to end the Cold War, Ronald Reagan had famously used a line with Mikhail Gorbachev: Trust, but verify.
While dealing with Pakistan, we could turn it inside out: Distrust but verify.
What that means is, while you view every new move coming from Rawalpindi (my preferring this over Islamabad is deliberate) with the highest degree of suspicion, you check it out nevertheless.
That's why, while we hold our deep scepticism close to our hearts, we apply our minds to read between the general's lines, spoken as these were in the most delightful, pucca Punjabi pronunciation familiar on both sides of the border.
Two things stand out in that written speech.
One, a commitment of non-interference in the internal affairs of any country in the neighbourhood or the region.
You might say it's a mere platitude. But be cautious and verify.
Nobody's in a rush to invite the Pakistani Northern Areas commander to a game of golf in Srinagar's Badami Bagh cantonment.
Second, he did not leave out the mention of Kashmir.
But there was a nuance. He said, progress in relations of course depends on India creating a 'conducive environment' on its side of Kashmir.
The customary mention would have reminded India of the need to restore the pre-August 5, 2019 status to Jammu and Kashmir forthwith, and prepare for self-determination as laid down in the UN Security Council Resolutions, blah blah blah.
Does it mean the Pakistani army has given up its insistence on the restoration of the pre- August 5, 2019 status quo ante? Don't jump to that conclusion.
But check it out. Because, if we think we are caught in this awful two-front situation, the picture only looks worse from where Bajwa sits.
He sees a domineering India to the east, an unravelling Afghanistan and a complex Iran to the west, an overbearing China on the north and a US which is no longer an ally.
We are at that juncture of history where US and India are allies and their embrace is getting tighter in the Quad.
Like all the most important members of the Pakistani elite, he has to make a call.
Either make peace with India, or continue fighting it and become a military protectorate and economic colony of China.
Remember, that all of Pakistani elite have their children, money and assets in the West.
If they weren't driven by such hatred of India, they will see little in common with China.
Further, this comes at a time when the Gulf countries are alienated with it and are recalling their loans. Peace with India is a way ahead.
Within India, we have to admit that the Modi government is much too successful in keeping its mind to itself.
Anybody except a few in the government who claims to have an insight into its thinking is lying.
But, we have enough evidence by now to know that this is not a dispensation that looks forward to any conflict.
In seven years, and across eight Budgets, the allocation for defence has remained the same or marginally declined.
They are not preparing for war. Similarly, Pathankot, Uri, Pulwama, Galwan all tell us they are also not about to be knee-jerked into a conflict.
Let's conclude this with a view that will provoke, even trigger (since that's the word millennials prefer), many.
The Modi government can build on a no-war policy because it is strong enough to do so.
A weaker government would have been under much greater pressure in east Ladakh, and earlier with Pakistan to do something more adventurous.
Many taunted Modi for not going to war with China unlike Nehru who 'at least fought, even if he lost'.
Nehru's was a much weaker government in 1962 than Modi's now.
He had no choice but to go down fighting, Modi is too strong to fall in that trap. He would prefer peace, not war.
By Special Arrangement with The Print
Feature Presentation: Aslam Hunani/Rediff.com