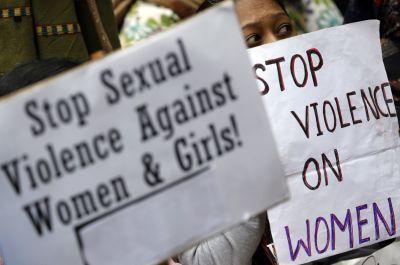 There are at least two reasons why no anti-sexual violence law, however stringent, will work. One is our police. The other is, sadly, ourselves, says Sumit Bhattacharya
In Mumbai, a friend's house was burgled when they were away for a weekend. The officers from Versova police station came, had tea, admired the view -- you could see the Arabian Sea from the drawing room -- and left. When my friend asked why they were not taking fingerprints, the investigating officer laughed: 'Even you know about fingerprints, do you think seasoned criminals don't?' The case was never solved. The friend has moved to another house.
In Kolkata, in 2006, thieves stole mobile phones from a friend's ground-floor house. The police refused to file a case, arguing that the phones were 'misplaced' and not 'stolen'. When I told them I was a journalist from Mumbai in Kolkata for assembly election coverage, immediately a special officer was allotted to the victimised couple who diligently took down all details and filed a case.
In Bangalore a couple of days ago, a journalist friend's wife's credit card was lost. The credit card company wanted an FIR lodged. The couple had to run from the police station to the cyber crime division and back to the station, because the policemen shunted them from department to department. Finally, after phone calls to 'higher ups' and roughly an hour later, the case was filed.
Just anecdotal evidence -- to show that no law, no matter how stringent, will work unless we reform the Indian police.
If you don't agree, go to any police station and try to file a case. Any case. And then imagine you are a woman trying to file a rape case in that police station. Recounting to those police personnel the horror that has happened to you. One by one.
Upper middle class India, that notoriously 'apolitical' entity, has been moved into action by the brutal gang-rape and murder of India's daughter in Delhi. From Kolkata to Mumbai to Bengaluru to Chennai, there have been protest vigils. Television anchors are frothing at the mouth -- even more than they routinely do, quite a task by itself -- asking for tougher laws and punishment for crimes like rape.
But neither chemical castration nor death by hanging is the solution. Because for those solutions to be effective, you need professional investigation and conviction.
This Indian police, best at harassing couples and law-fearing citizens (read the middle class) and bashing up people and worst at everything else, need urgent reform.
They routinely prevent cases from being filed, because fewer cases filed translates to a lower crime rate, which means they are doing their job well. There is even a word now for such police behaviour: Burking, which originally means to suppress something.
Because of the intense public pressure, the police arrested the six Delhi rapists quickly. Because there was no such pressure, a teenaged girl in Patiala who was raped -- the police refused to register her case -- committed suicide. Patiala is the rule, Delhi is the exception.
The other reason why stricter anti-rape laws will not work is, sadly, ourselves. What we are feeling now is what most of 'other' India has felt for a long time now -- impotent rage against a machine that has long stopped working for its master, the people.
We suffer from the ostrich syndrome of burying our heads -- which is something, ironically, ostriches don't do -- in the feel good so that the reality doesn't affect us.
We blame the media for carrying 'negative' stories. Elderly women parading naked in front of the Kangla Fort in Imphal, Manipur, carrying a sign that says 'Indian Army rape us'? Oh, that's not our problem. Protests over rape and murder in Shopian? Oh that is Kashmir. Dalit women raped in Tamil Nadu? Oh, come on, caste doesn't matter anymore. Ankit Garg, the Chhattisgarh police officer alleged to be the key man responsible for the brutal torture of Soni Suri -- a Supreme Court-ordered medical examination found stones shoved into her genitals -- given the President's Police Medal for Gallantry? Arre yaar, but she was a Maoist, no?
We ignored all the symptoms of a system gone mad. Now we are suffering.
The girl without a name in Delhi was brave enough to stand the trauma of recounting twice -- because of a bureaucratic tussle between the Delhi police and Delhi government -- what happened to her, even as her body was failing.
When she died in Singapore, she shattered that cocoon of feel-good we love to wrap ourselves in.
What we are seeing only now has been happening for a long, long time.
On that new barometer of everything, social media, people are sharing photographs of the girl who has no name. A pretty girl lying in hospital with tubes going into her. That photograph is actually of a South African woman fighting brittle bone disease.
Even in our grief, we are exposing our disgusting mentality. Did she have to be pretty for us to feel sad? Did she have to be a chaste Sati Savitri for us to feel enraged?
A Trinamool Congress party leader declared that the infamous Park Street rape case in Kolkata was a 'deal gone sour'. She was only saying out loud what we, as a society, think after every sexual crime: Why was she there at that time? Was she a 'loose' woman? What was she wearing? The onus is on the woman to not 'get raped' -- don't go out at night, don't dress this way, avoid people who brush against you in public transports. Stay away from boys. Ignore men who pass lewd remarks.
It is that mentality that keeps the 'two-finger' test for rape victims alive.
And this mentality is linked to our glorious 5,000-year-old culture that expects women to cook, clean, bear babies and not go out at night.
It is this mentality that prompts a judge to declare that a woman cannot accuse her husband of rape.
The Indian woman must be meek, 'family oriented', subservient. If she is confident of her sexuality, she must be 'loose'. She must be taunted. Hounded. Heckled. God forbid, if she goes out drinking at night, she is a prostitute who deserves rape.
And we Indian men, you know, what can we do if the women dress like that -- in movies, on the streets, in 'discos'? We are only animals after all, if meat is dangled in front of us, we will be provoked into action. It's all the girls' fault. It's the Western culture that is leading our women astray, why blame our culture, our men?
If covering up a woman from hair to toe is the solution for women's safety, women would be the happiest under the Taliban.
Until we tell our sons that it is an unpardonable crime to harass a woman with the same diligence that we tell our daughters how to dress, nothing will change.
Nothing will change until we stop looking for 'reasons' for rape.
Nothing will change till we accept that the shame in a rape is the man/men's, and not the woman's.
Nothing will change until we as a society realise, to borrow a former colleague's words, that women don't get raped. Men rape.
If you still need proof of how perverse and anti-women we as a society are, look long enough below these lines.
The Indian man is exposing himself there, right on this message board.
Image: Anti-rape protest in New Delhi
Photograph: Reuters