To remember Jawaharlal Nehru only for his mistakes on Kashmir or China is unfair. A democratic and secular India is in no small measure the awesome legacy of India's first prime minister, says Amberish K Diwanji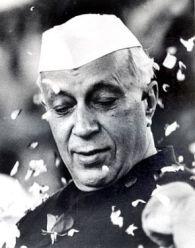 At a recent event in Gujarat, prime minister-in-waiting Narendra Modi claimed that (Sardar Vallabhbhai) Patel deserved to be India's first prime minister. Prime Minister Manmohan Singh, who was also present on the dais, retorted and praised Jawaharlal Nehru and his legacy.
Modi's claim about Patel vis-à-vis Nehru was made for political purposes, yet there are millions of Indians, including those who hold Nehru in high esteem, who believe that perhaps India would have been better off if Patel had become PM instead.
There are also millions who hold Nehru responsible for many of the problems we face today. Nehru today invites more ire than praise from scores of people, which is just a tad unfair to him.
One reason for this could be that while Nehru's success is taken for granted (and thus forgotten), his failures continue to cast a shadow over India today.
For instance, that India remains democratic, secular, and where the rule of the law prevails is in no small measure the awesome legacy of Nehru. For the last 63 years, elections, with one notable exception, have been always held on time. Compare this with not just our neighbours but even other new democracies, where elections were invariably dispensed to suit the ruling class.
Even (former prime minister) Indira Gandhi's attempts to do away with elections foundered; she could only delay the elections, and when she lost, she demitted office, thus keeping intact Nehru's legacy of democracy.
Similarly, India remains secular. This seed was sown by Mahatma Gandhi, Nehru, and Patel, and to Nehru's eternal credit, he nurtured it. Even a glance at India's history shows that whenever religious zeal took precedence, the State withered soon thereafter (Asoka, Aurangzeb, and the later Peshwas).
Indian secularism isn't perfect, but at least it exists.
But for all of Nehru's amazing success, unfortunately his failures continue to loom large in India's polity, giving sufficient reason to blame him for all that is wrong with the country today. Kashmir remains a sore point, a bone of contention between India and Pakistan. His mistakes with China are too well known to bear repetition, leading to stapled visas, non-ending talks, and regular incursions.
The Line of Control and the Line of Actual Control are legacies of Nehru's failures. It wouldn't be fair to blame Nehru for following the socialist model; in the 1950s even European nations were nationalising their largest industries. And after what a certain East India Company had done to India, Indians weren't exactly ready to welcome more traders into the nation.
By comparison, Indira Gandhi's successes and failures did not have such long-term impact. Her high moment was leading India to victory over Pakistan in 1971, for which she is still praised. That comprehensive war win remains one of India's greatest moments and did much to mitigate the humiliation of 1962.
Indira's lowest points were the imposition of Emergency and failing to tackle the Punjab problem. Yet, both of these issues are distant memories today, because both were resolved. Emergency was lifted and elections held, resulting in India's first non-Congress government. And while Indira can be faulted for letting the Punjab problem take root, her decisive action at the Golden Temple (showing that when it mattered, her resolve was unmatched) and her assassination won over even her most trenchant critics.
Rajiv Gandhi had a much shorter tenure, and thus less impact. His one major failure was overturning the Shah Bano verdict and opening the locks at the disputed Ayodhya site -- decisions that continue to hurt India. If anything, Rajiv Gandhi was clearly worse than his mother or grandfather. But his failures matter less than Nehru because they remain internal problems, not international.
Nearly 50 years after his death, Nehru's mistakes on Kashmir and the 1962 defeat remain his legacies. He was the PM then, and intimately involved in both these issues. For better and worse, they were his responsibility. And they will remain reasons why so many Indians judge Nehru so harshly. But to remember Nehru only for Kashmir or China is unfair. Some of India's greatest virtues are his contributions. At the minimum, at least let us be fair to him.
This is not to say that he was superior or inferior to Patel. The fact is that Patel died at the peak of his career, Nehru at the bottom. Perhaps that is why history judges them both so differently.