King Salman and Narendra Modi will find common ground to intensify cooperation against jihadi terrorism, says Tarun Vijay, MP.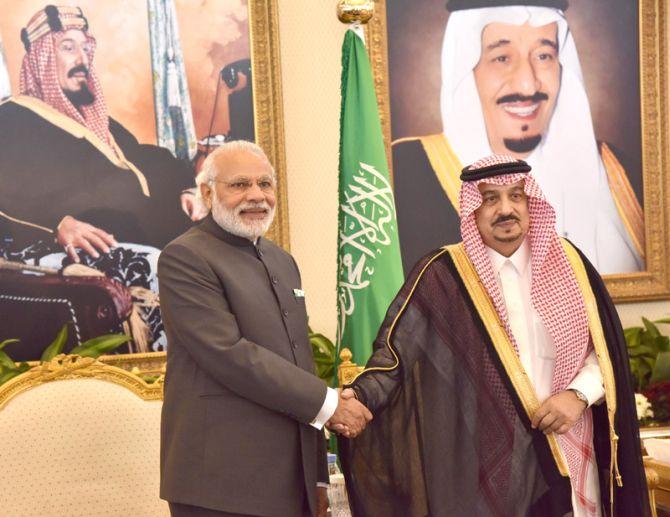 IMAGE: Prime Minister Narendra Modi greeted on his arrival in Saudi Arabia by the Governor of Riyadh, Prince Faisal bin Bandar bin Abdulaziz Al Saud, April 2, 2016. Photograph: Press Information Bureau
Prime Minister Narendra Modi sharing snacks at L&T's residential complex for its workers in Riyadh has touched a billion hearts. The first Indian prime minister who mingled with the workers, asked their haalchaal (well being), sat with them as a commoner and had a hearty meal.
This prime ministerial gesture must have sent shock waves in the conservative and status conscious citadels of the Saudi royal family. It must have also helped elevate our Indian workers' status in the eyes of the Saudi government which has been frequently charged with ill treating our people.
L&T, by the way, is involved in a $2 billion section on the $600 billion Riyadh metro project.
Modi's visit to Saudi Arabia stands in its own class, is different and significant.
The Saudis have been known in India for various reasons -- child marriages in Hyderabad; insult to Hindus; not allowing images of gods and holy books into their country; ill treatment by employers; and, above all, exporting jihad to our region.
This apart, the 2.8 million plus Indian community in Saudi Arabia is the largest expatriate community in the kingdom and is the 'most preferred community' for their expertise, sense of discipline, law abiding and peace loving nature.
Saudi Arabia is the fourth largest market in the world for Indian exports, the destination of more than 4.11 percent of India's global exports. On the other hand, Saudi Arabia is the source of 6.71 percent of India's global imports.
King Salman and Narendra Modi will find common ground to intensify cooperation against jihadi terrorism.
There is already in place a little known but effective intelligence cooperation that has led to the deportation of several suspected terrorists to India, including Abu Jundal, who is linked to the 26/11 attacks in Mumbai and was sent back to India from Saudi Arabia in June 2012.
ISIS, too, is a common enemy: It has made clear that the Saudi royal family is a prime target.
In a contextual analysis of Modi's Saudi visit (external link), Tanvi Madan, director of The India Project at the Washington, DC think-tank the Brookings Institution, noted: 'The region (remains India's main source of imported oil and natural gas (58 percent of its oil imports and 88 percent of its liquefied natural gas imports in 2014-15 came from the Middle East).'
'In addition, as of January 2015, there were 7.3 million non-resident Indians in the region (64 percent of the total). These non-resident Indians remitted over $36 billion in 2015 (52 percent of the total remittances to India).'
'Add to that India's Sunni and Shiite populations (among the largest in the world), counter-terrorism cooperation with some countries, India's defence relationship with Israel, the desire to connect with Afghanistan and Central Asia through Iran, and the potential market and source of capital it represents for Indian companies, and it becomes clear why this region is important for India.'
These are eye opening facts. The entire Muslim world is today threatened by Islamic extremism. India has a big role to play in this situation and forging a united alliance against terrorism would be our biggest gain.
The United States and Saudi Arabia came together on Thursday, March 31, to sanction Pakistani individuals and terrorist entities, including Lashkar-e-Tayiba, hours ahead of Prime Minister Modi's visit to Riyadh.
Reports say bilateral investment between India and Saudi Arabia is growing steadily. Since 2000, a number of Indian firms have taken advantage of Saudi laws and established joint venture projects or wholly owned subsidiaries in the kingdom.
The Saudi Arabian General Investment Authority issued 426 licenses to Indian companies for joint ventures/100 percent owned entities, bringing investments worth $1.6 billion in Saudi Arabia.
These licenses are for projects in diverse sectors like management and consultancy services, construction projects, telecommunications, information technology, pharmaceuticals, etc. On the other hand, Saudi Arabia is the 50th biggest investor in India with investments from April 2000 to October 2014 amounting to $46.57 million.
Moreover, several Indian companies have established collaborations with Saudi companies and are working in the kingdom in diverse sectors like designing, consultancy, financial services and software development.
According to reports, Tata Motors is exploring the possibility of building its third largest assembly plant for Land Rover vehicles in Saudi Arabia's eastern province. Tata Steel has won an order to supply high-quality rails for a new high speed rail line linking the holy cities of Mecca and Medina. Tata Consultancy Services has established an all female services centre in Riyadh in collaboration with General Electric and Saudi Aramco.
On Sunday, King Salman will receive the prime minister and host a lunch in Modi's honour. Key Saudi ministers and other leaders will be present. Days before Modi's Saudi visit a grand Sufi international conference was held in New Delhi where Modi's speech on Islam was widely appreciated.
This has enhanced Modi's stature in the Islamic world where the fears created by fossilised hate mongers have evaporated with the prime minister's candid and transparent speeches and behaviour.
If we club Modi's Saudi visit with his maiden visit to an Islamic country, the United Arab Emirates -- the first by an Indian PM in 34 years, a country in which over 2 million Indians live and work, and send home an estimated $ 12 billion every year -- the Islamic world has been successfully reached out to by the prime minister and will also have a positive impact on our domestic Muslim population.
Modi's visit to Saudi Arabia has serious implications for the neighbourhood. But we must concentrate on what India gains by such visits. Modi has brought home a better secure and economically stronger future for the three million Indian workers in Saudi Arabia and has also issued a strong message to the perpetrators of Islamic jihad that India under Modi can forge pragmatic alliances to defeat terrorism.
Guess whose heart it gladdens and who would be shocked.
Tarun Vijay, Member of the Rajya Sabha, is a member of the Parliamentary Standing Committees on Defence and External Affairs respectively.