'It will take the Opposition by surprise and catch it in total disarray.'
'By waiting for a year Mr Modi will only give it time to unite,' says T C A Srinivasa-Raghavan.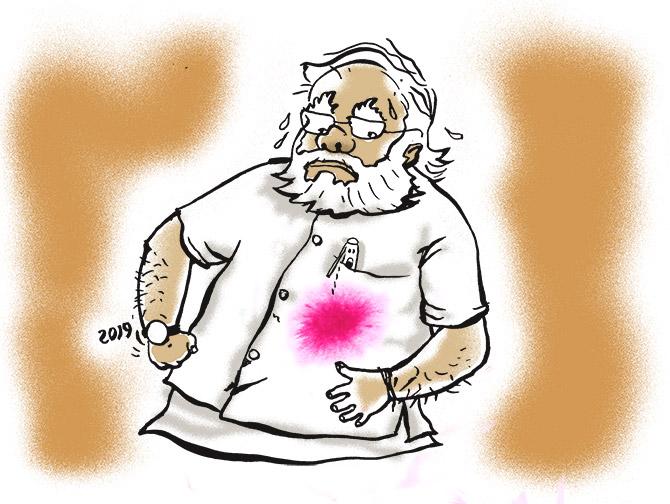 Illustration: Dominic Xavier/Rediff.com
In December 1987 some people in the Congress suggested to then prime minister Rajiv Gandhi that rather than wait till December 1989 for his full term to run out, he should hold the next general election in 1988 itself.
There were strong reasons for this. Things were going very badly indeed for Rajiv.
In March that year, then President Zail Singh had let it be known that he could remove him as PM.
In mid-April the Bofors kickback revelation had come.
In June the Congress had lost Haryana.
Then the monsoon had failed and the resulting inflation had added to the sense of loom.
Rajiv considered the idea of a 1988 election very seriously, so much so that the Budget for 1988-1989 read like an election manifesto. But his closest officials told him not to do anything in a hurry and wait for the monsoon of 1988, which turned out to be excellent.
Politically also he seemed to gain ground throughout 1988. By October he had decided to stay out the full term.
But in the end it made no difference. He lost in 1989 to a rag-tag of parties that had come together just to defeat him.
That decision not to bring the election forward has left open the eternal question: Should he have called an early election?
His party won more than 400 seats in 1984 and even if it lost 150 to 175 of them, he could still have formed the next government.
The answer to this is a counter question: Is not a bird in hand worth two in the bush?
But actually the important question for a political party is not whether to advance an election. The important issue is by how much it should be advanced because, as much as anything else, timing can make a huge difference to the outcome.
Hence my recommendation: If the Modi government wants to lose no more than 50 to 75 seats -- which it is bound to anyway -- the next general election should be brought forward by a year to May 2018.
There are three clear reasons why.
First, it will take the Opposition by surprise and catch it in total disarray. By waiting for a year Mr Modi will only give it time to unite.
This is exactly what had happened to Rajiv in 1988 and 1989. The extra year allowed V P Singh to ratchet up his anti-corruption campaign and forge unity in the Opposition.
He even managed to persuade the Left and the BJP to work together, imagine!
Second, there have been very few instances where an incumbent government has been re-elected following a bad monsoon or drought.
The years 1967, 1980, 1989, 1996, and 2004 are examples of this.
We don't know how the monsoon will turn out this year and, given that the farmer is in any case angry, it makes sense to hold the election before he gets angrier still because of poor rainfall.
Third, therefore, instead of following a strategy that seeks to maximise its seats -- which was ok in 2014 -- the BJP must follow a strategy that minimises its losses.
In decision theory this is called Minimax. It is intended to minimise the possible loss for a maximum loss scenario.
The strategy is for two players and the game is played on the basis that whatever one party loses, the other party gains.
In technical terms, this is a two-player, zero-sum game.
It is always 'played' in the presence of considerable uncertainty such as the monsoon, oil prices, a bad play with China/Pakistan/both.
Given the second player's -- that is, the Opposition's -- strategy, there is a best outcome that is possible for the first player, in this case the government.
The same holds in reverse also so that given player 1's strategy, there is a best outcome possible for player 2, the Opposition, also.
The objective of each player is to devise a strategy that will guarantee a minimum payoff to him regardless of what the other player does. This is the crux of the strategy.
Hence the name Minimax: The strategies are so designed that each player minimises the maximum payoff possible for the other.
And, since the game is zero-sum, he also minimises his/own maximum loss.
In my view this is what the BJP should aim to do. And it can do so only by bringing forward the election by a whole year.