'With the appeal of both the Left and the Congress fading, Banerjee fears the saffron brigade's inroads into her citadel,' says Sunanda K Datta-Ray.
Illustration: Uttam Ghosh/Rediff.com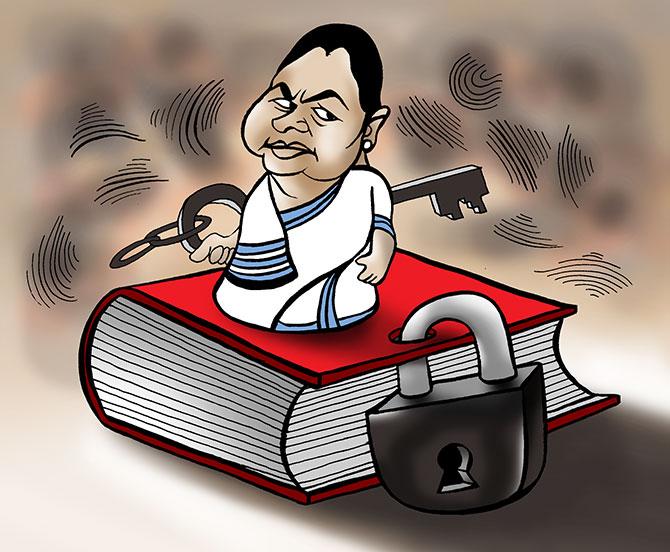 Bengal once resonated to Deshabandhu Chittaranjan Das' rallying cry, 'Exams can wait but freedom cannot!' -- a slogan that established the primacy of politics over education.
Now, Mamata Banerjee is trying to set the clock back and persuade students that their future lies in shunning politics and attending diligently to their studies.
Whatever the obvious merit of such sage advice, it comes curiously from a woman whose life holds no interest other than politics.
Moreover, the only purpose of her politics seems to be to gain, retain and strengthen power. That is an end in itself.
Reading that her government has framed rules under the West Bengal Universities and Colleges (Administration and Regulation) Act of 2017 to free campuses of politics and politicians, my mind goes back to those hectic weeks in the summer of 1967 when the Marxist-Leninist movement was born in Presidency College while tea garden labourers revolted in Naxalbari in North Bengal.
Calcutta walls were plastered with revolutionary posters.
The College Street coffee house hummed with stirring (if imitative) talk of the countryside surrounding the towns, and committees were set up to help the Naxalbari peasants.
The Communist Party of India-Marxist expelled a number of ultra-leftist youth, including the mercurial Kaka, otherwise Ashim Chatterjee.
Kaka's father told me with quiet pride in the modest eating house he ran in the district town of Suri that he was waiting for his son to come back and take his rightful place as the eldest son of the house.
In Calcutta, Jyoti Basu, not yet chief minister, scornfully dismissed the young Naxalites. "Revolution isn't so easy," he said in a private conversation.
"These people are all vagabonds and wagon-breakers." I was surprised he wouldn't allow them even the benefit of misplaced idealism.
Nothing came of all that drama.
Many promising young men were shot down or killed in internecine fighting. Some from richer homes were sent abroad.
A canny few exploited their political connections to gain money and position. The rest sank back and were lost in the grey anonymity from which they had emerged.
But their academic life was ruined. And the colleges, universities and student hostels, captive catchment areas of the main political parties, never recovered from that traumatic upheaval.
Presidency College lost its allure.
Jadavpur University, known for its good teachers, bright students and imaginative courses, fell prey to the mix of political exploitation, goondaism, mass cheating and general indiscipline that explains the rot.
Only the Jesuit-run St Xavier's College withstood pressures to some extent.
Given the commitment to self-advancement of many ambitious academics, attempts at reform by turning colleges into universities have had little impact.
Now, Banerjee thinks cosmetic changes will do the trick.
Unions will be banned for much the same reason that Raj Narain, health minister under Morarji Desai, abolished hospital emergency departments. He said the word gave him the jitters.
Similarly, union sounds too radical to the chief minister. They will become student councils.
Class attendance will be mandatory, and outside political affiliations will not be tolerated.
Like France's Emmanuel Macron whose En Marche programme -- 'not party' -- led to the Elysee Palace, Banerjee hopes an apolitical course will guarantee her Trinamool Congress' future.
I suspect this rather than any sudden concern for Bengal's falling academic standards explains the latest fiat.
Bengal has changed since Deshabandhu's time. Although E M Forster spent his time in western India, he may have had Bengalis in mind when he wrote, 'You cannot understand the modern Indians unless you realise that politics occupy them passionately and constantly, that artistic problems, and even social problems --- yes, and even economic problems -- are subsidiary.'
Not any longer. Dialectical concerns are yielding to pragmatic fears for roti, kapda aur makaan.
With the appeal of both the Left and the Congress fading, Banerjee fears the saffron brigade's inroads into her citadel.
She has not been able to attract enough industry to create jobs.
Huge chunks of the available places in academia and employment are reserved for minority or backward quotas.
There is the fear, perhaps more perceived than real, that a Bangladeshi influx is swamping the market.
These are material, not ideological, concerns.
With BJP activists losing no opportunity to fan the understandable anxieties of the young, the chief minister probably reasons that the most effective way of keeping students away from her adversaries is to prevent the adversaries from infiltrating schools and colleges.