Though it's been just five years at the helm, Mamata Banerjee's Trinamool Congress is fighting severe internal dissidence and would crumble like a pack of cards if it loses, says Devanik Saha.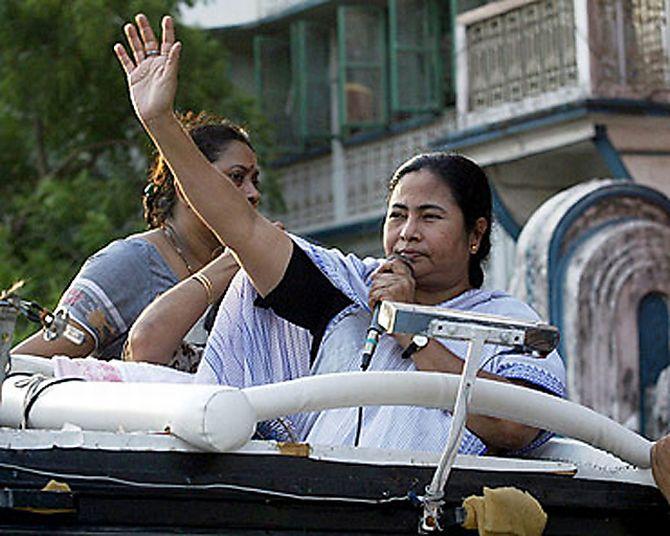 With the election dates being announced last week, we are once again set to witness a series of electoral carnivals. Five states -- Assam, West Bengal, Tamil Nadu, Kerala and the tiny Puducherry -- go to polls next month. Not surprisingly, polls in West Bengal will be spread across six weeks as compared to just a week in Assam, a day in Tamil Nadu and two days in Kerala.
The long-drawn-out election process across six phases in Bengal has infuriated Chief Minister Mamata Banerjee, who lashed out at the Election Commission saying that Bengal always receives a step-motherly treatment.
She expressed her displeasure saying, "If the Election Commission wanted, it could have had a 294-day poll schedule for the 294 assembly seats in Bengal. I would still have been happy."
She further added, "It defied logic how a state like Assam, with so many problems and communal tension, could have had a two-day poll schedule. Polling in Tamil Nadu with 234 assembly seats could be completed in one day. Kerala is another unique case."
Her unhappiness is the reminiscent of her party's desperation to win the election at all costs, with violence and intimidation of voters being a major tool.
Though it's been just five years at the helm, Banerjee's Trinamool Congress is fighting severe internal dissidence and would crumble like a pack of cards if it loses.
It is evident that the newly-appointed Chief Election Commissioner Syed Nasim Ahmad Zaidi, who conducted his first elections in Bihar quite successfully and set the standards high, wouldn't want to take any chances. His plan to conduct elections in Bengal across six phases has been welcomed by many in the state, especially the Left and the Congress, who have formed an alliance to oust the ruling TMC.
During a recent prime-time debate on ABP Ananda, a Bengali news channel, the importance of a free and fair election was widely discussed.
"Even Mamata knows if a fair election is conducted, she will lose," said one panelist.
Already, more than 200 companies of paramilitary forces have fanned out across the state and started patrolling to get an understanding of the law and order situation.
Political violence has an umbilical connection with Bengal. A recent analysis by a researcher revealed that almost 55,000 people were killed in the 34 years of communist rule -- an average of 4 per day. Even now, violent clashes, murders, loot and booth-capturing are a routine feature in polls: be it the Lok Sabha, the state assembly or the civic polls.
One would have imagined that given the age of information technology and existence of 24x7 news channels, political parties would stop resorting to violence. But, in the civic polls held last year, even in Kolkata, many journalists from prominent news channels were beaten up, their cars were attacked and cameras were broken.
Moreover, bellicose and provocative statements have become a custom among the netas. In 2013, Anubrata Mandal, a TMC leader from Birbhum -- a place infamous for sporadic bomb blasts -- publicly called for burning down houses of the independent candidates in panchayat polls. Within a week, Sagar Ghosh, an independent candidate, was murdered.
Banerjee's brazen ignorance of these acts of violence by her own party members and workers has further boosted their morale.
The TMC came to power for the first time in 2011, promising poriborton (change) from 34 years of Left rule. However, violence and crime have only swelled since then, creating discontent among the public.
In the civic polls, where journalists were attacked, many were surprised to witness violence as it was a constituency where the TMC would have won anyway and, therefore, the need for resorting to violence didn't go down well.
Banerjee's anxiety has exasperated further by the formation of a Left-Congress alliance. Though she has repeatedly said that the alliance won't affect her party's chances, her frequent attacks and references to the alliance noticeably reveals her nervousness.
Kicking-off her election campaign in Malda on Wednesday, she repeatedly attacked the alliance and accused the Congress of selling itself to the Left.
"The Congress and the CPM (Communist Party of India-Marxist) have always been hand in glove with each other. I am happy about the fact that their friendship is no longer a secret," she said.
Can a free and fair election bring the Left back to power? Will the EC be successful in thwarting off the TMC's efforts to rig the elections? Will the voters of Bengal be able to cast their vote without any fear and intimidation?
With just a few weeks left, these are the questions which will eventually decide the winner in West Bengal.