On Thursday, December 14, Tripura Governor Tathagata Roy tweeted: 'Jihadis have killed, maimed, brutalised tens of thousands of innocent people all across the world. And you ask me about a man killed in Rajasthan and then tell me not to do whataboutery!'
It was not the first time that Roy's statements have provoked controversy.
Should Tathagata Roy even be a governor, asks Amulya Ganguli.
Illustration: Dominic Xavier/Rediff.com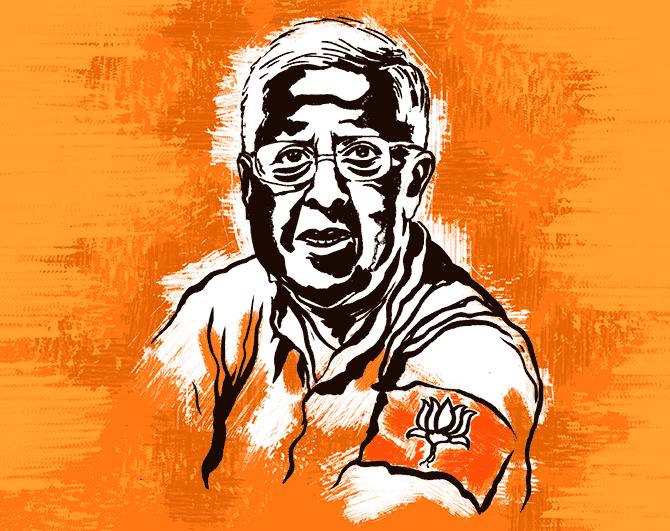 Unlike Ram Nath Kovind, who was a model governor before he became President -- he hardly spoke a word out of turn when in the Patna Raj Bhavan -- Tathagata Roy has been one of the most voluble holders of gubernatorial office.
More than all the other governors who have been elevated to the post because of their association with the ruling dispensation, as is the custom in India, Roy has been holding forth on whatever catches his fancy.
Moreover, in doing so, he adheres unerringly to the party line which is the BJP's although, as the occupant of a Constitutional position, he is expected to be neutral.
To overcome this difficulty, he claims to speak as a Hindu even if it can be asked whether a governor can wear his religious affiliation on his sleeve.
After all, none other than the prime minister took umbrage over former vice-president Hamid Ansari's last interview in which he referred to the prevailing insecurity among Muslims.
Because of this expression of a view which did not tally with the government's while occupying a Constitutional position, Narendra D Modi virtually welcomed Ansari's departure and said in a sarcastic vein that the outgoing vice-president would no longer be bound by any constraints.
'You can now follow your basic ideology,' he told the retiring vice-president with a notable lack of grace at a time of saying farewell.
Roy, however, does not appear to be bothered about any constraints because of his position. He has been speaking his mind as when he advised the police to keep a watch on those who attend Yakub Memon's funeral since they are bound to be either real or potential terrorists.
The governor's concern for keeping a watch on jihadis is understandable because he apparently believes in his hero, Jan Sangh leader Syama Prasad Mookerjee's belief, as expressed in the latter's diary in 1946, that the Hindu-Muslim problem won't be solved without a civil war. 'So much like Lincoln!' Roy concluded.
Given this dire prognosis, it is not surprising that Roy urged his fellow Bengalis to 'chuck' their 'secular and politically correct values and polarise.' Otherwise, they faced annihilation or conversion, he feared, unless the Hindus of Bengal fight like those of Gujarat as in 2002.
It is not known whether the governor gives similar advice to the people of Tripura, but it is open to question whether he is a fit person to hold a high Constitutional position.
That no other party in India would have given him the post except the BJP, which undoubtedly shares his views even if it is less forthright, is obvious. But his continuance in the present position can only bring shame and disgrace to the governor's office.
This is all the more so when he said that the bodies of Islamic terrorists should be wrapped in pigskins and buried face downwards in pig excreta, adding 'no chance of Houris' as a result of such abominable treatment of the dead.
What these comments reveal is the real face of Hindutva which the BJP generally tries to keep under wraps lest they scare away the few non-communal votes who still support the party because of a belief in Modi's promise of development.
Roy, from this standpoint, is an asset to the 'anti-Hindu, anti-national, sickulars.'
Amulya Ganguli is a writer on current affairs.