Driven by hardship, adventurous souls mortgage their homesteads in Punjab or Haryana, pawn the family jewellery and borrow heavily to satisfy the greed of the criminal traffickers who organise their trips, points out Sunanda K Datta-Ray.
Illustration: Uttam Ghosh/Rediff.com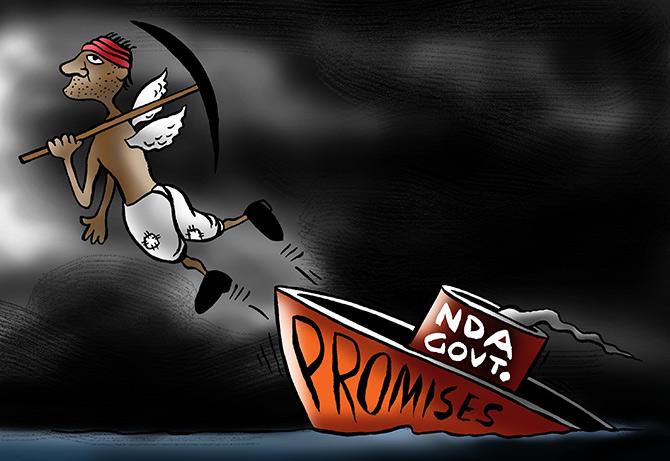 The haunting tragedy of six-year-old Gurupreet Kaur from Hasanpur in Haryana who died of thirst in the blistering Arizona desert highlights the criminal negligence of a government whose empty rhetoric unmatched by caring policies forces despised and deprived Indians to vote with their feet.
Gurupreet entered the US from Mexico in June with her mother who was one of the five Indians dropped off by human traffickers at a remote and infamous location near Tucson.
Apparently, the mother left her with another family to search for water but couldn't find anyone on her return.
A border patrol eventually discovered Gurupreet's remains in the desert.
The Sikh Coalition, an umbrella organisation for the community in the US, enabled the mother to join her husband who had been living in New York city while his asylum case made its way through the US immigration court system.
That horrendous report reminded me of Manmohan Singh telling P V Narasimha Rao in the early days of liberalisation that people were accusing him of selling India.
'Who would want to buy this country anyway?' was Narasimha Rao's wry retort.
That realistic assessment rebuts Amit Anilchandra Shah's proud vow to evict all illegal immigrants from India.
Who would bother to smuggle into a country whose own citizens disgracefully head the global immigration list? Ireland's richest citizen is an Indian.
A small victory in Hong Kong's court of final appeal is of far greater relevance to Indian conditions than the sizzling pro-democracy riots and scorching election results that gripped the world's attention.
A 32-year-old Pakistani who was referred to only as Zn to protect his identity said he was tricked into going to the city under a valid domestic helper visa and then subjected to beatings, abuse, threats and endless labour and all for no pay at all.
He was sent home at the end of his tenure, but returned illegally to Hong Kong to complain to the authorities.
Zn might easily have been an Indian who is driven abroad by persecution or neglect and is at the mercy of human traffickers who exploit poverty and trade in the hopes of men and women aspiring to a better life.
The same poverty that drove him to Hong Kong forces hundreds of thousands of Indian victims of deprivation to take horrendous risks every year in the search for the decent livelihood that Bharat Mata denies them.
Noting that Indians account for one in 20 migrants worldwide, the American Pew Research Centre says that many Indian migrants complain of persecution by the Hindu nationalist authorities.
Economic conditions are said to have worsened under the Bharatiya Janata Party.
The United Nations Office on Drugs and Crime finds that dismal job prospects at home forces young Indians to seek employment abroad so that Indians account for about half the 11 million illegals in the US.
The number of Indians caught spiralled from 77 in 2008 to 8,997 in 2018.
Driven by hardship, these adventurous souls mortgage their homesteads in Punjab or Haryana, pawn the family jewellery and borrow heavily to satisfy the greed of the criminal traffickers who organise their trips.
Gurupreet's family are among them.
'We wanted a safer and better life for our daughter and we made the extremely difficult decision to seek asylum here in the US,' the parents said in a heart-wringing statement.
'We trust that every parent, regardless of origin, colour or creed, will understand that no mother or father ever puts their child in harm's way unless they are desperate.'
Returning to Zn, after serving six months in jail for illegal entry he sued the authorities for ignoring his complaints and failing in their obligations under the Hong Kong bill of rights ordinance.
Upholding Zn's complaint, Justice Kevin Zervos said while Hong Kong laws prohibit certain acts under the umbrella of human trafficking -- from prostitution to assault -- it does not have legislation targeting human trafficking itself.
Zn's lawyers want the law revised in line with international standards to suppress the 'evil' of trafficking that has become "a colossal problem everywhere".
Deterrent punishment might curb the criminal activities of traffickers.
But the demand for their services will remain as long as Asian governments are moved only by greed, corruption and callousness.
That is the root cause not only of massive illegal immigration, but of domestic abuses such as bonded and child labour.
Both are also rampant in India.
Little Gurupreet paid with her life for the lust for power that is the only motivation of India's politicians.
---
Sunanda K Datta-Ray, former editor of The Statesman, is a a columnist for Business Standard.