'Narendra Modi said, "No criminal accused will dare to fight polls. Who says that the cleaning cannot happen? I have come to cleanse politics".'
'Yogi Adityanath was bodily lifted from Parliament and airdropped into Lucknow as chief minister of UP. The great saint had admitted to facing several criminal charges in his own affidavit for his candidature in the 2014 Parliamentary election,' says Vir Sanghvi.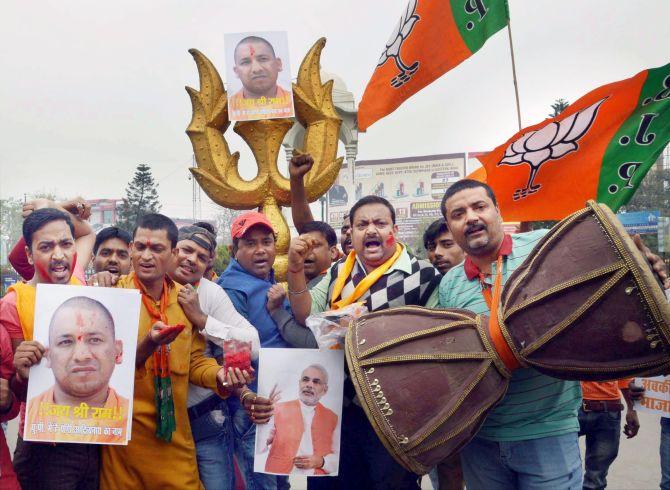 One of the more ironic passages in Milan Vaishnav's When Crime Pays: Money and Muscle in Indian Politics is about Narendra Modi's campaign during the last parliamentary election.
At rally after rally, in state after state, Modi repeated the same theme. In Rajasthan, the putative prime minister told a crowd, 'There is a lot of discussion these days on how to stop criminals from entering politics. I have a cure and I have vowed to clean Indian politics.'
The following week, Modi was in Uttar Pradesh. 'We need to rid Parliament of criminals,' he declared. 'I won't let them off the hook if I am elected to power.'
The next day, at a rally in Etah, Modi repeated this message. 'We must do away with the criminalisation of politics. Giving more lectures won't help.'
But there was, in fact, another lecture, still to be delivered. In Mathura, Modi said 'No criminal accused will dare to fight polls. Who says that the cleaning cannot happen? I have come to cleanse politics.'
After Yogi Adityanath was bodily lifted from Parliament and airdropped into Lucknow as chief minister of UP, Vaishnav updated the information contained in his book by tweeting about the Yogi's own affidavit from his candidature in the 2014 Parliamentary election.
The great saint had admitted to facing several criminal charges. These included two cases under Section 153 of the Indian Penal Code for promoting enmity between religious groups; two cases for defiling places of worship; one charge of attempted murder; one case of criminal intimidation; three cases of rioting; two cases of rioting with deadly weapons; a case of endangering life under Section 336; and one case under Section 453 of 'mischief by fire or explosive substance.'
There were others, too, but I fear I will run out of space if I list them all.
Remember that crucial question that Modi posed to the voters of Mathura: Who says that the cleansing cannot happen?
The prime minister has just answered it himself.
Should we be surprised? Probably not. As Vaishnav points out in this important book, a full third of all Bharatiya Janata Party candidates contesting the 2014 Parliamentary election faced criminal charges. And 21 per cent faced charges of a serious nature.
In some instances, it is fair to say that the candidates may well have been victims of false cases filed against them by vengeful political opponents. But some of the candidates were not exactly innocent victims.
What of Vithalbhai Radadiya, famous for the widely screened television footage of him brandishing a gun at a toll plaza when he was asked to pay the standard toll?
When the footage made it to the national television channels, Radadiya was unapologetic. What business does 'a man who earns Rs 100' have stopping an MP, Radadiya asked the press.
What's significant is that Radadiya was not a BJP member when this incident took place. But despite the notoriety that this case earned him and the ten criminal cases that were pending against him, the BJP lured him away, and not only made him a member of its party but gave him a ticket to fight the 2014 election.
Radadiya's was not an isolated case. Even as the new prime minister compared the entry of bad governance into politics to diabetes infiltrating the human body, 35 per cent of the 2014 BJP Parliamentary Party consisted of MPs who faced criminal charges. And 13 of these MPs found their way into Modi's first ministry.
I mention Yogi Adityanath, Radadiya and the BJP's poor record of fighting criminalisation in politics only because these cases are topical and because the prime minister's rhetoric now sounds almost comically overblown.
But the truth is that the BJP is no worse than any other Indian political party.
As Vaishnav points out, even Nitish Kumar, often lauded by the media for cleaning up Bihar politics, has an extremely patchy record.
In 2010, his Janata Dal-United won re-election even though 35 per cent of its candidates faced serious criminal charges.
Men like Anant Singh (described by Vaishnav as resembling a Hindi film villain), who is profiled in the book, have been involved in shoot-outs with the police and accused of rape, but have nevertheless been given tickets by Nitish.
So why does Nitish back Singh? 'There are certain compulsions in politics,' he has been quoted as saying.
Vaishnav argues persuasively that the criminalisation of Indian politics has many causes. In rural India, parties need organisations. It is easier to co-opt local dadas and their gangs than to build new party organisations.
Many of the criminals also have money. Parties are happy letting them finance their own elections and grateful for whatever money they donate to the larger campaign.
But there is also a fundamental failure of Indian democracy.
The reality is that as loathsome as these criminals may be, people do vote for them. They continue to win elections.
Even if the likes of Modi and Nitish are sincere about ridding politics of criminals, they need the goondas because we, the voters, like them enough to keep voting for them.
Why do we vote for them?
Essentially, it is because the system has failed many poor Indians. Like the impoverished Italian immigrants to America who would beg Don Vito Corleone for favours in Mario Puzo's The Godfather, India's poor look for justice outside the system.
They have so little hope of getting fair treatment from the police or the administration that they count on these local godfathers to get them even the little that they are legitimately entitled to.
Sometimes, the godfathers operate on the basis of caste (just as Don Corleone operated on ethnicity, helping Italians). Singh's clout comes from the Bhumihars who look to him to protect them from the Yadavs and other castes.
Sometimes, it is religion. The late Haji Mastaan, the best-known smuggler of the 1970s, eventually entered politics. He did so many favours for poor Muslims, he once told me, that he thought he might as well join politics and get them to vote for him.
The depressing conclusion of this excellent book is that no matter how much the likes of Modi brag about cleaning up politics, the goondas and the godfathers will flourish until India can deliver justice to its poor and the system can work to the benefit of ordinary Indians.
Sadly, that is not going to happen any time in the near future.
When Crime Pays
Money and Muscle in Indian Politics
Author: Milan Vaishnav
Publisher: Harper Collins India
Pages: 434
Price: Rs 799
IMAGE: Yogi Adityanath's supporters celebrate his elevation as UP CM. Photograph: PTI Photo