"A Meryl Streep or Jimmy Kimmel can speak their mind, and stay assured that they won't be harmed."
"That does not happen in India. Goons can land up anywhere unannounced. The rampant online abuse and bullying is not for the faint-hearted," say Manavi Kapur & Ranjita Ganesan.
Illustration: Dominic Xavier/Rediff.com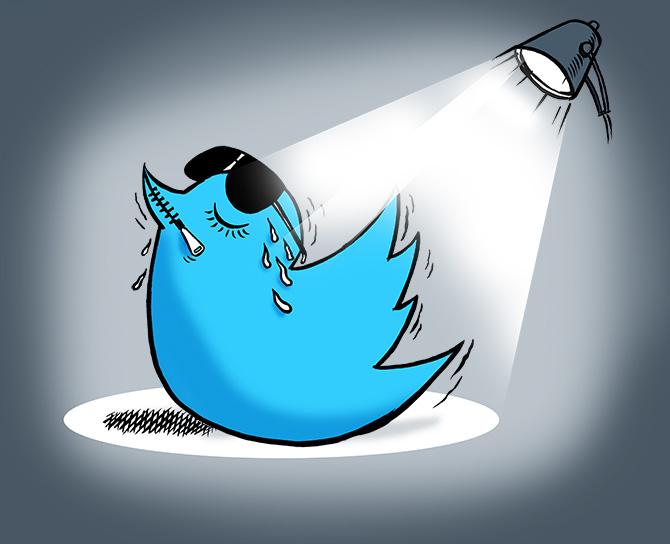 On January 8, at the Golden Globes, Meryl Streep, while accepting the Cecil B DeMille Award for Lifetime Achievement, lambasted President Donald Trump for using his powerful position irresponsibly, though without once naming him.
At the Oscars last month, host Jimmy Kimmel took a swipe at Trump when he said the ceremony was being watched in 250 countries "that now hate us".
Others at the ceremony, too, spoke their mind.
This prompted many Indians to wonder why our celebrities, who the people of the country venerate God-like, choose to remain silent on important national issues.
When the protests over the ban on Jallikattu had engulfed Chennai, no one except Kamal Haasan aired his opinion.
Captains of industry have said little about the hardships caused by notebandi, save for Rajiv Bajaj who called it a bad idea.
The liquor ban in Bihar, too, elicited a solitary protest -- from Adi Godrej.
When Karan Johar was bullied into saying on camera that he would not work with artistes from Pakistan anymore, nobody from the film fraternity stood up for him.
The declining quality of public discourse has not aroused the interest of our celebrities. Most of them have chosen to ignore the recent violence at New Delhi's Ramjas College.
The reason for their taciturnity is that retribution can be swift and severe in India. A Streep or Kimmel can speak their mind, and yet stay assured that they won't be harmed.
That does not happen in India. Goons can land up anywhere unannounced. The rampant online abuse and bullying is not for the faint-hearted. This makes the celebrities cautious. There is safety in silence.
Aamir Khan, after he disclosed that his wife wonders aloud if they should leave the country on account of growing communal intolerance, was browbeaten into issuing a pusillanimous clarification.
Still, he was jettisoned as the ambassador for the government's Incredible India campaign. It also cost him an endorsement deal with Snapdeal.
Earlier, when he spoke out in favour of the people displaced because of the Narmada dam, Aamir's film (Fanaa) did not release in Gujarat.
Outspoken Rishi Kapoor landed himself in the soup recently after he expressed his displeasure on Twitter over so many public places being named after members of the Gandhi family. The Congress named a toilet after him as a riposte, besides staging a protest outside his home.
Meena Iyer, who has co-authored Rishi Kapoor's candid autobiography, Khullam Khulla: Rishi Kapoor Uncensored, says that even for someone as unhinged as Kapoor, caution has become natural.
"While he still calls a spade a spade, especially on his Twitter handle, he is careful about not saying something that may affect his family."
When Kamal Haasan implored R Madhavan on Twitter to comment on the chaos and confusion in the Tamil Nadu Assembly, the younger actor, realising what a political hot potato had landed on his hands, chose to be vague with his response.
"We should have been an example to the world. All it needs is the right intent and the right leadership to harness that volcanic expertise. This is the time to make sure that we nudge it in the right direction... the whole state needs to believe that and make themselves heard," Madhavan replied.
One could almost picture him heave a sigh of relief after he dodged that bullet, at least for the time being.
Upcoming star Taapsee Pannu says she is opinionated and likes to stand up for things she believes in, but has been cautious of late. While there is a growing expectation that actors should voice their opinions, the consequences of doing so are dire, she adds.
"Expect strong words from your actors only if you are willing to accept those words. If you are going to pelt stones, damage their property, damage sets and slap them, then how can you expect a Streep here? You can't have both."
Cueist Pankaj Advani has learnt to manage his opinions over the years. He no longer feels the need to talk about subjects he does not follow.
He had stumbled two years ago by sharing views on a still-developing news story. Advani congratulated the Rohtak sisters, siblings who were seen in a video beating up harassers, and called them "bravehearts". Soon after, as the sisters' claims were disputed and the video was found dubious, Advani faced a backlash and people asked him to check facts before tweeting. He now steers clear of commenting on politics and Bollywood.
Actor Richa Chadha, too, tweets with caution.
"There are times when I am enraged by something, but I have to save that tweet as a draft and revisit it after I have calmed down. I do not want to become another abusive, trolling voice on social media."
While she has participated in strong campaigns against the culture of stalking in films, Chadha believes that social media activism, in essence, does little to help matters.
"If actors such as Shah Rukh Khan or Aamir, superstars who enjoy immense support, are not immune to this kind of trolling, how can you expect younger, lesser-known actors to feel free to speak up?"
In a recent interview, when asked about the flak stars such as Aamir and SRK received for voicing their social or political views, actor Ranveer Singh said he subconsciously steers clear of talking about politics.
"My political views are probably very agnostic. I know very little about the gamut of politics. I am an artiste and I like to be that."
In response to a question about whether it was correct for Pakistani actors to have been banned and sent back home last year, he said, "I really believe that artistes should be left alone to do their thing."
Then, almost as if to avert any potential outcry, he added, "But given the situation, even if there is one person who does not want that, or is not comfortable with the way things are going, I think we need to show solidarity as a nation and I would not oppose that."
Many have had to retract their statements after being roasted mercilessly online.
When asked for his reaction to Maharashtra Navnirman Sena's directive to ban Pakistani artistes, youngster Varun Dhawan first said, "I totally stand with the government of India. If banning actors can stop terrorism, then they should do it. But that is something the government needs to decide first."
It wasn't long before he realised what a stir this had caused. It prompted him to issue a clarification on Twitter: "Guys, my statement has been misinterpreted. I feel arts and sports are always made scapegoats."
But this tweet, too, was deleted within hours.
Some, like Imran Khan, have chosen to exit the micro-blogging site, as they couldn't cope with the onslaught of trolls.
The shaming does work inversely, sometimes.
Virender Sehwag, who, in keeping with his Twitter persona, tried to be flippant about Delhi University student Gurmehar Kaur's statement that war, not Pakistan, killed her father, an army officer, was forced to eventually come out in support of the 20-year-old.
Despite the commentary on Twitter, his publicist says Sehwag will talk about nothing except cricket.
If film stars and sportsmen weigh their words carefully before they speak, businessmen are no better. More than 25 years after liberalisation, the fear of institutional vendetta has not left them. Confrontation with the powers that be is one thing they want to avoid at all costs.
Immediately after Indira Gandhi lost power to the Janata Party in 1977, Raunaq Singh of Apollo Tyres faced the spectre of his company being nationalised. His crime was that he had made investments in Sanjay Gandhi's ill-fated small-car project.
A miffed Bansi Lal stalled K P Singh's real estate business for long.
Old memories die hard.
More recently, after the Gujarat riots, where Narendra Modi, the chief minister, was accused of doing little to control the mayhem, the Confederation of Indian Industry (CII) had held a session at New Delhi in February 2003 for its members to interact with Modi. On the stage with Modi were Rahul Bajaj, Jamshyd Godrej and Tarun Das (then director-general of CII). The businessmen were unrelenting and Modi left, incensed.
Almost 100 CII members from Gujarat threatened to quit over the incident. A handful of Gujarat businessmen known to be close to Modi -- Gautam Adani, Karsan Patel (Nirma) and Anil Bakeri (Bakeri Engineers) -- set up a rival organisation called the Resurgent Group of Gujarat.
And in Delhi, CII saw its access to the Bharatiya Janata Party-led government curtailed. This was blunting CII's edge in its core business of lobbying. When Das approached Arun Jaitley, then law minister, he agreed to broker peace, but CII would have to formally apologise, which the industry association did.
That, perhaps, is the reason why businessmen choose to avoid controversies, and seldom say anything that may not go down well with the government.
"The public relations machinery that surrounds them will never allow them to stumble with loose comments," says a communication specialist who doesn't want to be named. "The problem is to get them to speak their minds without censorship."
"Governments can be touchy, so one has to be careful while talking about them," says Harsh Goenka, chairman, RPG Enterprises. "Religion is another area that attracts trolls."
He knows of at least three businessmen who have recently stopped tweeting or cut back on sharing their thoughts online.
"They said, 'Yeh zamana Twitter ka nahin hai' (these times are not suited to Twitter)." Rather than fuel healthy debates, they felt that their opinions were met with abuse, he says.
Goenka, too, learnt this the hard way after being trolled for tweeting against the beef ban in Maharashtra. Still, Goenka puts out frequent tweets, mainly on politics, sports and social affairs.
In a recent interview, SRK held the Indian media responsible for not behaving "the way their counterparts do in the West", and said the issues prevalent in the US were not the same as those in India.
"You've got to speak to people who understand what you are saying. More than the platform Streep used for speaking, she had the platform where people understood what she said."
Veteran film journalist Bhawana Somaaya says Bollywood does take up issues, often fearlessly, pointing to the example of Shabana Azmi. "She spoke up about slum-dwellers much before it became a norm to comment on issues. And she was criticised for it."
Still, it will be a while before India finds its Streep moment.