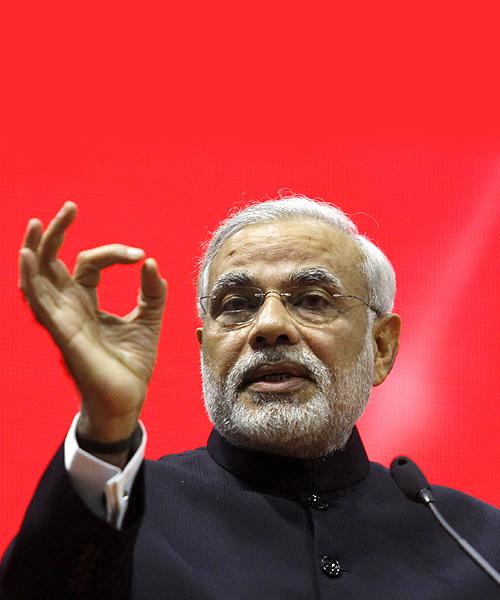 While a centralised approach to running things expedited decision-making in Gujarat, it may become the very thing that decelerates policies in the Centre, opines Nilmadhab Mohanty.
After one year of the Narendra Modi government, there is now almost a consensus among analysts and observers that Prime Minister Modi and his office have come to acquire an overarching control and influence over the decision-making processes of the central government ministries in Delhi.
One analyst has even observed that Prime Minister Modi, as the supreme political authority, lays down the big political ideas and the bureaucracy is tasked to implement these ideas.
The assumption is that good governance in the central government would be ensured through direct and continuous interaction between a proactive PMO and the senior civil servants in the central ministries.
Critics often describe this pattern of governance as the so-called "Gujarat model" where the head of government manages affairs of the state through select civil servants, somewhat sidelining the departmental minsters.
In fact, this pattern is not confined to Gujarat alone; it exists in one form or the other in the states where strong regional leaders dominate.
But while this system, though undesirable in a democratic set-up, could perhaps work reasonably well at the state level, it will lead to unavoidable problems at the Centre.
For one, the span of control in the state governments is much smaller than in Delhi. The Union government's functions are also more complex and are distributed in a decentralised manner among the ministries, each of which has its own ethos, expertise and work culture.
Unlike in the case of a state chief secretary who exercises regulatory supervision over the departmental secretaries, the cabinet secretary at the Centre has primarily a consensus-building role in his interactions with the secretaries in charge of the ministries.
Besides, in comparison with the state governments where the focus is on projects and schemes, the primary emphasis at the Centre is on policies and legislations for giving shape to these policies.
This necessitates grappling with ideas, concepts, domain and expert knowledge in the relevant fields and a deep understanding of the issues involved comprising both national and international dimensions. In short, the requirements are more cerebral than muscular.
All this means that centralisation of powers in one agency, such as the PMO, would create problems that militate against good governance.
Anecdotal evidence suggests that this might be happening in Delhi where the PMO, instead of remaining a compact office meant to assist the prime minister in his work, has grown into a vast bureaucracy to which the ministries are obliged to make proposals even at the initial stages, for clearance!
Since its personnel cannot have domain knowledge in all the diverse areas of governance, files and papers remain pending for long and important appointments are delayed beyond a reasonable time-limit.
It is nobody's case that there should not be a strong and effective PMO in the governance system. The prime minister is the guiding star of the entire government and for assisting him in his work, he needs a compact and multi-disciplinary group of competent personnel, headed by a seasoned and well-reputed civil servant, capable of providing direct and unbiased inputs on the ramifications and implications of various proposals submitted to him (by various ministries) for decision.
In the highly decentralised functioning of the Delhi bureaucracy, the presence of an effective PMO is particularly necessary in order to bring about inter-ministry and inter-agency coordination for time-bound decision-making at the highest level.
But to put in place an arrangement under which the internal decision-making processes in a ministry are micro-managed by an external agency or inexperienced and somewhat diffident ministers ask their senior bureaucrats to "ascertain" the views of PMO on specific issues before taking their decisions, may not be in the interest of good governance in our system.
There are also aspects of our civil service that must be kept in mind before putting all the prime ministerial eggs in one bureaucratic basket.
Bureaucracy, it needs to be emphasised, is a risk-averse profession and civil servants in our ministries, however competent, have a natural tendency to prefer the status quo to change; sometimes, perhaps unwittingly, they may and do act as champions for vested interests in the sectors they are looking after.
The lure of post-retirement, lucrative company directorships and 'so-called' consultancies are always there as attractions.
Compounding the problem is often the lack of adequate professional knowledge and expertise that some of our top bureaucrats display in many functional ministries.
This is the consequence of a deployment policy that sees them handling multiple and dissimilar jobs in their career. Like rolling stones, many do not gather any (professional) moss and fall back on mindless regulation and control that characterised the 'command-and-control' ancient regime.
The ministries, therefore, need external stimulus and the guiding leadership of senior politicians as cabinet ministers who would bring fresh ideas and public interest considerations to bear on government decision-making. It is needless to mention that the cabinet ministers (or for that matter state ministers with independent charge) must come to occupy their high offices well-prepared and with prior experience in public office.
The author had the good fortune of working with two such experienced ministers, Murasoli Maran and Suresh Prabhu, who brought a wealth of experience to their public office. They had no hesitation in accepting sane advice duly given; and when they differed, they explained their reasons with cogency and courtesy. It was always a pleasure to defer to their better judgement.
It is only through such interactions between ministers and senior civil servants, based on mutual respect, that good governance is brought about. We should not take any steps that will damage this arrangement.
Nilmadhab Mohanty, a former civil servant, is a Senior Fellow at the Institute for Studies in Industrial Development, New Delhi.