The Chabahar port, says Ambassador M K Bhadrakumar, 'can be the first significant footfall in an Indian variant of the 'Belt and Road' initiative.'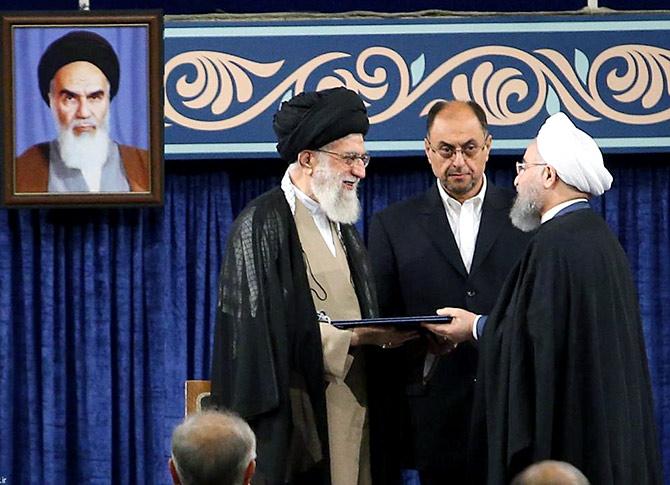 Prime Minister Narendra Modi's decision to depute Transport Minister Nitin Gadkari to represent India at the inaugural ceremony of Iran's President Hassan Rouhani on his second term is a most appropriate, timely and thoughtful decision.
'Appropriate' because it is a signal that India attaches high importance to relations with Iran.
Gadkari is a senior figure in the Cabinet -- all but prime ministerial material, one might say.
'Thoughtful' because of two reasons. One, Gadkari is also the government's point person with regard to the strategic Indian project to develop a transit route to Afghanistan and Central Asia via Iran's Chabahar port.
Two, it is an assertive statement that India's cooperation with Iran will not be buffeted by 'Trumpspeak'.
This is timely because Iran-US engagement has run into difficulties and US officials have spoken of a preposterous 'regime change' agenda vis-à-vis Iran.
A confrontation seems improbable but a showdown cannot be ruled out, either.
If there is a confrontation/showdown, the Modi government will come under pressure not only from the US but also from Israel, and India will be in the unhappy position of having to stand up and be counted.
Strategic ambivalence, which comes easy to the Indian DNA, may no longer be an option.
The previous government, of course, simply opted to pull down the shutter and fall in line with the US diktat.
It will be interesting to see how much spunk the present nationalist government would show to resist pressure on its regional policies, if push comes to shove.
However, India is in good company if it views Iran as a major partner.
The presence of Federica Mogherni -- the European Union's foreign policy chief -- at Rouhani's inaugural underscored that the EU does not go along with the US' sanctions bill against Iran.
So, indeed, the presence of Russia's Deputy Prime Minister Dmitry Rogozin, a close confidante of President Vladimir Putin, signals that Moscow has a big agenda to expand and deepen the cooperation with Iran.
Chinese President Xi Jinping deputed He Lifeng, head of China's National Development and Reform Commission, to represent China. He is the principal driver of the Belt and Road Initiative in the Chinese government.
Indeed, if the inaugural ceremony was a litmus test of Iran's integration with the international community, the result is positive and impressive.
Nineteen presidents, vice-presidents and prime ministers as well as 18 heads of parliaments attended the ceremony.
It is virtually impossible for the Trump administration to 'isolate' Iran over its missile development programme or its regional policies.
By the way, the participants at the ceremony in Tehran included a high-powered delegation from Hamas and a cabinet minister from Qatar.
Gadkari has promised that the Chabahar transit route will be operational by next year.
The country must hold the government to its word. There shouldn't be any slip-ups.
This can be the first significant footfall in an Indian variant of the 'Belt and Road' initiative.
More importantly, perhaps, India must now resuscitate the plans of investments in the Chabahar region for industrial collaboration.
The enthusiasm with which we spoke about it two years ago has petered out.
Again, a major push is needed to realise the much-talked about North-South Corridor via Iran.
In political terms, a visit by Rouhani to India is overdue.
The visit will give an overall verve to the relationship and add momentum to bilateral cooperation.
The Farzad-B gas field project has proved elusive.
The revised $11 billion investment offer by ONGC Videsh is pending for a decision in Tehran.
The Iranian side has driven a hard bargain, which is understandable since oil is a major source of income for its economy.
But then, Tehran must also realise that Farzad-B will be a 'game-changer' for the entire relationship with India.
Perhaps, this is the single biggest investment offer India has ever made to a foreign country.
The business spin-off in the downstream, if the Farzad-B project takes off, will be massive.
IMAGE: Iranian President Hassan Rouhani receives the presidential mandate from Iran's Supreme Leader Ayatollah Ali Khamenei at an endorsement ceremony, Tehran, August 3, 2017. Photograph: President.ir/Handout/Reuters