Just as the mighty Bhim sacrificed his son Ghatotkach and Arjun sacrificed his son Abhimanyu in the battle against Kauravas, Yashwant Sinha must ask his son Jayant to sacrifice his ministerial post, says Sudhir Bisht.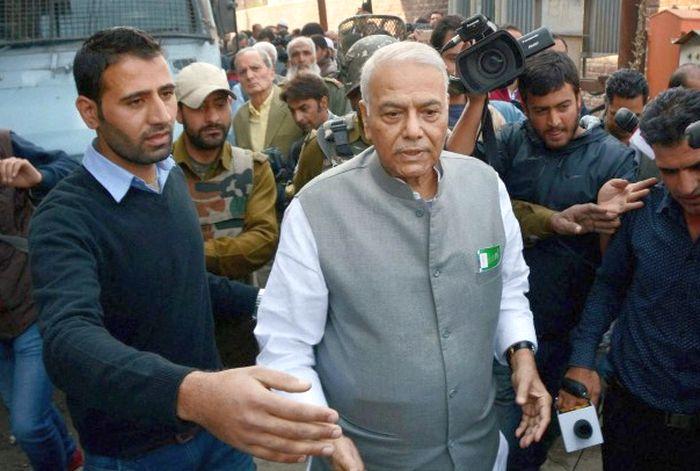 IMAGE: Yashwant Sinha. Photograph: PTI Photo.
Yashwant Sinha is a former minister who held the most prestigious portfolios, finance and external affairs, for more than six years under a self-proclaimed socialist regime and a regime that was pronouncedly laissez-faire. When he was asked to become the finance minister in the Chandra Shekhar government, it was solely due to the fact that the Shekhar-led Samajwadi Janata Party-Rashtriya had only about 60 MPs and was so thin on talent that the latter had to keep home and the defence portfolios with him.
One of the chief protagonists of Emergency, Vidya Charan Shukla, was the external affairs minister in that regime and Sanjay Singh, the "raja" of Amethi, was minister of telecommunications.
This was the calibre of the eight or so men who formed the Cabinet of the SJP-R government. The coalition government was formed with 'outside' support from the Congress, and Sinha, who had left the Indian Administrative Service and joined the Janata Party with the objective of fighting the Congress, had no qualms about being part of such a government.
Sinha, as finance minister under Chandra Shekhar, took the extraordinary step of mortgaging over 60 tonnes of gold to the International Monetary Fund to tide over India's precarious balance of payments situation.
The SJP-R government fell in June 1991 and Sinha went into a limbo while continuing to be a member of Rajya Sabha. He later joined the Bharatiya Janata Party as he wisely calculated that his chances of survival in national politics were zero if he continued to hitch himself to the socialist bandwagon.
Sinha's calculations proved accurate and in 1998, he was appointed the finance minister and later external affairs minister in the BJP government led by Atal Bihari Vajpayee.
In 2004, Yashwant Sinha lost the Lok Sabha election from Hazaribagh in Bihar and after that he is not known to have done anything substantive in his political career. He neither contributed to the growth of his party in Bihar and Jharkhand, nor did he contribute anything in public life.
When elections were announced in 2014, Sinha found himself out of contention for a Lok Sabha ticket but managed to ensure that his son, Jayant Sinha, got one from Hazaribagh. In the Modi wave Sinha Jr was able to win and was made a junior but high profile minister in the government.
With this I had thought that Yashwant Sinha, as a retired politician, would have been quite a happy and contented man. But he has become a restive old man.
Sinha Sr's restlessness first sent him to Kashmir valley to hobnob with separatist sympathisers. He submitted some kind of a report on how to bring Kashmir back to normalcy. When no one appeared to have taken notice of it, he stated attacking Finance Minister Arun Jaitley who should be credited for taking some of the riskiest but potentially beneficial financial decisions.
Jaitley should be credited for the passage of GST by using all his political and legal dexterity. The GST in its present state may have serious implementation challenges. It has inflicted a state of anxiety on a host of small traders and manufacturers but that has more to do with a sense of collective inertia of Indian business. Reforms like GST can cost the BJP a sizeable chunk of votes and that's why I term it risky. But in the long run, GST will prove a winner for India.
Sinha has strongly criticised Prime Minister Narendra Modi for entrusting Jaitley with two key ministries, defence and finance, for a very long time. But Sinha conveniently forgets that his first boss, Chandra Shekhar, had kept the home and defence portfolios with him during his smallish tenure as the country's eighth prime minister.
My own interaction with some of the people associated with defence matters tells me that Jaitley's leadership of both finance and defence ministries was a boon for the latter as the minister who controls the purse strings of the nation finally understood the need for investing heavily in defence.
Yashwant Sinha has been taking the high moral ground of a former statesman who is above the party's line of discipline. He is even seen socialising with the likes of Arvind Kejriwal and Manish Tiwari, two politicians who have not been very civil in criticising the prime minister of the country.
Sinha Sr thus is paying an indirect tribute to the spirit of inner-party democracy practised by the BJP that tolerates senseless criticism from its own leaders, including a former film-star and a former cricketer.
Sinha's long lectures on political morality make for good copy but he fails miserably when such morality is applied to his own life.
Sinha Sr fancies himself as one of the Pandavas and if that is what he is, he must ask his son to leave the government.
I am aware of Jayant Sinha's high academic credentials and I congratulate him for his stint with McKinsey & Company. It is nice to know that Sinha Jr worked in a hedge fund. I rejoice with the son over his IIT and Harvard degrees.
But there is one thing that I can state with one hundred percent certainty. There are thousands of Indian men and women who have more impressive academic and career achievements than Jayant Sinha but they don't have a father who is as influential as Yashwant Sinha.
If academic credentials and career record are the sole criteria for a ministerial berth, then a job search engine should get the best CVs for all ministerial positions.
So, just as the mighty Bhim sacrificed his son Ghatotkach and Arjun sacrificed his son Abhimanyu in the battle against Kauravas, Yashwant Sinha must ask his son Jayant to sacrifice his ministerial post.
He may not be a job applicant at 80 but he needs to clarify if his polemic is plausible.
Sudhir Bisht, author and columnist, writes from New Delhi and tweets as @sudhir_bisht.