Two infants. Two very different destinies.
Aslam Hunani ponders on the cruel fate wrought by the Nepal earthquake while Britain celebrates the birth of a princess.
Nepal was struck by the worst earthquake in more than 80 years on Saturday last, April 25. The death toll has crossed 7,000; more then 14,000 people are reported injured.
An estimated 80 per cent of Nepal's houses have suffered damage. The calamity has brought the Himalayan kingdom to its knees.
The magnitude of the devastation means that Nepal will take years to become even a semblance of its former self.
The worst affected are the children who have lost their parents and encounter a bleak, uncertain, future. One's heart weeps for these children who have lost everything they had when Cruel Nature struck that morning.
As I contemplated the fate of these forsaken children, another image caught my eye -- the baby girl born to Prince William and his wife Kate, now fourth in line to the British throne.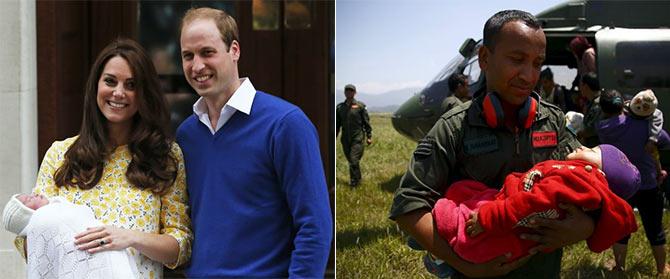 Left: Britain's Prince William and the Duchess of Cambridge, with Princess Charlotte Elizabeth Diana. Photograph: Suzanne Plunkett/Reuters. Right: A Nepalese soldier with the baby of an earthquake victim after being airlifted from Sindhupalchok district to Kathmandu. Photograph: Navesh Chitrakar/Reuters
I was struck by Destiny's cruel game of dice.
A minute earlier, I had been staring at a child rescued from the debris of the quake, unaware of what the future beholds. A minute later, a child who will never lack for anything.
One will need to strive hard to achieve anything in life, the other will never need to overcome any such obstacle.
When nature's fury strikes, does it spare anyone?
How does tragedy co-exist with bliss?
Why does Destiny play favourites?