'Surely a higher standard is required when ministers speak in public to an audience that will assume they are factually correct, says Karan Thapar.
Illustration: Dominic Xavier/Rediff.com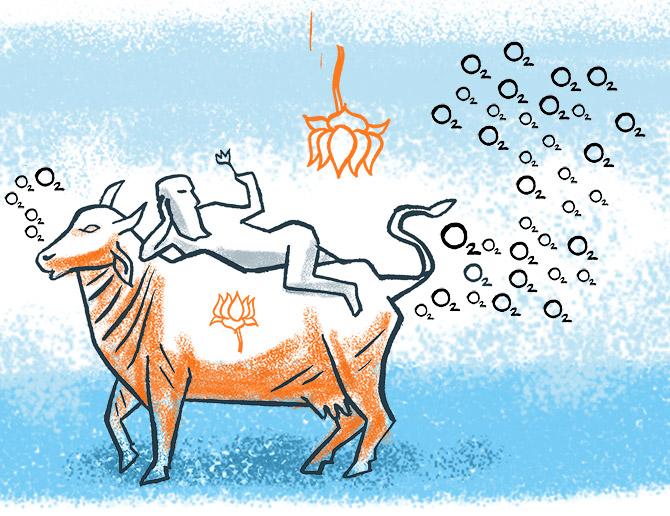 Have you ever wondered why some members of the Bharatiya Janata Party -- or people closely affiliated to the party -- are prone to making idiotic remarks?
This is not a facetious or rhetorical question.
It arises out of one simple fact: They keep doing this. Indeed, so often I've lost count.
Last fortnight, Vasudev Devnani, Rajasthan's education minister, publicly claimed the law of gravity was discovered by Brahmagupta a thousand years before Isaac Newton.
More incredibly, he made this statement at the 72nd foundation day celebrations of the University of Rajasthan.
The only proof Devnani offered was 'If you delve deeper', you'll discover this fact.
Earlier, in 2017, Devnani said cows were the only animals to exhale oxygen.
He also claimed colds and coughs can be cured by proximity to them and cow dung protects against radioactivity.
Devnani, is of course, talking nonsense.
The claim the cow exhales oxygen is simply anatomically impossible. Methane is what it produces.
As regards the claim Brahmagupta discovered gravity, it is thinly supported by the following sentence from his book Brahmasphutasiddhanta: 'A body falls towards the Earth as it is in the nature of the Earth to attract bodies just as it is in the nature of water to flow.'
This, however, is just a factual observation, not the enunciation of a law. To assert it supersedes Newton's discovery is fanciful.
However, Devnani is not the first to make ludicrous statements.
Dinanath Batra, a former head of Vidya Bharati, the education wing of the Rashtriya Swayamsevak Sangh, has authored eight books which claim stem cell research was known in the days of Kunti and the Kauravas, television was invented at the time of the Mahabharata and the motor car existed in the Vedic period.
The books carry a message from Narendra D Modi (from his days as chief minister) and the Gujarat state school textbook board claims they 'are aimed at imparting quality education'.
Just what is meant by 'quality education' can be gleaned from the content of one book in particular.
Called Prerna Deep, it suggests a married couple who can't have children can overcome their infertility by taking care of cows.
The book also relates an unlikely story about former President Sarvepalli Radhakrishnan where he allegedly compares the colours of the Caucasian, African and Indian races to how God made a chapatti.
Negroes, it says, are the result of one burnt by fire.
Perhaps more unbelievable is an alleged story about Swami Vivekananda.
After he boasted Indians always wear Indian clothes, an Englishwoman asked why he had foreign shoes on and he replied that's the right place for foreigners.
Rudeness apart, would Vivekananda have said something like this?
What makes the situation yet more bizarre is how leading education authorities in Gujarat have spoken of these books.
Harshad Shah, the vice-chancellor of the Children's University in Gandhinagar, says they provide an 'insight about our rich culture, heritage, spiritualism and patriotism.'
Bharat Pandit, the director of the Gujarat state school textbook board, says they will help students develop moral values.
That's baloney.
Dinanath Batra's books use mythology as the basis for claiming scientific achievements. This is clearly an irrational thing to do.
First, there is no proof other than the assumption the myth is true, which is totally unwarranted.
Second, how do you account for the fact the scientific knowledge and achievements he is boasting of have been lost, long forgotten and there is no trace of any records to substantiate they ever occurred?
No doubt many Hindus believe in India's prehistoric mythological achievements.
Narendra D Modi's comment in 2014 about ancient India's mastery of genetic science and plastic surgery makes him one of them.
As individuals they are free to believe what they want. But surely a higher standard is required when ministers or educationists speak in public to an audience that will assume they are factually correct.
The BJP wishes to build smart cities, stresses the need for education and is proud of the mission to Mars.
It believes in digital India, wants to import bullet trains and 'Make-in-India' state-of-the-art defence weaponry. These are 21st century ambitions.
Messrs Devnani's and Batra's averments contradict them.
So how can rational, educated, modern-minded men say such incredibly foolish things?
Or do we have grounds for questioning whether they really are rational, educated and modern-minded?