'As events at Kargil and Pakistan's continued support to terror activities in India prove, Pakistan has always felt that the break-up/destruction of India was within its capability,' notes Colonel Anil A Athale (retd).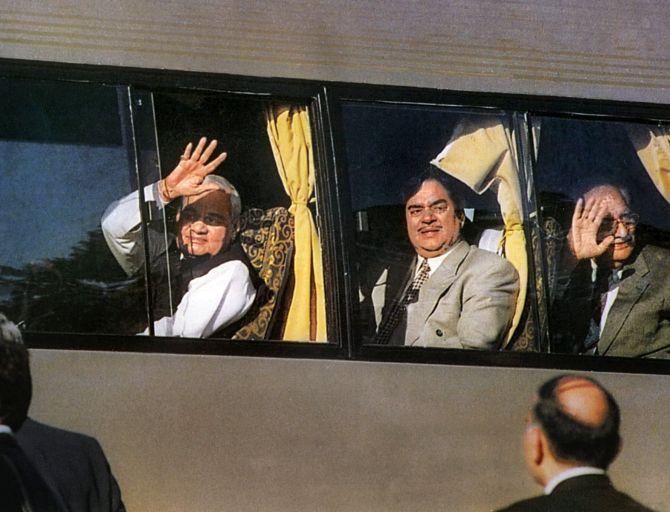 Veteran journalist Shekhar Gupta has given one version of the background to Atal Bihari Vajpayee's Lahore bus initiative.
Gupta's account claims that the initiative came from then Pakistan prime minister Nawaz Sharif. However, the facts are a little different and this article is an attempt to set the record straight.
With the passing away of Vajpayee on August 16, 2018, an era has ended.
While tributes have been paid to his multi-faceted personality, one of the major failures of his tenure as prime minister has not received the necessary attention.
This was the signal failure of his peace diplomacy with Pakistan undertaken in 1999.
His February 19, 1999 bus journey to Lahore and subsequent Lahore declaration of peace between the two countries died on the icy heights of Kargil in less than three months when Pakistan carried out a military incursion into Jammu and Kashmir.
Inpad, our Pune-based think-tank, had possibly a tiny role to play in this major initiative.
On August 9, 1998, we wrote to the prime minister through the good offices of the minister for external affairs proposing a 'unilateral' peace initiative with Pakistan.
Our logic was that with the nuclearisation of the subcontinent, war as an instrument of politics has become redundant.
Nuclear wars have no victors and can never be won and therefore should never be fought.
Since Pakistan was now in possession of nuclear weapons, its fear of Indian aggression and paranoia on security ought to have ended was the logic.
We suggested that somewhat on the lines of Anwar Sadat of Egypt who went to Israel on November 19, 1977, becoming the first Arab head of State to visit Israel, the PM could visit Pakistan on August 14 and bring back PM Sharif to address Indians on August 15, it being the Golden Jubilee year of our freedom.
In order to appeal to Vajpayee's sense of history, we quoted a famous poem by Veer Savarkar.
In his immortal verse on catching the fleeting moment, Savarkar had lamented how a moment is lost in a moment. His reference was, of course, to his famous escape from a British ship at Marseilles and subsequent capture that changed Indian history.
The current moment was Pakistani vulnerability in the wake of the 1998 economic sanctions post the nuclear tests.
In our letter to the PM, Inpad added that even if the Indian unilateral initiative does not succeed, we will still get a positive international image.
Even the great Shivaji did not hesitate to go to Agra and the Mughal court of Aurangzeb in quest of peace, we noted.
We received an immediate response from the government saying that our idea was being considered, but the time available was too short to implement the August 14-15 initiative.
It needs to be recalled that away from public gaze, India, in that year, imported a record amount of sugar from Pakistan, worth nearly $200 million to help that country.
Financial year 1998-1999 was the only year when Pakistan ran up a trade surplus with India, of $27 million.
Obviously Vajpayee was laying the ground work for his eventual Lahore bus trip of February 1999. We are not privy to the contacts between Vajpayee and Sharif, but suffice it to say the peace initiative was very much from the Indian side.
The primary logic of Inpad in being optimistic about Indo-Pak peace was the belief that Pakistan suffered from a sense of insecurity vis a vis India. But with nuclearisation and the explicit Indian recognition of permanency and acceptance of Partition, peace between the two countries should be possible.
To further buttress this logic, Vajpayee went to the Minar e Pakistan at Lahore, symbolically accepting the reality of Pakistan.
This reiteration of the old Indian formulation that a united, peaceful and friendly Pakistan was in India's interests was meant to quell the persistent Pakistani rhetoric about the Indian threat.
Where Inpad and Vajpayee went wrong was the belief that Pakistan suffered from a sense of insecurity.
The logic that nuclear weapons and Indian assurance would make Pakistan feel secure and it would embark on the path of peace was flawed.
This also assumed Pakistan to be a 'normal' (as opposed to an ideological) State.
As subsequent events at Kargil and Pakistan's continued support to terror activities in India prove, Pakistan has never felt insecure and has always felt that the break-up/destruction of India was within its capability.
In short, a Pakistan that feels secure will always continue to be aggressive vis a vis India.
I agree with Shekhar Gupta's conclusions that Imran Khan becoming the prime minster has changed nothing and peace will continue to elude the Indian subcontinent till such time as the Pakistani army, the real rulers, continues to harbour the belief that it can achieve its aim of breakup of India into several small parts.
It is this notion and unshakeable belief of the Pakistani army that lies at the root of failure of every single peace initiative undertaken by India.
This will end only when Pakistan gets divided along ethnic lines or ceases to exist altogether as an independent State.
Till such time, the best that India can do is keep Pakistan destabilised and insecure so that it has no chance to carry out its aggressive agenda.
Colonel Anil A Athale (retd) is a military historian and coordinator, Inpad.