'Why can't a person who has supervised military intelligence head RA&W?'
'Why can't one who has overseen national security planning become our NSA or chair the National Security Advisory Board?' asks Vice Admiral Premvir Das (retd).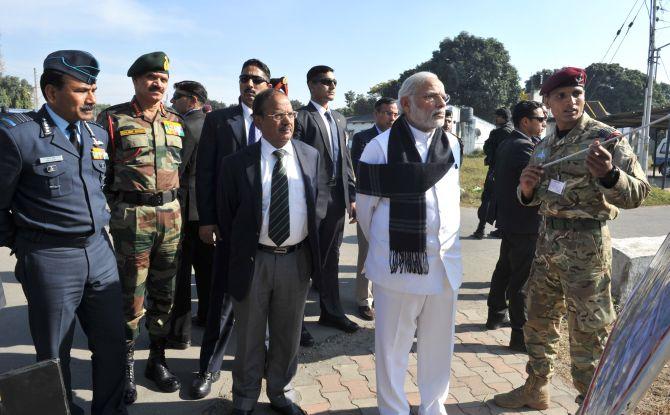 Much has been said and written about the government's decision to appoint a new army chief, overlooking two others senior to him.
The media, Opposition parties and even retired generals made it their business to air their views on a decision that lay fully within the preserve of the government of the day.
General Bipin Rawat is now in the chair and the other two generals have willingly decided to serve their full tenures under him. Full marks to them for their approach; in earlier cases those superseded had resigned, which also has logic.
Things having now returned to normalcy, it is time to look at some of the larger questions.
First, one selects people to occupy such high positions, implying that there must be four or five qualified and eligible persons to choose from.
Second, just because all of them are necessarily good does not mean that the most senior of them must be the automatic choice; the whole concept of selection then falls through.
So, some set of criteria have to be evolved and it is the business of those running the country to decide these.
To say that to fight Pakistan or China is the first and primary task of the army or that counter-insurgency is what is important today is a matter of judgment and not of some unchanging principle; in any event, one need not be exclusive of the other.
So, a decision has been made and there is no reason to believe that the new chief will not fill the position as illustriously as many of his predecessors have.
This brings us to the larger question of the role of the military in national decision making at the highest levels. And here, the position is interesting.
In authoritarian or military-ruled nations, such as the erstwhile Soviet Union or China, people of uniform have held the highest positions; examples are Marshals Zhukov, Ustinov and Chen Yi, who have been defence ministers of the two countries.
In others, which have been ruled by the armed forces at one time or the other, including in our immediate neighbourhood, not just has the army chief been head of State but other military officers have held office of foreign minister and equivalent.
This is not unnatural given that the entire space of governance is authoritarian.
Yet, in an unabashedly democratic nation like the United States, people of military background have been equally prominent. General George Marshall, who headed the US army through World War II, became secretary of state and was later followed by other well-known military leaders in that position -- Generals Alexander Haig and Colin Powell to name two.
Others have gone on to head different intelligence agencies which are distinct from the military, such as the CIA and the NIA.
In the Donald Trump administration, the secretaries of defence and homeland security, two critical policy decision making positions, will be former generals and the national security adviser is a serving army officer.
In short, here we have the epitome of democratic governance replete with people who have held high military office and will now hold very important political positions.
To top it all is the story of General Dwight D Eisenhower, who led the Allied campaign in Europe during World War II and was later elected US president.
The situation in parliamentary democracies is, interestingly, different. The United Kingdom has had very well-known and influential military leaders such as Alanbrooke, Montgomery and Mountbatten, but it will be difficult to find instances when any of them rose to high political responsibility.
The same seems to be true of many other countries, though there may be the odd exception. We, following the British route, have also shied away from exploiting the expertise of former military men.
Yes, there have been cases of such persons having taken up political careers after retirement and becoming senior ministers -- former foreign minister Jaswant Singh is one such -- but this comes from their changed persona.
Even today, two ministers of state are ex-military, one of whom held the office of army chief, but they are where they are through the political process. Another former army chief was given a Rajya Sabha seat, but with little else asked of him.
The only thing that we have done in seven decades since Independence is to have appointed some former senior military men as governors and ambassadors, largely in billets which are not troublesome.
Even nominated positions like the national security adviser and heads of intelligence agencies, for which they have undoubted expertise -- possibly more than many -- are not for them. The point that merits consideration is whether this serves our interests best.
Professional advice to the government on military matters is rendered through a well-established process. Whether the existing set-up is not sufficiently effective is a different matter that has been discussed threadbare, but the issue here is of using the knowledge and capabilities of those who have spent four decades in uniform and acquired specific skills.
How to use their capabilities rather than let them wither away is something that needs to be seriously debated.
If a bureaucrat who retired a decade ago can be appointed lieutenant governor of Delhi or a former home secretary is considered fit to manage the affairs of the Board of Control for Cricket in India -- leave aside being CAG, CVC or CEC -- why cannot a person who has supervised military intelligence head the Research and Analysis Wing?
Equally, why cannot one who has overseen perspective national security planning become our national security adviser or chair the National Security Advisory Board?
One senses that seven decades down the line, our political establishment is still uncomfortable with the military persona. This speaks poorly of both sides.
In every walk of governance, we are making serious course corrections and the field of higher security formulation must surely be one such.
If long-prevalent 'status quo' economic policies needed a 'surgical strike,' then similar unorthodox approaches are needed elsewhere.
Politico-military synergy is one such.
Vice-Admiral Premvir Das (retd) is a former commander-in-chief of the Eastern Naval Command. He has also been member of the National Security Advisory Board.
IMAGE: Prime Minister Narendra Modi with Air Chief Marshal Arup Raha, then the air chief, General Dalbir Singh, then the army chief, and National Security Adviser Ajit Doval at the Pathankot airbase, January 9, 2016. Photograph: Press Information Bureau