'Parading French troops alongside Indian military personnel, says Rajeev Sharma, turns India's non-alignment policy on its head!'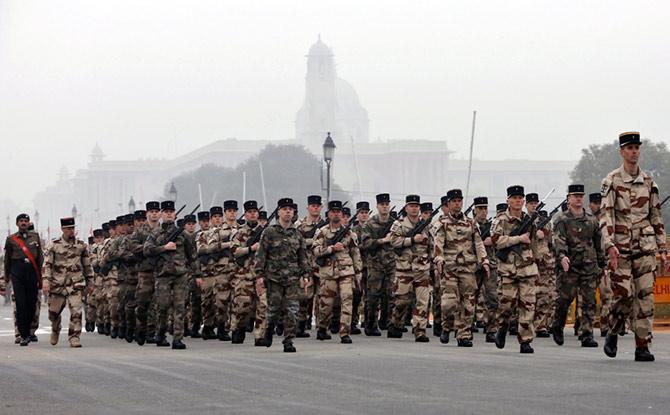 IMAGE: French soldiers rehearse for India's Republic Day parade, January 20, 2016. Photograph: Anindito Mukherjee/Reuters
The Republic Day parade of 2016 will be unique for the fact that it will be the first time a foreign -- French -- military contingent will be a participant.
Why France? Why have the French been co-opted by Prime Minister Modi for this unprecedented diplomatic favour?
By doing this, Modi is signalling to the West as well as India's detractors that India has come of age in having a truly strategic partnership with a P-5 country like France.
Also, the clever Modi is returning a favour to France as an Indian military contingent had participated in the French equivalent of India's Republic Day parade on July 14, 2009.
It is Modi's way of conveying to French President Francois Hollande that the honour being extended to him as the chief guest at the R-Day parade is indeed a special and unprecedented honour that neither of his two predecessors at the Palais de l'Élysée in Paris received.
It conveys lots of things to lots of interlocutors, primarily from the strategic and diplomatic viewpoint.
Never before has a foreign military contingent taken part in India's Republic Day parade.
This was unthinkable in the Nehruvian concept of India's non-alignment policy, but then it is 2016, not the '50s or '60s when the country's first prime minister unravelled his non-alignment policy for India.
That time is long gone. This is 2016. This is the Narendra Modi era. India's foreign policy is run by a non-Congress prime minister and he cares no hoots about Nehruvian policies.
In effect, Modi has broken off from the Nehruvian approach and proclaimed to the world that he is here to redefine policies.
Parading French troops alongside Indian military personnel would virtually mean turning India's non-alignment policy on its head! It would also mean signalling a new approach in India's foreign policy here on.
The development should be seen in the larger and more long-term Indian foreign policy context. It shows that the Modi-led India is quite an iconoclast and not scared of breaking age-old myths about India's foreign policy.
Extending such an honour to a country like France which has been selling state-of-the-art military hardware like submarines to Pakistan means that Modi's India is willing to bid goodbye to the decades-old Indian foreign policy of non-alignment.
Modi's detractors may well see a red rag in this move. They may well question Modi and ask whether this won't lead to diplomatic awkwardness and heartburn among other powers in the world, particularly the United States.
Be that as it may. For now, Modi is running his foreign policy with guts and innovations.
France has been a dominant force on the world stage for decades. But Indo-French synergy at a time when the Chinese economy is going down spells new equations as far as India is concerned.
The Modi government has clearly aligned its strategic interests with a major world power like France. The signals are loud and clear: India and France are on the verge of a spectacularly big strategic partnership.
From the Modi government's viewpoint, a French kiss is on the cards.
Rajeev Sharma is an independent journalist and strategic analyst who tweets @Kishkindha