As education minister Smriti Irani should be worried about the state of education nationwide rather than fuelling a German-versus-Sanskrit row, says Sunil Sethi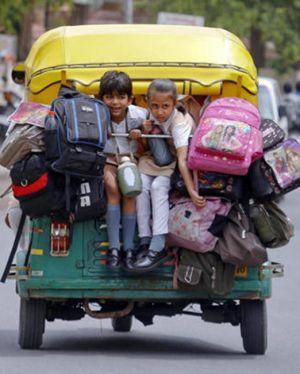 A little learning, it's said, is a dangerous thing. Two living exemplars of the phrase in recent days are Smriti Irani and Zameeruddin Shah, for their ill-judged and obsolete ideas on education and campus management.
The human resource development minister's belief that teaching German in schools should be chucked in favour of Sanskrit, and the Aligarh Muslim University vice-chancellor's view that allowing girls into the main library will lead to "four times more boys trooping in", boils down to a basic question: should former TV actresses and retired generals be put in charge of educational policy and university administration?

Ms Irani's latest move has even caused a diplomatic frisson -- the German chancellor raised the issue with the Indian prime minister in Brisbane -- but she's no stranger to controversy. Her so-called degree from Yale University turned out to be a six-day crash course she took with other members of Parliament; and ever since Narendra Modi's "chhoti behen" (as he endearingly called her after the good fight she gave Rahul Gandhi in Amethi) became minister, her ratings are focused on how to keep Hindutva's votaries smiling.
Demands by the students' wing of the Bharatiya Janata Party led to the messy business of rolling back the four-year undergraduate degree at Delhi University to three years. She then appointed a local Rashtriya Swayamsevak Sangh leader as chairman of a technology institute in Nagpur after he wrote her a grovelling letter; and in the present case, she is promoting a campaign by the Sanskrit Shikshak Sangh. The organisation's president, D K Jha, has several way out ideas -- he believes that "learning Sanskrit gives you happiness, decreases the chances of suicide ... acquisition of wealth is a secondary aim, but Sanskrit can help in that, too".
His cohort V Dayalu says that Sanskrit can bring down the crime rate. They are of the same ilk as Dinanath Batra, whose prolonged litigation resulted in the pulping of Sanskrit scholar Wendy Doniger's book.

If learning Sanskrit can do more than what Colonel Pickering dreamed of in My Fair Lady, it should be made compulsory in police academies, jails and legislatures, not just Kendriya Vidyalayas. No one in the ensuing storm has actually sought the opinion of what the majority of 70,000 students in 500 schools -- who are expected to change courses mid-stream -- wish to study.
Like Mr Shah in Aligarh who never asked the girls of Abdullah College which library they preferred before shooting his mouth off, and compounded his error by blaming the media, Ms Irani has opened a Pandora's box.
Capitulating to the Saffron Brigade's demand in centrally administered schools has given outfits like the Sanskrit Shikshak Sangh new ballast: they are now brazenly asking for a ban on teaching of any foreign language in any school, public or private.
Jha has threatened "strong action" and taking the matter to court if it doesn't happen.

If learning is about choice, then reducing rather than increasing language options, effectively means shutting out the world -- a disastrous prospect in a country where education is already at a low premium.
A Status of Education survey by the leading non-governmental organisation Pratham, in fact, confirms the sharp decline in the reading ability of children, especially in government schools. According to the report, carried out in schools across 567 districts and covering 600,000 children, 45 per cent of the students enrolled in the age group 3-16 (Class I-VIII) in rural areas attended private schools; in some states the enrolment rate for girls had actually declined. Rukmini Banerji, in charge of the survey, found "the decline ... very worrying". But she nailed the problem by adding, "We have spent many years getting our children into school, now it is time to see what we learn from them."
As education minister Irani should be worried about the state of education nationwide rather than fuelling a German-versus-Sanskrit row in 500 schools sparked off by a bunch of Hindu zealots. And, as a mother, what are the preferences her own school-going children exercise - Sanskrit over a foreign language? Or Vedic science before physics and chemistry? Like the misguided general at Aligarh Muslim University who learnt the importance of discretion before valour too late, Irani's saffron-tinted serial will backfire badly.