'#metoo has put front and centre an issue that society has suppressed for far too long,' says Kanika Datta.
Illustration" Dominic Xavier/Rediff.com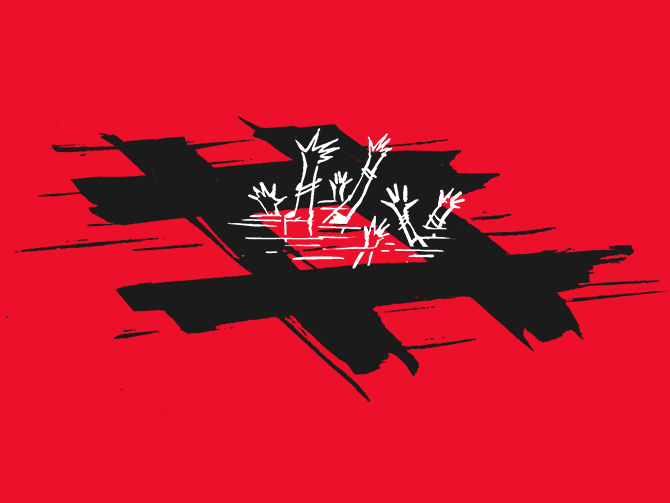 In America, since the #metoo movement began, about 100 high-profile men have been dismissed from their jobs or jailed following sexual assault or harassment charges in the past two years, about 0.00005 per cent of the country's male population.
In India, sexual harassment and rape is a fact of life for almost half the country's population. Yet here's the strange thing: In both countries, it is a growing number of men who are claiming victimhood.
Their argument goes something like this. Because of this pesky #metoo business, men are now vulnerable to female blackmail.
Like Tanushree Dutta and Christine Blasey Ford, any woman at any time can make random claims about being harassed or assaulted in the misty past and ruin the reputations of innocent men.
Say what?
Ms Dutta was the target of hired goons who attacked her car ten years ago when she walked off the sets of Horn Ok Pleassss for declining to perform a suggestive dance, to which she had not agreed, with Nana Patekar (a video clip of this incident can be seen on YouTube).
She is now the recipient of a defamation suit from -- hold your breath -- workers of the Maharashtra Navanirman Sena.
Why MNS? Well first, because she alleged that it was MNS workers who attacked her car in 2008 and second because she said its head, Raj Thackeray, wanted to succeed the late Bal Thackeray as Shiv Sena chief but couldn't (a fact that any number of political analysts have stated in the past).
Ms Dutta has also received legal notices from Mr Patekar and Vivek Agnihotri, whom she has accused of misbehaviour in 2005 during the shooting of a film called Chocolate: Deep Dark Secrets. Both have accused her of a conspiracy to defame them, for unspecified motives.
As for Ms Ford, she has received death threats, and her family have had to leave home for fear of physical attacks.
'I am terrified,' she said when she agreed to subject herself to sceptical questioning in front of the United States senate plus a global television audience of millions to talk about her sexual assault of 36 years ago.
The president of the US, a man who stands accused by multiple women for rape and harassment, publicly pilloried her for stepping forward with her testimony.
What was Dr Ford doing to attract all this prurient limelight?
If Supreme Court nominee Brett Kavanaugh is to be believed, she is a key player in a dastardly Democrat plot to smear his record of iron discipline in school and college.
Never mind that he, who is about to take up a lifetime appointment as a judge in the highest court of the land, blatantly lied to the senate and the American people about his drinking and carousing during his student years, as several Yalies have attested (many of them men).
Ms Ford has neither added nor subtracted from her senate testimony.
Mr Kavanaugh, who offered an emotional tear-jerking non-explanation in his, sought to excuse his erratic behaviour with a signed editorial in The Wall Street Journal.
Men who fear potential #metoo victimhood say the incidents women raise often occurred so long ago as to make proof difficult. Why didn't they complain then, they say.
Let's unpack that thought a bit. In a world of assumed male privilege as the world was (and still is), would their versions of events be believed?
We saw the fate of Anita Hill's senate testimony against the then US supreme court nominee Clarence Thomas in 1991. And that was in one of the world's more progressive societies.
In India, where despite laws, society still puts the burden of proof on victims, including humiliating physical tests (only recently outlawed), the chances of being believed let alone heard are even lower.
Without #metoo neither Ms Ford nor Ms Dutta could have come forward with their claims; and both cited it as the catalyst for their actions.
The movement is far from perfect, of course. The case of Harvey Weinstein's accuser Asia Argento, whose accusation sparked the #metoo movement, remains a cautionary tale: Her claims against Mr Weinstein appear disingenuous against her own act of statutory rape of a teenage boy.
Then there's that silly British female MP who claimed victimhood because some fellow MP put his hand on her knee in the year dot.
And, there's the case of Aziz Ansari, whose career was nearly destroyed by a spurious date-rape story that most women dismissed.
But the risk of fraud -- and it's been minimal because most women cringe from the consequences of disclosure -- cannot detract from the fact that #metoo has put front and centre an issue that society has suppressed for far too long.
For those men who worry about becoming #metoo victims, here's some free advice on self-defence. It's called good behaviour.