'Singh has written that he fears demonetisation will end up a mammoth tragedy.'
'Modi has told us we will enter a better world in January.'
'Both men can't be right and we will know which one of them is wrong soon,' says Aakar Patel.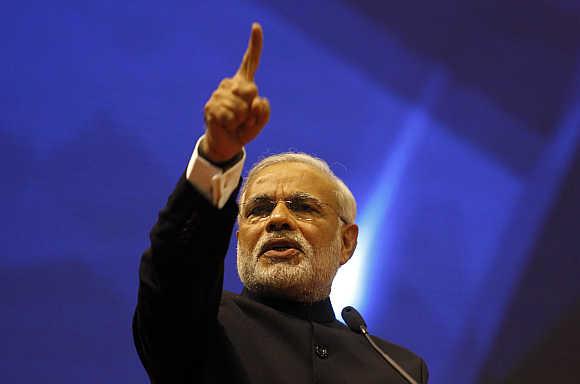 In April 2014, just before the general election, the man who would become prime minister was interviewed at length on camera by the activist and writer Madhu Kishwar.
Narendra Modi, who was then chief minister of Gujarat, revealed some things about himself and his style of working that I found interesting.
I took some notes as I was watching and this is what he said. He had changed the work culture of the chief minister's office in Gujarat.
Before he took charge, chief ministers would show up at 12. But Modi was always punctual and in office by 9.45 am.
I know he is very particular about time and each time I have met him it has been at the exact minute of the appointment.
Another important thing he revealed was how he actually worked.
Modi said he doesn't read files. This I found to be unusual in someone who is so decisive because one needs full control over the subject if one is eager to take big decisions.
But Modi says he cannot govern through 'academics studies' and instead asks his officers to summarise all issues for him, and brief him orally.
They are expected to go through the file and tell him, as he put it, 'yeh masala hai kya.' He said he had the capacity to figure out the delicate contours of these issues without actually reading about them.
He said this is because 'mera itna grasping tha.'
Modi also revealed that he was a 'good listener' and was able to absorb what was being said to him well.
When I heard him say this I thought it made him vulnerable to the bureaucrats he was trusting because he is dependent and can be fed as much or as little as the officer wants him to know.
In the style of working as Modi describes it, a complex matter that occupies dozens and perhaps hundreds of pages in files is reduced to an oral summary.
It is possible that because of lack of time or because the issue is overly complex, the oral summary is simplistic.
On the basis of this summary, Modi takes a decision and this is then executed through the administration.
This style seems to have worked well for Modi because he is thought of as being a good chief minister in his 12 years in Gujarat.
These days, however, I have been again thinking about Modi's style of taking input in this form when taking decisions.
That is because the Supreme Court is asking critical questions about the way in which the demonetisation policy was rolled out.
The court wants to know if the policy was planned properly, or a decision was taken 'just like that' when Modi scrapped Rs 500 and Rs 1,000 notes on November 8.
The court wanted to know why the government was announcing withdrawal limits but the banks were unable to give this to the citizens.
Why did things appear like they had not been thought through?
The Centre has pushed back strongly to assert its independence and said that monetary policy could not be made up by courts. I think the government is right on that count, and I hope that the issue is resolved in the government's favour.
To return to the subject, I think Modi's style of working might have some advantages.
For example, where quick decisions need to be taken or where the issue is not complex. Modi has a very good eye for what is visually appealing and I suspect that things like the Make in India logo, which is excellent, have come because Modi has personally approved them.
But what happens when the issue that is being decided on is vast, complex and needs to be studied thoroughly and personally by the individual who is taking the decision and who is ultimately accountable for it?
Then I suspect things get more problematic. Not everything can be reduced to oral summaries.
Modi's style is the exact opposite of the style of Manmohan Singh, who was detail oriented as you would expect an academic to be.
Singh has written that he fears demonetisation will end up as a mammoth tragedy over the next few months.
Modi on the other hand has told us that we will enter a different and better world in January.
Both men cannot be right and we will know which one of them is wrong quite soon.
Aakar Patel is Executive Director, Amnesty International India. The views expressed here are his own.
IMAGE: Prime Minister Narendra Modi. Photograph: Amit Dave/Reuters