While a lot of TN farmers are indeed in a very bad condition, the agitation at Jantar Mantar doesn't seem to be apolitical, says Sudhir Bisht.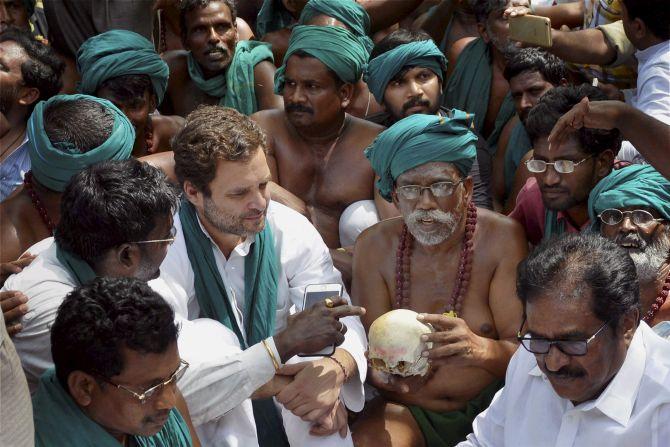 A group of farmers from Tamil Nadu has been protesting at Jantar Mantar in New Delhi for the past several days, demanding a loan waiver from the central government.
Media reports showed some of them wearing a 'garland of skulls', apparently of their brethren who committed suicide in Tiruchirappalli, Karur and Thanjavur districts of Tamil Nadu.
I had gone to the protest site to speak to the leader of the agitation P Ayyakannu last week.
When I reached there at around 3 pm on Friday, Ayyakunnu was eating his lunch: a frugal meal of rice and with little daal. I waited for him to finish and looked around meanwhile.
There were around six bare-bodied men with only a green lungi draped around their waists. A larger number of men, around 20 in number, wearing sparkling white dhotis and white cotton shirts were also there. I was told that they are also poor farmers from the drought affected regions of Tamil Nadu.
I also saw at least five men wearing black trousers and black coats in 38°C and quickly recognised that they were lawyers who were supporting the farmers.
In addition, there were several young boys and girls accompanying or supporting the agitating farmers.
The general atmosphere at the protest site was one of moroseness and despair. It could be due to the heat coupled with the sense that the agitation was not expected to yield any significant result.
Ayyakannu had, meanwhile, finished his meals and was ready to talk to me. I expressed my sympathy for the misery that has befallen upon farmers of India in general and farmers from Tamil Nadu in particular due to the severe drought in the state.
I asked him what were his major demands. First of all, he said, he wanted a loan waiver for all farmers. Secondly, the Centre should release about Rs 40,000 crores to Tamil Nadu towards drought relief. Lastly, he wanted the Karnataka government to release Cauvery water to Tamil Nadu.
It was his second demand that struck me the most. I told him he should be mainly concerned with the loan waiver, why is he concerned about how much money the Centre gives the state towards drought relief?
To this question, Ayyakannu didn't give a specific reply. He kept on saying that the state government has done its best and that the responsibility of giving a relief of Rs 40,000 crores to Tamil Nadu was on (Prime Minister Narendra) Modi.
I was a bit surprised by his rigid stand. I asked him why he was not asking the ruling party in Tamil Nadu to take it up with the Centre. His reply was again evasive.
He said the Union government wanted the farmers to suffer and eventually leave farming so that their lands can be given away to multinational companies for mining or other purposes.
He further said that while the salaries of MPs and MLAs and even peons have gone up by more than 200 times, the minimum support prices given to farmers for paddy has gone up by only 20 times in the last 40-45 years.
I agreed with him on this point and asked him if he was hopeful that the central government will agree to his demands.
The farmer leader said he was sure that the prime minister would never agree to his demands as he wanted the MNCs from abroad to come and take over all the land of the farmers.
"Take away the land for what?" I asked.
"For mining or for oil extraction. I know this is what he has promised to the MNCs," said Ayyakunnu in English.
He said since Karnataka assembly elections are slated for next year, the Bharatiya Janata Party will not push Karnataka to release Cauvery water to Tamil Nadu.
Ayyukannu kept on saying that the prime minister and the Union finance minister have no time for the farmers, especially those from Tamil Nadu.
While I have no doubt that a lot of TN farmers are indeed in a very bad condition, I couldn't convince myself that the agitation at Jantar Mantar was really apolitical.
Also, what intrigues me is that these farmers are protesting even when their leader says he has little hope of getting any favours from the Centre. What is the use of the agitation, then? Is it to embarrass the government or is it that a hidden political entity is merely testing the waters for a larger agitation in the future?
The human skulls that the farmers wore on the opening day of their agitation were missing. I asked the gentlemen who appeared to be lawyers about the veracity of the claim that the skulls were of farmers who died of starvation or committed suicide. They kept mum.
Perhaps the skull show was only to add a bit of sensation as protests at Jantar Mantar have become commonplace now.
I left the protest site feeling sorry for the agitating farmers. I could be wrong but I think some political organisation is playing with the sentiments of the poor.
IMAGE: Congress vice president Rahul Gandhi with Tamil farmers who are agitating for loan waiver and compensation for crop failure at Jantar Mantar in New Delhi. Photograph: Vijay Verma/PTI Photo.
Sudhir Bisht, author and columnist, tweets at @sudhir_bisht