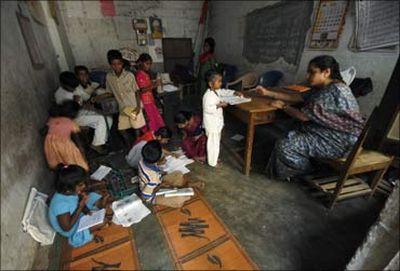 Given India's political scenario, where parties seek votes on the basis of caste and religion, the issue of using mother tongue in schools is more of a political vendetta, says Devanik Saha.
In 2009, the Right to Education Act was enacted which made education a fundamental right of every child between the ages of 6 and 14. It specifies several norms and practices to be followed by government as well as private schools. The act was formulated and implemented by a 14-member committee set up by the ministry of human resource development.
The RTE was envisioned to revolutionise education and transform the sector but, unfortunately, it has received widespread criticism from experts and teachers alike. Furthermore, several provisions have caused conflicts between state governments and the HRD ministry. One such proviso is the language of instruction in schools, which has led to fierce disagreements and court battles. The Section 29(2)(f) of the RTE Act, states that, 'medium of instructions shall, as far as practicable, be in the child's mother tongue'. Though straightforward, the words 'as far as practicable' leave a lot of room for deliberation.
In April, the Karnataka assembly passed the Kannada Language Learning Bill 2015, an amendment to the RTE Act rules, which seeks to make Kannada a compulsory subject till class 10 in all schools affiliated to the state board, while Kannada would be the medium of instruction for classes 1 to 5. The language issue has been a long battle of contention because the kids belonging to minority communities, whose mother tongue is not Kannada, will have difficulty in adapting to Kannada, which they have never studied or even spoken at home.
In 2008, the Karnataka high court observed that "right to education is a fundamental right being a species of right to life flowing from Article 21 of the Constitution. The right to choose a medium of instruction is implicit in the right to education. It is a fundamental right of the parent and the child to choose the medium of instruction even in primary schools'. It further added that under Article 19 (1)(g), 'Imparting education is an occupation and, therefore, the right to carry on any occupation includes the right to establish and administer an educational institution of one's choice. 'One's choice' includes the choice of medium of instruction'.
In its endeavour to make Kannada as the compulsory medium of instruction, Karnataka cited the example of its neighbour Tamil Nadu, as to how it is making an effort to promote Tamil.
However, there is a critical difference between the two. In Tamil Nadu, Tamil was only made a compulsory subject in schools, but choosing the medium of instruction was left to schools.
There have been endless arguments on the usage of mother tongue as the medium of instruction in schools. There is a wide difference of opinion within the NGO fraternity, a major stakeholder in education. I find that the NGOs which are run by foreign-educated Indians are influenced by western education models and advocate strongly for English medium education, while organisations that have been working in India since many years believe that the mother tongue should be the medium of instruction. But personally, I think the entire issue needs much more research and in-depth analysis.
Another obstacle that complicates the language issue is India's lack of competency in designing effective assessments for local languages which, in turn, hampers measuring of learning outcomes. If children are learning multiple languages, the assessments need to take cognisance of the different pace of kids in core skills such as numeracy, literacy and problem solving, and how it differs from a child only learning in English.
In Maharashtra, Marathi was made a compulsory subject in all schools in 2009. Furthermore, in a recent move, state Revenue Minister Eknath Khadse announced that Marathi, being the mother tongue of the state, must be taught compulsorily even in Urdu medium schools, else they would face derecognition and action.
Given India's political scenario, where parties seek votes on the basis of caste and religion, the language issue has always been sensationalised for political gains. With the Bharatiya Janata Party coming to power last year, the Rashtriya Swayamsevak Sangh and their affiliate groups are pushing for several ludicrous reforms, one being compulsory teaching of Sanskrit in schools, which stem from their idea of preserving Indian culture and their dream of making India a Hindu rashtra.
Unfortunately, rather than being considered a serious issue of contention, the issue of using mother tongue in schools is more of a political vendetta. It would serve India better if state governments could focus on actual problems plaguing the education sector rather than playing petty language politics and potentially affecting millions of children.
Photograph: Reuters