Field Marshall S H F J 'Sam' Manekshaw, India's greatest military commander, would have turned 100 on April 3, 2014.
To mark the occasion and to celebrate a brilliant mind, we reproduce some of the articles Rediff.com had published over a period of time on one of India's most-loved soldiers.
Here Nitin Gokhale recalls an encounter with a driver who drove one of India's most-loved soldiers, Field Marshal Sam Manekshaw, for 22 years.
On April 3, 2014, Field Marshal S H F J 'Sam' Manekshaw would have turned 100. He passed away six years before his centenary.

But in Wellington, the quaintly beautiful cantonment town in the Nilgiris, where the field marshal retired to, his memories live on.

Each year when I go for my annual lecture to the student officers at the Defence Services Staff College located in Wellington not very far from Coonoor and Ooty, at least one anecdote about Sam Bahadur the Legend gets added to my stock. In 2012 I garnered more than my usual quota because I came twice in close succession!

Nothing prepared me for my trip this time though!

As I came out of Coimbatore airport, an LO (Liaison Officer) in his crisp Madras Regiment uniform was as usual standing with the customary placard to receive me.
As we walked to the black Ambassador staff car, shining in the bright 30 degree sun, a tall man, his hair neatly combed and parted, wearing the chauffeur's khaki uniform, greeted me: "Good Morning Sir! I am Kennedy!"

I wished him back distractedly since I was busy looking at messages on the mobile after a two-hour long flight.

As we started our drive to Wellington, Kennedy asked: "Shall I put the AC on Sir?"

After replying the affirmative, just to be polite, I tossed a remark: "Have we met before, Kennedy?"

He said: "No Sir, but I have seen you on TV and last year I also saw you at the function in the field marshal's honour!"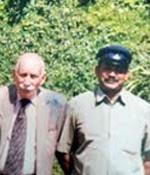 Impressed and flattered at the same time, I ventured to ask Kennedy how well he knew the field marshal. "Sir I drove him and Madam around for 22 years!"
Left: A young Kennedy with Field Marshal Sam Manekshaw

My mind snapped back to attention from the numbness that a long flight induces.

Here was a variation of a situation that I encounter almost every fortnight: the talkative taxi driver who wants to impress you with his knowledge and wisdom. But this was different.

Here was a man who saw the field marshal closely for over two decades!

You would be foolish to let go of this opportunity Nitin, I told myself.

The planned short nap be damned. The inquisitive reporter in me was now wide awake!

So what is your most significant memory of the field marshal, I shot off the first question, my pen poised over the small notebook I fortunately still carry in my shirt pocket!

"Oh, so many of them Sir," Kennedy replied. I wanted to immediately ask a counter-question: Which one is most precious, but years of training as a print reporter made me hold back.

After a minute or two, Kennedy, who was perhaps trying to recall his memories, said: "Whenever I went to his house with the staff car from the college (Defence Services Staff College), the first thing he would tell Solai (the field marshal's batman), Kennedy ko chai pilao, bread mein jam lagao, butter lagao! Each time, without fail, the field marshal would make me eat the bread-butter and drink tea," an emotional Kennedy remembered.
"The field marshal had cows at home. The household made its own cheese," he added.

And how often did you go, was my next question.

"Definitely once a fortnight. He was very particular to use the staff car only for official purposes," Kennedy revealed.

Now there was no stopping Kennedy.

"Very often Madam (the field marshal's wife, Silloo) would drive him to the market in her Maruti 800. He would purchase the essentials from the market himself -- vegetables, meat -- he loved doing that," Kennedy recalled.

"You know something Sir, he bought the plot of land in 1960 when he was commandant of the Staff College, but even as a major general, he did not have enough money. He told me once 'Kennedy, I had to take out money from my provident fund to buy this land'."

As we left behind the plains of Mettupalayam and started the gentle climb up the Nilgiris, Kennedy was in full flow.

"The field marshal never said it openly, but Madam and and other family members often made it clear that they were never happy with the way the government treated him after retirement. They gave him the baton, 5 stars and nothing else," Kennedy said. "Not even a dedicated car," an angry Kennedy recalled.

Now this was interesting and a little disconcerting. Was this man sharing what he had heard and saw or was he making it up mixing facts with gossip and innuendo?

Yes, one knew about the cold shoulder the field marshal got from successive governments, but would he, even if he was unhappy, give that impression to anyone, leave alone his chauffeur?

I wasn't sure, so just to change the subject, I asked him is Kennedy you real name?

"Real name Hridayraj Sir, but I was born in November 1963, the same month President Kennedy was killed. My father -- we are Christians, by the way Sir -- thought Kennedy was a good man, so he gave me the name Kennedy. Everyone knows me as Kennedy around here Sir."

"What else do you remember?"

"He was a pucca soldier, Sir. He would never eat his breakfast without getting fully dressed. Also, he always used to deliver the last lecture for the staff course."

"Many senior officers, including chiefs from Delhi and elsewhere, would meet the field marshal whenever they came to Wellington. Often I would take them to the house. You know something Sir, I have driven more than 500 three star officers in my 27 years of service. I have been a driver to so many chiefs -- General Rodrigues, General Sundarji (after his retirement Sundarji settled in Wellington), General Malik, General JJ, General VK, General Kapoor..." Kennedy was unstoppable now.

We were nearing Coonoor.

"Tell me more about Sam, the father and husband," I gently prodded him.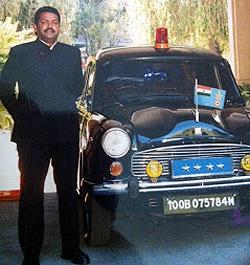 "Oh for him, madam's word was final. The field marshal was a loving father and grandfather. One of his grandsons looked exactly like him. Long nose, tall and fair. I never saw him scold any one. And he was always kind to people like us. When madam passed away, he was a broken man. We knew he wouldn't last long without his biggest strength," Kennedy said, clearly choking.
Left: Kennedy poses with a staff car used by an Air Chief
"You know Sir, President Kalam was the one who gave him more dignity than any one else. I drove the President to the hospital where the field marshal was admitted," Kennedy recalled.

Kennedy was extremely angry at how the government treated the field marshal in death. "No chief came for his burial. Defence Minister Antony sent his junior minister. Is this the way we treat our heroes Sir?" he asked.


I had no answer.

As we neared the Staff College, I asked Kennedy to share some photographs of his with the field marshal.

And sure enough, later that evening, he came with the photographs.

Over the next two days Kennedy drove me to the college, to the market and to dinners, coming up with one anecdote or the other about the legend.

As he dropped me back to Coimbatore airport on Saturday evening, I couldn't help but envy him for having had the privilege of seeing the legendary soldier so up close.

Kennedy has a decade more to serve, but nothing will be as exciting for him as his years with Field Marshal Manekshaw.
Nitin Gokhale is Security & Strategic Affairs Editor, NDTV.