At the best of times, ticket distribution in India's political parties is a tough business.
The post-election result has to be judged, and judged correctly. It's an impossible job in view of the 814 million voters for whom the party bigwigs have to perform.
Sheela Bhatt presents this light-hearted assessment of what's top of the mind for our political heavyweights.
Sonia Gandhi, the Congress president: How will my dear Rahul survive defeat?
Will there be a party challenger to Rahul after May 2014?
How best can the ground for Rahul's performance as Leader of the Opposition be laid?
Narendra Modi, the BJP's prime ministerial candidate: 220-plus! Nothing less for sure.
Any which way, by hook or by crook, the BJP must, on its own, get 220-plus seats.
In love, war and elections, everything is fair and justifiable.
Pranab Mukherjee, the President of India: All roads lead to Raisina Hill! :))))
Rahul Gandhi, the Congress vice-president: I work hard, but it seems I am quite late.
Even to be Leader of the Opposition is going to be difficult.
I disagree that I ruined my own chances. These guys are anti-Congress.
Priyanka Vadra, Congress's stealth weapon: My brother strongest. No camera on me, folks, in this election season please!
L K Advani, the BJP's prime ministerial hopeful: Even if the BJP wins 200 seats, Modi as prime minister is not a done deal.
In Indian politics, anything is possible.
Sushma Swaraj, another BJP hopeful: There exists a large constituency, within the Sangh family and outside, who have reservations against Modi, his working style and his presence in national politics.
You will see, I will never be stranded alone. Want to take a bet?
Ahmed Patel, arguably the third most powerful person in the Congress: Lying low, in power or without power.
Arun Jaitley, BJP heavyweight: The BJP's Plan B is not L K Advani.
The Delhi media knows who, if not Modi, will become the NDA's PM by default. :)))
Prime Minister Manmohan Singh: I am worried about records, statistics and obit writers.
Mohan Bhagwat, RSS boss: Hope the boys behave till May 16, at least.
Mamata Banerjee, Trinamool Congress boss: I will be the third largest party on May 16. CPI-M mukt Bharat will be a reality.
Jayalalithaa, AIADMK supremo: Keeping my fingers crossed. Who knows if the Congress and BJP reach 250? Chamundeshwari Devi will then decide what next.
Mayawati, BSP boss: Need Brahmins or Muslims to add to my muscle.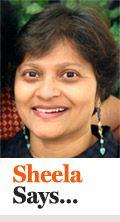 Vasundhara Raje Scindia, Rajasthan chief minister: My praja says I am born to rule, and not just Jaipur.
Naveen Patnaik, Orissa chief minister: I am sitting pretty on daddy's turf.
Amit Shah, in charge of the BJP's plans for Uttar Pradesh: India is Gujarat. Wait and see.
Mulayam Singh Yadav, Samajwadi Party boss: It took 40 years to build my chance to become prime minister, and the family ruined it in the last mile.
Won't hang up my boots till the final defeat.
Arvind Kejriwal, Aam Aadmi Party boss: Sab chor hain. Ab main kya karoon?
Prakash Karat, CPI-M leader: How can I say the Hindus in Kerala consider the CPI-M a Hindu party?
The Indian media: We are like this only!
Indian television news channels: Three seconds have passed! Oh my god! No breaking news! Dull day, eh?
V S Sampath, the Chief Election Commissioner: Money power and muscle power in Indian elections are a social malady, you see. Pardon me, but I didn't create it.
Foreign media: Incredible India! Is this for real?
Yesterday, Sheela said: How Modi can change the BJP
Will India accept Modi like Gujarat has done? Vote below!