India's full membership of the grouping would extend its reach to the Central Asian region in whose peace and stability it is a major stakeholder, says Sana Hashmi.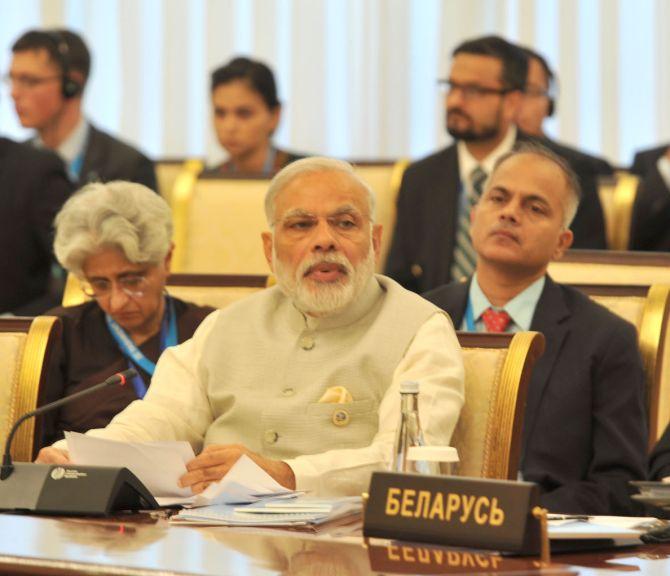 With the Shanghai Cooperation Organisation summit in Astana, the capital of Kazakhstan, on June 7-8, 2017, India is poised to become a permanent member of the regional grouping.
Along with India, Pakistan will also become a full member of the SCO.
This is the first time the organisation will elevate observers as permanent members.
The SCO will be the second regional grouping after SAARC (South Asian Association for Regional Cooperation) to have both India and Pakistan as permanent members, the move serving to integrate the Eurasian region with the South Asian region.
Prime Minister Narendra Modi will be attending the SCO summit, making it his third since assuming office in 2014. India has been an observer at SCO since 2005 and applied for full membership in September 2015.
Seemingly, differences with Pakistan and China over the China-Pakistan Economic Corridor which passes through Pakistan Occupied Kashmir would not make India's participation easier. India is likely to be confronted with the China-Pakistan partnership in the SCO, which is a smaller organisation and where other members have cordial relations with both China and Pakistan.
Secondly, India has not joined China's ambitious One Belt, One Road project. In all likelihood, China would use the SCO as a vehicle to promote its massive connectivity and infrastructure project, and put more diplomatic pressure on India.
Given that all other members of the SCO are welcoming of such overtures by China, it will not be easy for India to sidestep the subject in entirety.
Russian President Vladimir Putin, Kazakhstan President Nursultan Nazarbayev and Uzbekistan President Shavkat Mirziyoyev attended the first Belt and Road Forum held in Beijing on May 14-15. It goes without saying that Pakistan Prime Minister Nawaz Sharif was also in attendance at the high-profile forum.
However, despite challenges, the forthcoming SCO summit will be important for India and its presence is vital for India for several reasons:
First, inclusion in a Eurasian body will improve India's international standing given that SAARC is a non-starter. India's entry into the SCO would help India get greater access to regional markets and its politico-strategic dynamics.
Second, SCO membership will give a boost to India's 'Connect Central Asia Policy', which has been on a steady path for some time now. The policy was drafted in 2012 during the first India-Central Asia Dialogue. So far, four rounds of the dialogue have taken place, with the last one held in New Delhi in 2016.
In fact, Prime Minister Modi visited all five Central Asian countries in July 2015.
India's full membership of the grouping would extend its reach to the entire Central Asian region where India has established itself as a major stakeholder in its peace and stability. That India is poised to play a constructive role in the heart of Asia is demonstrated by its interest in joining the SCO as full member.
Third, India's foreign policy has become visibly proactive. It is attempting to leave its mark in regions such as Southeast Asia, Central Asia and Africa, as evidenced by Prime Minister Modi having visited as many as 45 countries since 2014. Apart from bilateral ties, India has been attempting to engage countries at the multilateral level, too. Recently, for instance, India hosted the annual meet of the African Development Bank in Gandhinagar.
Africa is just one example. India is keen to further integrate with the Eurasian region as well. Prime Minister Modi will also be attending the 21st StPetersburg International Economic Forum from June 1-3, the annual business summit organised by Russia.
Fourth, the SCO summit will provide an opportunity to address the menace of terrorism which has affected the peace and stability of the entire region. Most importantly, since the SCO has a mechanism to deal with the issue of terrorism, the Regional Anti-Terrorist Structure, it will provide India with a platform to highlight terrorism and push Pakistan to address the problem.
Fifth, SCO membership will be India's gateway to Central Asia, which is considered as one of the resource-rich regions in the world. The membership will allow India to have greater access to the region's resources and facilitate further cooperation with countries of the region.
In sum, given that India has boycotted the Belt and Road Forum, being in SCO allows India to skip isolation.
Also, as India does not have a physical border with any of the Central Asian countries, its presence in SCO would be helpful in increasing its sphere of influence in the region.
Image: Prime Minister Narendra Modi addresses the Shanghai Cooperation Organisation summit in Tashkent, Uzbekistan, in June 2016. Photograph: PIB.
Sana Hashmi is a research scholar at the Centre for East Asian Studies, Jawaharlal Nehru University.