The latest round may have gone against him, but the chief minister is planning his counter-attack, says Nazarwala.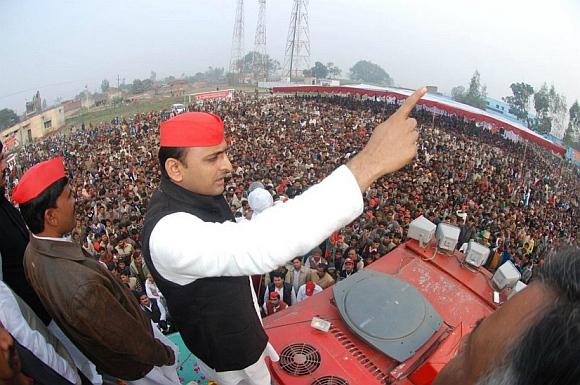 Deepak Singhal, who was sacked by Chief Minister Akhilesh Yadav as Uttar Pradesh's chief secretary, superseded more efficient IAS colleagues to reach where he did.
His strength lay in his late father-in-law Dorilal Agarwal's Hindi daily newspaper, Amar Ujala, the most widely circulated newspaper in the domain of Samajwadi Party boss Mulayam Singh's operations.

It is a respected newspaper, and its area of influence is Etawah, Mainpuri, Shikohabad, Firozabad, rather all over the Bundelkhand, Rohilkhand, Agra, Bareilly and Meerut divisions.

Mulayam Singh and his brother Shivpal Yadav know the newspaper's power and influence, more so during the crucial Uttar Pradesh assembly poll season.

With anti-incumbency having set in against the Samajwadi Party, it becomes all the more essential to have Amar Ujala on your side, the Yadav brothers knew.

Singhal, it was probably expected, would mould public opinion in the ruling party's favour through his influence over the newspaper.

Over the years, Mulayam Singh has realised that his inexperienced elder son Akhilesh is oblivious of or indifferent to such political niceties.

The scheming IAS lobby soon poisoned the gullible Akhilesh's ears -- and the damage was done.

That attending 'outsider' Amar Singh's party in New Delhi led to Singhal's ouster, as is being reported, is a joke.
Both his father and uncle were present at the party, and Akhilesh dare not touch them.

Now Akhilesh, smarting from the fact that Shivpal Yadav as the party's UP chief has axed his confidants and that Amar Singh has been made SP national general secretary, is planning his next move.
On the chief minister's reported 'hit list' is Anita Singh, the IAS officer who is Mulayam Singh's trusted protege.
One wonders how the dour Netaji will react when Akhilesh makes that move.