'As general elections draw near, the BJP and JD-U (in whatever form it is) will do a deal -- the state to the JD-U in return for support at the Centre for the BJP,' says Aditi Phadnis.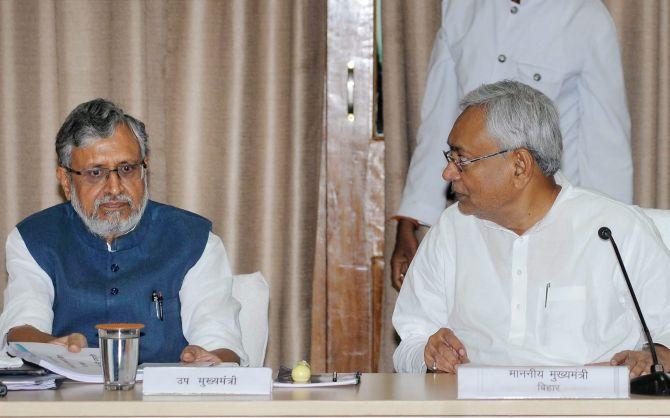 IMAGE: Bihar Chief Minister Nitish Kumar, right, with Deputy Chief Minister Sushil Kumar Modi. Photograph: PTI Photo
It is in July that Indian Socialists tend to set water on fire.
On July 19, 1979, as industry minister in the Morarji Desai government, George Fernandes gave a fire and brimstone speech defending his prime minister and damning to hell forever those attempting to destabilise it.
On July 20, he signed a letter pledging allegiance to Charan Singh as the new PM.
His statement/justification? 'I personally don't think that there has been a sustained effort to make the ordinary man feel that it is his government and he is participating in it... No one is prepared to accept today that there can be people of integrity in public life,' he was quoted as telling The Statesman on July 21, 1979.
For the circa 2017 version of the same script, consider what Nitish Kumar said in February.
Speaking at the launch of a book by P Chidambaram, Kumar said: 'Right now, the need of the nation is Opposition unity. The day this Opposition unity comes, you see what happens... There is nothing to fear. Everything will be all right.'
'We should follow our agenda 90 per cent and only 10 per cent we should react to the agenda of others. We should move forward after setting our own agenda with maximum Opposition unity.'
In July 2017, Nitish Kumar gracefully accepted the congratulations of the Bharatiya Janata Party upholding him as the crusader leading the struggle against corruption after he had jettisoned Lalu Prasad Yadav and family, pleading his inability to 'suffer corruption' any more.
The BJP elbowed Lalu out to take its place beside Kumar to form a government.
The Congress is convinced this is a script thought up more than three months ago.
The party cites as evidence Kumar's support to Ramnath Kovind as the candidate for president.
While Congress President Sonia Gandhi was able to persuade Sharad Pawar to stay in the Opposition and support Congress candidate Meira Kumar (at that meeting to sign Meira Kumar's papers, Gandhi dimpled charmingly at Sharad Pawar's efforts to postpone signing the papers and insisted he sign them there and then), Nitish Kumar slipped out of the Mahagathbandhan's grasp.
He got a front row seat in the Central Hall of Parliament when Kovind was sworn in.
So what happens now?
Bihar will now get the economic package it has been asking for.
The central government will now shower economic largesse and uphold Bihari pride (Kumar won the assembly election on the back of the insult to Bihari pride by Narendra Modi and his cohorts).
The CM-with-BJP-support will propel the political debate around corruption, and slip effortlessly back into the lingo of the Emergency and the bad, bad things the Congress did.
As general elections draw near, the BJP and the Janata Dal-United (in whatever form it is) will do a deal -- the state to the JD-U in return for support at the Centre for the BJP.
It will help both of them if the assembly and Lok Sabha elections are held together (assembly elections are due in Bihar in 2020).
What of caste calculation, which is central to Bihar politics?
Muslims and Yadavs add up to around 30 per cent of Bihar's population. In the Lok Sabha elections of 2014 -- where Kumar suffered such a blow that he abandoned the BJP and joined hands with Lalu -- many upper class Yadavs abandoned Lalu and voted for the BJP.
Kumar will be the National Democratic Alliance's delivery vehicle for the support of his own caste and other lower castes. The BJP will make significant dents in Lalu's vote base.
That leaves the Muslims.
During his last tenure as CM with BJP support, Kumar was vicious with that party, largely for the demonstration effect he knew this would have on the Muslims.
He reviled, insulted and slighted them at every available opportunity, knowing they had nowhere to go.
This caused Muslims even in places like Kishangunj, to support Kumar, even though he in turn was propping up a government in which the BJP was a big player.
An action replay of that script should not be a problem.
What this will effectively mean is a pulverisation of the Opposition as we know it.
But then Kumar would be the first to say that he is not, after all, Jesus Christ to die on the cross.
He has a government and he has managed to live to fight another day.
The question is what will he do with the government now?