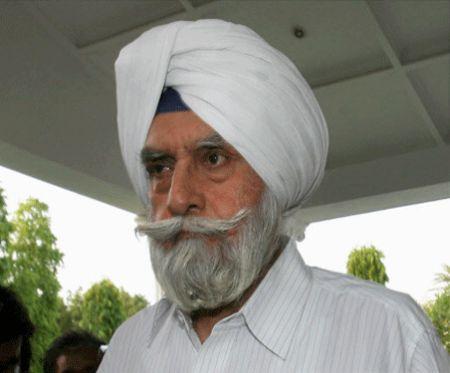 'His essential doctrine was only the local police can fight terror.'
'"You can't fire at mobs throwing stones," he said, adding one has to think innovatively, even defensively, sometimes.'
Shekhar Gupta remembers the uncoventional SuperCop.
In his passing away, as in his life, Kanwar Pal Singh (K P S) Gill continues to challenge your learning and established notions.
For example, the first principle of obituary in any journalism school: Never be chronological. I don't know how to keep to that writing about Mr Gill, or Gillsaab as we would call him. My first meeting with him is an abiding memory.
It was in early 1981 when I had just come to cover the Northeast, then mostly and aptly described as being 'in flames'. He wasn't director general, Assam police, yet, just an inspector general, but in charge of law and order. It was at his old-style 'Assam type' bungalow along the Brahmaputra.
"So you are Shekhar Gupta?" he, in uniform, looked up from his desk, sort of sizing me up, and giving me the look that I still am not able to decipher as curious, or mocking.
"Baithiye aap," he said, "Suna hai bahut ghoomte hain aap apni Enfield bike par (please take a seat, I believe you really get around on your Enfield motorbike)."
Before I could even settle down, came the question with that wicked Gill stare I was to get used to over 36 years subsequently: "Licence hai?"
For a second, I was foxed, and then he laughed, with obvious 'gotcha'.
It started a professional relationship as our careers ran parallel between troubled Assam and Punjab.
Never mind that the year I was born, 1957, is when he passed his Indian Police Service examination and joined the Assam cadre.
He was always the 'youngest', fittest amongst us, and God knows I haven't seen anybody else handle his alcohol as he could.
After he retired in 1995, it became more like a personal friendship.
We often said good things to each other, and also fought over his leadership (in my view hijack) of the Indian Hockey Federation as I thought his method was destroying the game.
Hockey has done much better after he lost control, but even when we met a few weeks ago, to record a Walk The Talk, his last interview, he upbraided me for writing that our hockey was now having a resurgence and we fought another friendly, sporty fight.
There were legends about him in Assam. Some good, many bad.
He was charged with kicking to death Khargeswar Talukdar, an Assam agitator, and later acquitted by the Delhi high court where the case was shifted as no lawyers or witnesses would come forward in the highly charged Assam of those years.
Over time though, I discovered one key aspect of the KPS legend. He never personally used violence on anybody, never carried a firearm. Nothing ever more than his swagger stick.
That's all he was armed with when we got our closest look at his calm fearlessness as well as art of crisis management.
In the disastrous Assam elections of February 1983, the ethnic massacre was reported in the sub-division of Mangaldai, about 70 km away, across the Brahmaputra from Guwahati.
He was leading a review with the army's General Officer Commanding (a major general) and I, along with fellow reporter Seema Guha, landed up, defying the blockaded highway on that Enfield.
The sun sets early in Assam, and by the time the meeting finished, it was dusk.
The GoC and Gill left with their escorts for Guwahati and we followed, until we were halted on the banks of a Himalayan river because the wooden bridge over it had been set on fire by the agitators.
Outlines of a noisy mob became apparent in the dust on the other bank, their spears and swords gleaming in the setting sun.
The general was furious, for having such a small escort.
Gill was calm, asking his troops and the general's to take defensive positions, also site their only LMG.
He had only the swagger stick.
Scared, I asked what the problem was.
He smiled, again I can't say if he was casual or mocking, and said, "The problem is that you people are here." He refused to elaborate.
That adventure ended in a grossly understated drama.
Gill looked at the smouldering bridge closely, climbed into his jeep, asked his driver to go for it. They crossed it safely.
The rest of us followed one by one, the general first, we last.
We assembled later that evening at Gill's home to exchange notes over his usual Old Monk rum, but he still wouldn't tell me why he said our presence was the problem.
He told me this much later, when he was posted as Central Reserve Police Force IG in Punjab and we met at the Amritsar circuit house.
"I had an armed mob of thousands coming at us. All we had were about seven rifles and an LMG. If we had to open fire, killing scores, do you think I wanted to have two reporters watching?"
When we met for our Walk The Talk interview, he was critical of the way the CRPF was handling stone-pelters in Kashmir.
"You can't fire at mobs throwing stones," he said, adding one has to think innovatively, even defensively, sometimes.
You can agree or argue, but the conventional method was never for him.
His critics accuse him of killing Sikhs indiscriminately. That wasn't Gill's style.
In fact, he succeeded in that final battle in 1991-1994 because he spared and used the foot soldiers, helped them take new identities and settle, often in trucking businesses in distant states with new identities -- but as long as they helped his boys catch their commanders.
His police listed terrorists in categories A to D.
He had then said to me (on the record, published), once a terrorist is convinced he won't survive more than six months after making it to our 'A' category, terrorism will end.
As it did.
A little side story to that period is that between 1984 and 1995, Gill had four comings in Punjab.
Each time, he was moved away when politicians -- by now in a deep nexus with terrorists -- found him inconvenient.
In 1988, Operation Black Thunder (where the National Security Guard's Black Cats made their first appearance) led by him (and set up brilliantly by Ajit Doval) was a spectacular success.
A key feature, unlike Operation Bluestar earlier, was that rather than banish the media, he allowed us, nearly a hundred at one point, to watch the entire action.
You could even sit for hours next to the NSG snipers watching them pick out terrorists, one at a time, over three days.
As soon as V P Singh's coalition (close to the Akalis) replaced Rajiv Gandhi in New Delhi, Gill was moved out, only to be brought in by P V Narasimha Rao in 1992 as terrorism returned in its most virulent form yet.
Khalistani bands ruled the state, even we reporters had the ignominy of being stopped in border districts at armed terrorists' 'check points' at night, hoping to talk our way out of trouble.
The war was utterly one-sided by 1992, when the year's toll was at least 5,000.
In an exodus reminiscent of the Kashmiri Pandits two years earlier, millions of Hindu families -- as well as prosperous Sikhs -- were moving out of Punjab.
By 1993, the balance had reversed.
Unlike his times in distant Assam, his Punjab years are better documented.
His essential doctrine was only the local police can fight terror.
Army, central forces can help, but you can't win in Punjab 'unless good Jats fight bad Jats and my police is mostly Jat'.
He motivated them; the Rao government, through Rajesh Pilot (then minister of state for internal security) kept resources on tap.
Gill resettled hundreds of 'sources and assets' and also saved up some for the legal defence of his key officers who he knew would face human rights cases later.
He taught us the 'condom' theory. "Dekho bhai, we are as useful to the government as condoms. Tossed, once the job is over," he would say.
He personally got into serious trouble as he was charged and convicted under Section 354 Indian Penal Code (outraging the modesty of a woman) for inappropriate behaviour with an IAS officer at a drunken party.
Finally, the Supreme Court was forgiving with him, reducing his sentence to a fine, probation and a commitment not to drink at parties.
Did he keep it?
All I'd say is, if I was asked that question in a court under oath, I would have had a dilemma.
But then, I would recall Gill's invocation, the first time he talked me into serious drinking: "All your doubts, fears, dilemmas will vanish once you say your favourite prayer and take a sip of buddha sant."
That last, you would have figured, was Gill-speak for Old Monk rum.