Instead of taking the moral high ground and resorting to a ban, the government should've turned the screws on dance bars by enforcing the existing licence conditions, says Anil Singh.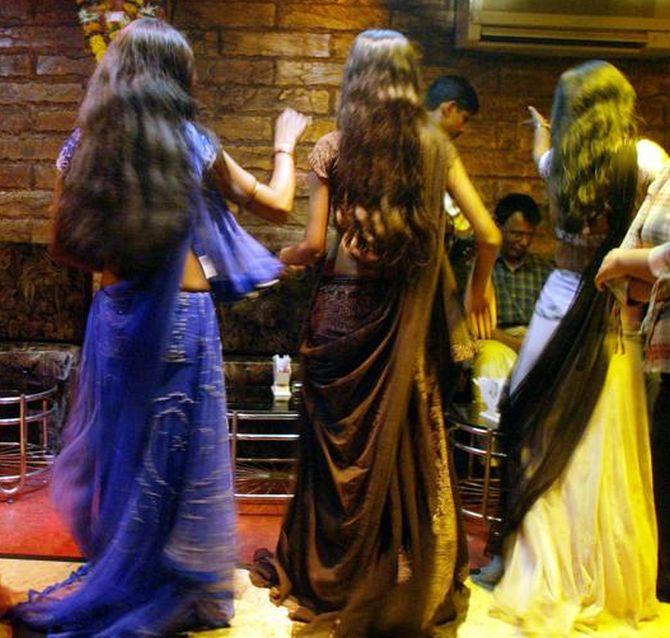 The Maharashtra government is tying itself up in knots over the dance bar ban but had it simply enforced the routine licence conditions for such bars, it would have been spared repeated embarrassment in the Supreme Court, the latest one being accused of possessing a regressive mindset.
These bars, a heady mix of wine and women, were banned in 2005 on moral grounds which proved shaky in court; the judges observed that the cure was worse than the disease. Nevertheless, the state government persisted with its line. It first tweaked the law, the Bombay Police Act, and when that failed to cut ice with the Supreme Court, it came up with a new law altogether: the Maharashtra Prohibition of Obscene Dance in Hotels, Restaurants and Bar Rooms and Protection of Dignity of Women (working therein) Act, 2016.
Among other things, this law prohibits serving/consuming liquor in dance bars while at the same time prescribing CCTV coverage.
Predictably, it came in for criticism from the SC, which last week called it absurd, arbitrary and indicative of a mindset which is 'absolutely regressive by centuries'. However, it did not stay the new law, and posted the matter for hearing on November 24.
The Maharashtra government is not wrong in its rationale that dance bars have a deleterious effect on society. It can even claim that its argument is backed by art -- Chandni Bar, the 2001 Tabu-starrer by Madhur Bhandarkar which showed the seamier side of this life for which it even won four National Awards.
While the dance at these bars was not obscene, the quantum of money they generated (beer charged Rs 1,000 a bottle!) certainly was. With this moolah, bar owners were able to cover up a host of illegalities -- one of which was the attached dingy lodges which patrons could rent by the hour.
Flush with funds, a dance bar owner even launched a regional TV news channel which has still not lost its fizz. It is anybody's guess how much of this black money went into funding poll campaigns.
These powerful magnets of sleaze and pelf drew businessmen from Surat and Vapi, collegians from Pune, the neo-rich from the hinterland, not to talk of those with ill-gotten wealth, such as Abdul Karim Telgi of the stamp-paper scam who was rumoured to have blown up Rs 65 lakh on a bar dancer in a single night.
One such dancer, Tarannum of Andheri's Deepa bar, even attracted an income tax raid, apart from a select clientele which reportedly included international cricketers.
But instead of taking the moral high ground and resorting to a ban, the government had the option of turning the screws on dance bars by enforcing the existing licence conditions.
For instance, they mandate that the dancing area must have a three-feet-high railing and customers should be seated at least five feet away from it. Then, the stage has to be of 10 x 12 ft dimension and not more than eight women can dance simultaneously.
Anyone who has been to such bars knows that these rules are only as effective as the mandatory health warning on cigarette packets. Another rule that was flouted with impunity is the one that said patrons were not allowed to shower currency notes on the performers or even go near them.
Let alone keep an employment record of dance girls, as is required, there is often no record of the people who operate the dance bars. In fact, cops and even local politicians were reportedly to be sleeping partners in these bars, of which there were around 1,000 in Mumbai city alone.
The licence rules that applied to dance bars also apply to today's orchestra bars, a watered-down version of dance bars -- but somehow they have escaped the attention of the local police.
Three months ago, the Mumbai police commissioner had to dispatch his special squad to raid four orchestra bars, two of which were in South Mumbai.
In satellite townships such as Navi Mumbai, the largest concentration of such bars is within a one-km radius of the police commissionerate.
Yet, such is the lolly (insiders put it at Rs 8 lakh per month per bar) that even senior police officers are willing to risk their all for it.
This complicity of law-enforcers is one reason for the state government's convoluted approach to tackle the issue. The other is populism. Outlawing dance bars generated enormous political capital for the late R R Patil, the then deputy chief minister who also held the home portfolio.
Maharashtra may not be able to ban dance bars but it can certainly tax them heavily, apart from collecting the due excise and sales tax.
As of now, little effort is made to collect even excise and sales tax from the sale of liquor in these bars. It is said that unscrupulous excise inspectors hire a private staff of four; two to make the rounds of dance bars for the pickings and two to manage the official paperwork.
If the government shows a little bit of pragmatism, everyone concerned can say 'cheers' to dance bars.
A long battle
August 2005: Maharashtra bans dance bars 'on moral grounds'.
April 2006: Bombay high court strikes down the ban, saying that it violates the right to carry on one's profession (in this case, dancing) and that it is arbitrary and infringes the right to equality since it disallows dance performances in some establishments while permitting them in others (five-star hotels).
May 2006: Maharashtra government obtains a stay against the Bombay HC's judgment.
July 2013: The Supreme Court agrees with the Bombay HC that the ban is constitutionally impermissible.
2014: In response to the SC ordering the opening of dance bars the Maharashtra government amends the law to once again ban dance bars.
2015: The SC stays the amended law saying that it isn't very different from the law passed in 2005.
April 2016: The Maharashtra government enacts a new law

.
September 2016: The SC calls the new law absurd and arbitrary but refrains from striking it down

.