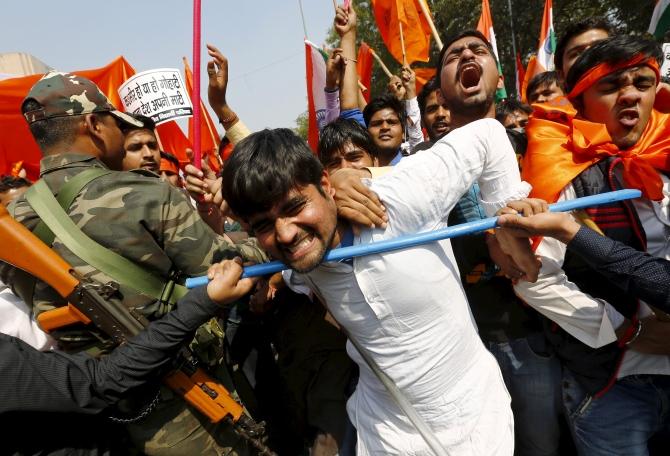 Rather than make it a BJP or anti-BJP battle, it is more important to have a dialogue with the protesting students and understand their psyche, says Devanik Saha.
With the Union Budget and apparently new revelations in the Ishrat Jahan case, the Jawaharlal Nehru University row has taken a backseat.
In the aftermath of the incident, social media witnessed several debates and discussions on nationalism, separatism, even the idea of discussing independence for Kashmir. Even a document named 'JNU sedition module' compiling essays and videos focusing on the above mentioned topics was circulated online.
When I read about the issue in-depth, I analysed the incident donning the hat of a teacher rather as a journalist. Just to give a perspective, I was a Teach For India Fellow and taught at a government school for two years.
Though the faux nationalism propagated by the Bharatiya Janata Party and its supporters is nauseating to say the least, as a teacher I always taught my students to respect the national flag, sing the national anthem properly and contribute to India's development.
The slogans allegedly chanted at some meetings at JNU surprised me. Though my stand on the JNU issue would make me an anti-national by the BJP's standards, for me the most concerning feature was that not a single debate focussed on finding the real reason behind those slogans being shouted.
Rather, the debate was converted into a BJP/Rashtriya Swayamsevak Sangh versus Left battle.
Would I ever chant these slogans? No.
Do I support these slogans? No.
Do I love my country and want it to prosper? Of course, yes.
Most prime-time television debates and social media discussions revolved around two controversial slogans, how these slogans were seditious and how students making these statements should be punished.
Not surprisingly, whenever BJP spokespersons were cornered with questions, they used these two slogans as a cover-up to hide their lack of effectual arguments.
While the police investigation will eventually reveal who actually chanted slogans and what was chanted, but assuming that some outsiders and a few insiders did chant them, then these few critical questions remain unanswered:
What could lead an Indian citizen to raise such outrageous slogans? Should we not find the real reason? Why can't we have a dialogue with those students to understand their psyche?
Honestly, even given my inherent anti-establishment nature, I or any of my friends or relatives would never have chanted those slogans, however disheartened we may be with the government of the day.
If one has read in-depth on Kashmir, it is evident that imposition of the draconian Armed Forces Special Powers Act, Public Safety Act, etc has had a devastating effect. 'Half-widows,' as they are known as, have never even seen their husbands' dead bodies.
Kashmiris who have faced years of torture and abuse at the hands of a few armed force personnel are likely to have a grudge against the Indian State, as a citizen's perception of the government is formed by the first point of contact or experience which s/he has faced with a State establishment.
Therefore, rather than make it a BJP or an anti-BJP battle, understanding the actual reason behind those slogans being shouted should be of prime importance.
Narendra Modi may be the best prime minister India has ever elected, but if I am needlessly harassed by government officials over some paperwork, my ire will always be directed against the government, and in the current scenario, the BJP or Modi.
Similarly, for many Kashmiris, torture and abuse by security personnel was their first experience of the government machinery, which has led them to form their opinion about the State, seek a separation from it. The same holds true for women raped by security personnel in the north-east and Naxal-affected states in India under the garb of draconian laws.
During the course of the current row, many right-wing supporters kept focussing on how some student unions at JNU, like the Democratic Students Union, an ultra-left group which supports Maoist ideology, are terrorist sympathisers.
Whether or not they support Naxalism may be a subject of debate, but assuming some of them probably do so, we do need to question why they do so and what led them to support Maoism instead of thinking about the nation's development?
Where has the State gone wrong?
Has India failed to provide justice to many of its citizens who have been tortured by government machinery?
Does it make sense to label them anti-nationals without understanding their cause for action?
Shouldn't we ponder these questions, too?
A few days ago, when the JNU controversy was at its peak, I read an article in The Hoot, which focussed on how media indifference leads to stories of human rights violations in Chhattisgarh being ignored.
It highlighted examples of how alleged rapes by security personnel were higher in villages where roads were being built, thereby indicating a direct correlation between roads and rapes in Bastar, Chhattisgarh.
I had only one question: If a tribal woman who was allegedly gang-raped, her genitals and breasts fondled, her clothes torn and all the hard-earned food supply looted by security forces, if she shouts 'Chhattisgarh ko azaad karo', will we term her an anti-national?
IMAGE: Akhil Bharatiya Vidyarthi Parishad activists scuffle with security personnel during a protest march in New Delhi. Photograph: Adnan Abidi/Reuters