'So you wonder, couldn't he have combined these two qualities: His love of his own voice, and his acting talents, to voice concern about the Kathua and Unnao rapes?' asks Jyoti Punwani.
'His supporters are siding with the accused in the first case, and are the accused in the second.'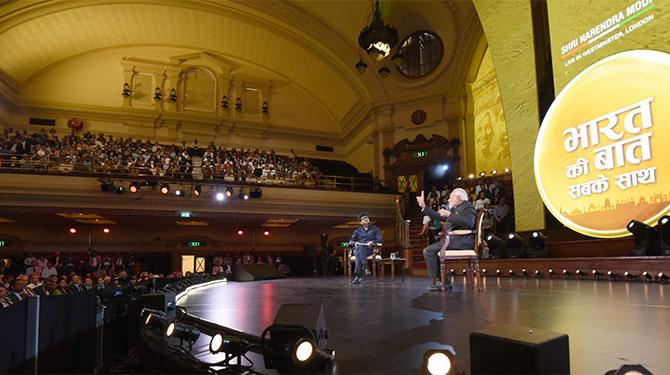 IMAGE: Prime Minister Narendra D Modi at the Bharat Ki Baat event in London, April 18, 2018. Photograph: Press Information Bureau
You have to hand it to him.
After official acknowledgement that demonetisation achieved none of its declared goals, and authoritative reports that it destroyed small businesses and rendered nearly 2 million jobless, the prime minister can still boast about this disastrous measure to a hand-picked audience of NRIs in London, none of whom must have been affected by it.
The boast became a cruel joke when he said: 'My friend abroad thought I was finished when I announced notebandi. But, my honest countrymen were ready to bear hardships to bring integrity back into the system.'
The PM knew he played a fast one on the 'honest countrymen' who trusted him. He could have just kept quiet about the disaster wrought, it now appears, only to influence UP's voters.
Demonetisation cost close to 100 lives. The fact that Narendra D Modi could boast about it tells you a lot about politicians.
Modi's performance at Westminster on Wednesday, April 18, reminded one of another prime minister. While self-righteously proclaiming that he would not use this platform to criticise his political opponents, the PM attacked Indira Gandhi's famous 'Garibi Hatao' slogan (and the Gandhi family several times without naming it).
But he is the one PM who has come closest to Indira Gandhi.
Be it the capacity to indulge in doublespeak, or the desire to concentrate power in one person, or the projection of oneself as a martyr ('If I weren't there, whom would you throw stones at? I alone have faced them all, at least my countrymen didn't have to face them') who worked day and night for the poor, Modi has a lot of qualities in common with India's first dictator.
Suddenly, P V Narasimha Rao and Manmohan Singh shine in a new light -- they didn't even bother to pretend they were there for the poor. Modi reaps the benefits of the liberalisation they introduced, but pretends he is still in the old 'socialist' era -- with one difference.
His mantra, said the PM, was: 'Empower the poor, don't feed them.' This would have been another jumla, but it is tragically true: His government has actually been depriving the poorest of the poor of food because of glitches in their Aadhar card. Just like Indira Gandhi's 'Garibi hatao' came to mean 'Garib hatao'.
But Modi is one up on Indira. She couldn't go on and on about her humble origins. He can.
What was worse about the PM's Westminster show? His repeated references to his humble origins, or his interviewer's servility?
Had Prasoon Joshi been just a regular journalist, his cloying questions would not have set your teeth on edge. But Joshi is a poet of some talent. To watch him debase it in the service of power brings to mind images of Raj Kavis in the durbars of medieval rajas.
Forget the Nirav Modi and Mehul Joshi scams, the cow lynchings and the Bihar riots engineered by RSS supporters, the poison aimed at Muslims day after day by BJP leaders. No one expected either Prasoon Joshi or the PM to talk about these.
Bur to start off the interview with a reference to Modi's chaiwallah beginnings?
This wasn't a prime minister who had just taken over. Over the last four years, everyone has come to know that this man's very first gesture: Flying to the capital to take oath as PM not on the national carrier, but on an Adani plane, was an indication of things to come.
This is one PM who makes no bones about his closeness to the richest families in the country. No one has forgotten the gold striped suit, either.
Was it because the Nirav Modi taint is still fresh that Prasoon Joshi gave his Dear Leader the opportunity to wax eloquent at the very beginning itself about his supposedly poor childhood?
As Modi went on and on at different points in the unending interview about his close encounters with deprivation, the spectre of diamond merchants running away with our money receded into the background.
One thing emerged clearly: The PM loves the sound of his own voice. As he droned on and on, be it about urea, or his ability to remain detached, one couldn't help wondering, how much longer will this go on?
Another impression got confirmed: Our PM is a fine actor. Poor Manmohan Singh couldn't get a single expression on his frozen face. Narasimha Rao never needed to. But once Modi's prime ministerial campaign began in late 2013, the country got the chance to see what a skilled performer he was.
The London performance confirmed that four years later, he is still tops at this game.
So you wonder, couldn't he have combined these two qualities: His love of his own voice, and his acting talents, to voice concern about the Kathua and Unnao rapes? His supporters are siding with the accused in the first case, and are the accused in the second.
At least for form's sake, he could have sounded and looked pained as only he knows how to, and waved an admonishing finger (he did that to the London audience all the time) here, at home, to the 'sava sau crore' he loves to claim voted him to power? (In fact, he got 31% votes from the 66% turnout in 2014 -- about 20 crore at best.)
He looked pained about the rapes in London -- but even there, he couldn't bring himself to name the little girl who was raped and whose name and face have become familiar across the country.
For that wouldn't have behoved the true RSS pracharak that Narendra D Modi is. He is not one to betray his origins, the way our previous RSS prime minister did sometimes.
Instead, he used his talents to spin tales about 'our' generosity towards the Rohingya, when his government has been trying to deport them to sure death; towards Nepal, when his government is the first Indian government to alienate this tiny country with whom we have shared such close relations; indeed, towards the world.
All this under his stewardship, the 'chai bechney wallah' whom everyone had thought would be lost when it came to foreign affairs! Applause followed, expectedly. Was this an oblique hit at Nehru, India's only world statesman, who remained an aristocrat all his life?
'We will neither lower our eyes in front of others nor look down on anyone, but look everyone square in the face,' had been his government's mantra he said, and then went on to boast about the achievement we had all forgotten: The magical 'surgical strike'.
Official figures say that more jawans died, more ceasefire violations took place and Kashmir saw 31% more terror-related deaths in the 12 months after the September 2016 surgical strike than before it.
But catch Prasoon Joshi pointing that out!
Instead, he reminded his leader that some people had actually questioned those strikes; coming across exactly like the student who snitches to his teacher about his classmate's misconduct in a bid to curry favour.
As if this wasn't enough, Joshi actually asked him how he coped with the constant criticism he was subject to. 'Criticism is the beauty of democracy,' replied the man whose cops arrest those who dare mock him on Facebook.