R-Day is a different sort of exercise for the defence forces and the security establishment. At one level it is an enormous tamasha, at another, it is a nightmare.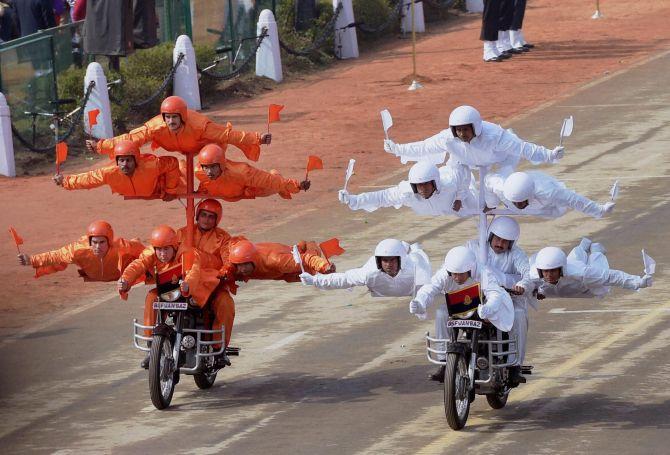 BSF personnel practise daredevilry on bikes during the R-Day parade rehearsal. Photograph: PTI photo
The pomp and pageantry of January 26 has always been a source of mild surprise to me. Not the pomp itself. A young nation needs to celebrate its existence and India is a young nation even if it's an old country.

But why does India celebrate the fact that it is a republic? After all, the republican-ism was never in doubt. There were many other uncertainties at Independence. But even though there was a surfeit of royals scattered across the sub-continent, there was never any attempt to turn India into some sort of confederation of monarchies, ala Malaysia or the United Arab Emirates.

India was a republic from the "stroke of midnight when it kept its tryst with destiny", well before the Constitution of India came into force on the first Republic Day in 1950. It was always assumed that independent India would be a republic modelled on Westminster processes with two houses of Parliament and a prime minister. The concept of first-past the post elections without separate electorates had been a source of bitter (and fascinating) debate before it was adopted. But FPTP had been in place with provincial elections from the 1930s.

So, assuming January 26 is a convenient place-holder, and that it was a given that India would be a republic of roughly the sort it is, what is actually celebrated on R-Day? I'd guess India celebrates being a united, yet diverse nation.

Teams work for a year at a time to put together those floats meandering down Rajpath. Schoolchildren, artisans, artists, and performers from across the country get this one big chance to display their skills and showcase respective states and Union territories.

R-Day is a different sort of exercise for the defence forces and the security establishment. At one level it is an enormous tamasha to be carefully orchestrated, all about ensuring that the dress uniforms are impeccable and the camels are not incontinent. At another level, there is the careful unveiling of bits and pieces of new military hardware. At the third level, it is a nightmare.

The parade is attended by random hordes of dignitaries, "VIPs", who remain in open spaces for several hours. It is also attended by huge numbers of aam janata. At least a lakh or more in the way of citizens watch the parade. Plus, there are the thousands of civilian participants from various states and there are personnel deployed from the Public Works Department, etc. It would be the perfect occasion for carrying out a terrorist assault and enormous overkill goes into ensuring that such an attack doesn't, in fact, happen.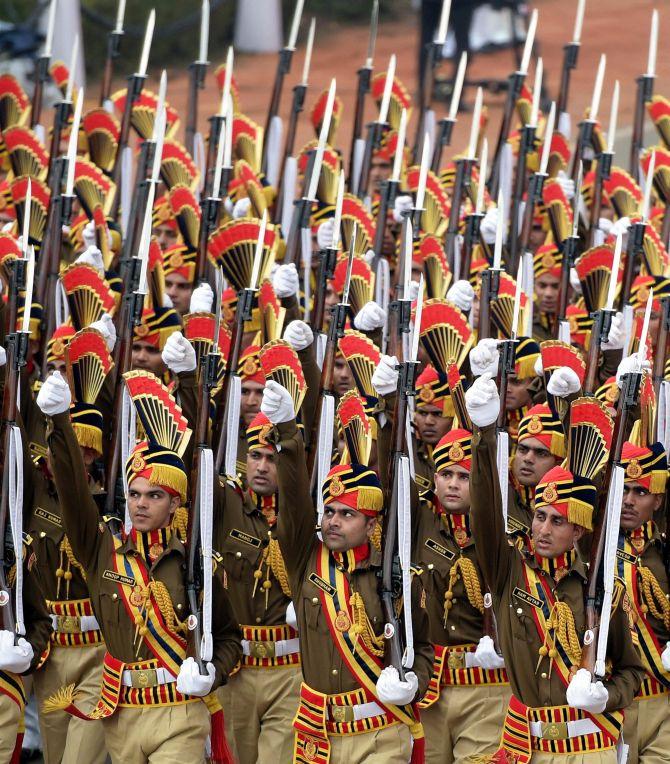 Soldiers conduct a rehearsal of march past . Photograph: PTI photo
The security involves cordoning off a huge chunk of central Delhi for weeks on end. Once the bamboo enclosures go up on the lawns of India Gate, it is essentially off limits to the hoi polloi. The roads leading into the parade zone are often blocked for hours at a time on days when rehearsals are set up. In addition, the police put up barriers and checkpoints all over the city-state and visually inspect vehicles as they trickle through the barriers.

Moving around Delhi is never a picnic. It becomes an insane test of endurance in January. After January, the next round of security involves guarding legislators during the Budget Session of Parliament. That also means roadblocks, albeit on lesser scales.

Those long enforced halts at police barriers offer ample time for commuters to ponder another philosophical question. Whose Republic is it? There are few enough public spaces in India. Many of those in Delhi -- Rajghat, India Gate, the Mughal Gardens -- are off bounds to the public for months at a time in the name of VIP security.

VIPs: Royals, Republic: Kingdom - what is the difference when it comes to displaying utter disregard for the convenience and comfort of common citizens?